Wine Glasses Sets You Need To Try
By Bridget Reed
Feb 18, 2022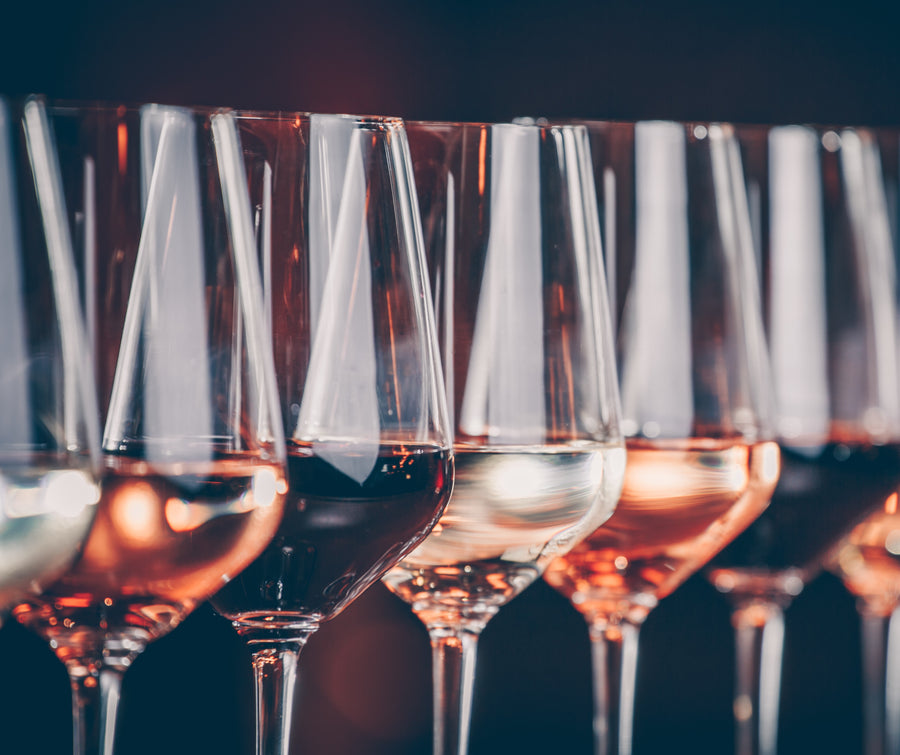 What would the world be like if we did not get to experience the flavours of wine? From the distinct aromas and notes of a pinot noir or cabernet sauvignon to the bubbles in festive champagne flutes, there's nothing quite like wine. 
No matter what country you are in or whether you are pouring a sauvignon blanc or a riesling, there is so much joy to be experienced in every single sip.
But have you ever considered the shape of your wine glass and the type that you are using? While sometimes you have no other option but to pour yourself a glass of wine in a plastic cup or a water glass, experts all agree that the type of wine glass you use can significantly impact the taste and your overall experience with it. There's a perfect glass for every type of wine, and picking the right glass enhances the joy of drinking in spades.
The best wine glasses will take the aromatics and flavours of the wine to the next level. So when you are looking to invest in a wine glasses set, know that there is so much more to it than simply the cost and the brand. The design of the wineglass itself and the tiny nuances that may be overlooked by the common person can actually determine your drinking experience and how delicious your glass of wine actually is.
And wine drinking has certainly not slowed down over the past few years. With the rise of more and more households taking a cooking class also came the rise of more and more people learning about wine pairing and how to create the ultimate dinner party at home.
Some of the best chefs have not only mastered creating amazing food but also mastered pairing their food with the right type of wine — and in the right type of wine glass.
So when it comes to investing in your own collection of wine glasses, getting the right sets really does matter. To help you with your own sommelier pursuits in creating the ultimate wine experience at home, we have rounded up the best wine glass sets that you need to try and are completely worth the splurge.
1. The Hand-Blown Wineglasses
The best glass for any wine is a high-quality one. That is why you should try a set that comes with hand-blown wine glasses that are endorsed by the best in the industry. The benefit of a hand-blown wine glass is that it is extremely lightweight to hold while also providing a very elegant look. It can turn a cheap bottle of wine into tasting like an expensive bottle of wine, all because of the craftmanship provided. 
But the best part of all when it comes to these types of hand-blown glasses is that it is suitable for all types of wine. This comes down to the thinness of the glass and can support any bottle of white or red wine. And do not let the thinness of the glass scare you, as despite the seemingly fragile design, they are extremely durable and some can even be put in the dishwasher. 
Add some hand-blown wine glasses to your glassware collection to wow guests at your next wine tasting party.
2. The Affordable Wine Glasses
While it is always nice to get a wine glass that is handblown, it is sometimes out of the budget. But that does not mean that you still can not get a quality wineglass for cheap. In fact, there are even some wine glasses that resemble the same shape and design of a handblown wineglass, but come in at a quarter of the cost. So if you are tight on your budget and still want to enjoy wine from premium glass, consider going this route. Plus, it is easier to build your collection if you are just starting out.
You can easily find affordable champagne glasses, red wine glasses, and more that would make any winemaker proud. However, remember that the cheaper your glasses are, the more likely they are to chip and crack when cleaned or stored improperly.
3. The Stemless Wine Glasses
The stemless wineglass has become all the rage as of late. While there is a reason to have a stem in the design of a wine glass, the stemless option provides a bit more of a casual vibe for those wanting to just sit back, relax and sip. When it comes to stemless wine glasses, you will likely get two different shapes for both red and white wine. The smaller and slimmer glasses are for the whites and the rounder ones are for your fuller reds. The loss of the stem makes these glasses extra lightweight and great entertaining pieces for modern-day wine drinkers. A classic oversized red wine glass usually comes without a stem.
4. The One Designed for Cabernet
Yes, you read this correctly. If you are up for the splurge, there are actually wine glasses that have been designed for cabernet. Coming with a unique structure and using only the best crystal to craft this special wineglass, there is something extra satisfying when clinking these cabernet wine glasses. But even though they are delicate, they can still hold their own in the dishwasher, making this a great choice for entertaining in large numbers.
5. The Ones Designed for All Wines
While there is an art to having various wine glasses for different types of wines, there are some special sets out there that actually act as an all-in-one wineglass. This means that you can use the same wineglass set for both your afternoon chardonnay pours and your evening port pours. 
This design eliminates the fussiness from wine drinking and makes it so that the average household only has to purchase one set rather than multiple sets. It also helps keep the dinner party table a bit less cluttered, as you don't need to put multiple wine glasses out at each place setting.
6. The Ones That are Coloured
While the traditional wine glasses are a clear crystal, there are some special collections that are actually coloured. Think the likes of lipstick pink, minty green, and even bright blue. This unique acrylic wine glass set gets its coloured glass inspiration from the hope of creating a whimsical wine-drinking experience. The best part about this set is that you can get all the same colour or mix and match for a variety. Let's be honest, who wouldn't want to drink out of a rainbow collection of wine glasses?
7. The One You Have To Request
This is not your traditional way to go about getting a set of wine glasses, but we can guarantee it is definitely worth the extra effort. Rather than simply going online and purchasing, this bespoke set of wine glasses requires official requests to be submitted first. From there, you will get introduced to a local artisan in your area who will make your special wine glasses just for you. Adding to the uniqueness of this wineglass collection is the handy travel case that can fit four of these wine glasses and store them safely during your travels. Many boutique tasting rooms and wine bars have already caught on to this trend, and we expect it to be the "it" thing to have in modern households this year.
8. The Set Made From the World's Finest Glass
The type of glass that a wineglass is made from matters, even though the average person might not be able to tell the difference.. So when it is designed using the world's finest glass, you know it is a goodie. Sourced by local glassmakers who keep traditional techniques alive from centuries ago, this set of wine glasses are really a piece of art. 
Because of the special type of glass that is used and the handcrafted process that is always followed, a set of wine glasses like this means that nothing else in the world quite compares. They have even revolutionized some wineglass designs, fusing the traditional champagne flute with a white wine glass.
9. The Set With Special Curves
Often only noticeable to those with a particularly keen and observant eye, there is a special set of wine glasses that have extra curves at the base of the bowls. This modest addition to the collection allows for an enhancement of the aromas in any of the wines that are poured in. But more than just enhancing the function of a wineglass, they are equally beautiful to look at. This is a collection of wine glasses that you would want to have proudly sitting out for all to admire in your home.
10. The Set of Massive Wineglasses
The shape and size of the wineglass have a big effect on the actual wine-drinking experience. So this collection of wine glasses takes it to the next level when it comes to the size of the glass. With their extra-large bowl width the aromas and flavours that the drinker experiences are honestly taken to the next level. The bigger the better when it comes to the sizes of your wine glasses, and this type of set really nails just that.
Conclusion
The type of wineglass you drink from can be a real gamechanger for your wine drinking experience. That is why there are so many different types of wine glasses to consider getting, with it all coming down to your wine preferences, wine drinking style, and artistic choice. 
Each set of wine glasses is really like a unique piece of art that is meant to be appreciated with our without the wine poured within. And it is often the small details — from the width of the glass to the curves within — that makes it all so special.
And don't forget, Banquist offers the best kitchenware, from chef-approved knives to dinner plates. Check out our selection today.
With so many different types of wineglass sets to consider, which one will you try first? As the saying does go, you can never really have too many sets of wine glasses in a home. Chances are they will all get used.
 Sources:
The 9 Best Universal Wineglasses 2022 | The Strategist
11 Best Wine Glasses in 2021, According to Experts and Reviews | Food and Wine
Can the Shape of Your Glass Enhance the Taste of the Wine? | Food | The Guardian
Share This