Knife Sets & Blocks of 2022
By Bridget Reed
Feb 18, 2022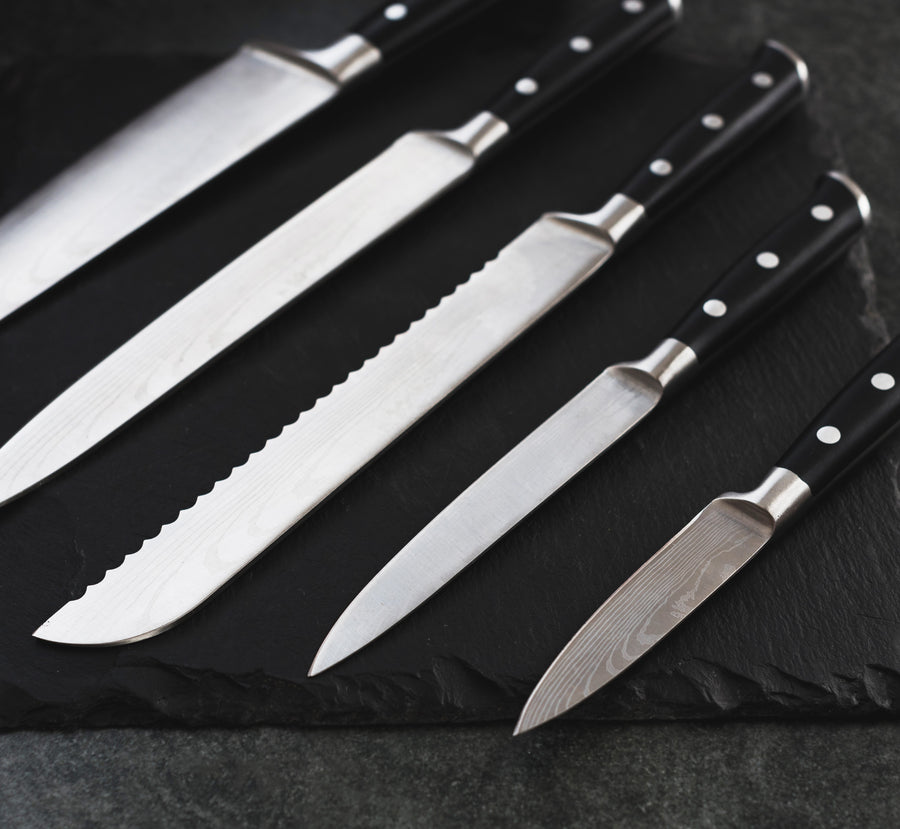 There is one tool in the kitchen that all homes need: a quality chef's knife.
The last few years have seen a growing upward trend of people wanting to enhance their culinary skills through the likes of an online cooking class. And chances are, while ingredients will be delivered directly to your door for the experience, the kitchen tools like a chef's knife will need to be sourced.
This is because, during the class, you will be slicing, dicing, and cutting up a storm. It is a skill that beginner chefs and the world's best chefs all need to perfect, with a quality chef's knife being the perfect companion for the task.
While there are certain knives for every home, it can be agreed that some are simply better than others — and it all comes down to personal preference and budget. For example, you could go for one of the most expensive chef knives in the world and drop close to £10,000. But you could also get the forever knife set that comes with a six-piece chef's knife set for under £200 and is still Michelin Star chef-approved.
The diversity of knife sets and blocks that are available to consumers in 2022 is extremely widespread and something that can at times feel overwhelming for the everyday person to sort through. Which knife set is the best for your cooking skills and level? Which one will aesthetically go with the design of the kitchen? Which one is worth the splurge?
It can feel overwhelming to try and navigate your way through the extensive selections of this essential kitchen item. The key to being an exceptional chef often weighs down to the instruments you use, knife included. 
We weigh in on the knife sets and blocks to consider bringing into your home this year, as well as outline the tip considerations to keep at the forefront as you shop for this ever so important kitchen tool.
What Is a Knife Set and Block?
Before we start slicing away at the details of all things culinary knives, let's stick to the basics first and define what a knife set and block actually are.
A knife set is a collection of various knives designed to help with certain culinary tasks in the kitchen. Some collections are as small as three, while others can have up to fifteen different ones in the mix. In general, there are always at least three core knives known as a chef's knife, a utility knife, and a serrated knife.
The block itself is what holds the collection of culinary knives. It is designed to be functional and ensure the protection and sharpness of the knives. But it is also designed to have aesthetic features that make it unique and inspiring.
A great knife set will come with an integrated storage block that also acts as a piece of art for the kitchen.
But it is important to make clear right now that not all knives, and thus knife sets, are the same. In fact, there are different styles of chef knives — which can be a huge factor in your purchasing decision.
The Two Types of Chef Knives To Know
Many people do not realize that there are actually two very different types of chef knives to consider, which will determine the wider style and selection of knives that come with a complete set.
Both Western and Japanese-style knives are designed to be a functional and proficient assistant in the kitchen to chefs. And both have origins that date back hundreds of years. The main difference between the two knives is the actual design of the blade itself — where the Western knife is symmetrical and the Japanese knife has just one cutting side.
Western Style Chef Knives
The Western-style chef knives are often known to be thicker and heavier. Many predominately come from Germany, which has been a leader in the Western world of both culinary tools and techniques for a very long time. Here are the common traits of a Western-style chef's knife. 
1. Double-Sided Thick Blades
As we alluded to earlier, Western-style chef knives have a thicker blade that is actually double-sided. The most obvious stylistic trait in this knife is actually the section between the blade and the handle of the knife itself. Referred to as the bolster, this thick area makes this type of chef's knife extra efficient in cutting thick items — especially meats.
2. High-Quality Steel
The majority of Western chef's knives will be made with high-quality steel that does not chip or rust. The choice of quality material is so that the knife can last a really long time and be efficient in the kitchen for years to come.
3. Sturdy Handles
The third commonality shared amongst all Western chef's knives is that they always come with an extra reliable handle. The grip is a very important design element that is highlighted and allows for various ergonomic features to be incorporated. Germans are known for efficiency, so it is no surprise they made a very efficient handle too.
Japanese Style Chef Knives
In comparison, the Japanese chef's knife is evolved from a long line of traditions that are still upheld today. Traditional knife making in Japan consisted of up to 50 or more steps, all perfected by local artisans who dedicated their whole life to the craft. Here are the common traits of a Japanese-style chef's knife.
1. Extremely Sharp (Like Really Sharp)
One reason that the top chefs in the world aspire to one day use a Japanese chef's knife in the kitchen is because of the sharpness of the blade. This is achieved by creating one bevel angle on the thin blade, allowing it to slice through nearly anything with zero effort.
2. More Delicate
While these knives are designed to be the crème de la crème of chef knives, they are also extremely fragile. Using this knife incorrectly or caring for it incorrectly can cause it to become damaged. That is actually why it is recommended to get this knife sharpened by a professional. You will not want to put a Japanese chef's knife in a knife block that has an actual sharpener inside!
3. A Fully Integrated Body
Lastly, the Japanese chef's knife is designed to be integrated into one seamless piece. Where the Western version has various components and parts that overlap and support, the Japanese version fuses together so that it all becomes one. Think of it as the complete yin and yang achievement between the handle and the blade. No wonder this knife took hundreds of years to evolve and perfect.
Considerations for a Knife Set and Block
Now that you know the difference between the two types of chef's knives that come in a knife set, it is important to also factor in other considerations. We have rounded up the key things to consider when it comes to finding the right knife set and block for you.
The Materials Selected
While the majority of knives are made from steel, not all steel is equal. This means that there is actually a variety of steel materials that can be used to make a knife set — with some being more high-end and efficient than others. Do your research in understanding if it is stainless steel that keeps the knives looking polished or made with the addition of carbon that provides the knife with the ultimate magical slice. 
The Way the Steel Is Molded  
Each knife set and block will be moulded a bit differently. It is important to do your research and understand how the knives are made as it will help direct you towards the right collection for you. For example, some knives use steel that is forged, which can elevate the actual cost of the collection. But other sets stamp the steel, which makes it easier for novice chefs to hold and maneuver properly.
The Protection and Sharpness Provided
It is not just the knives themselves that you need to assess when purchasing a knife set and block. You will want to make sure that the proper protection and storage are provided for that specific type of knife. For example, many knife collection blocks have sharpeners integrated into them so that they are always prepped before use.
Top Knife Sets and Blocks of 2022
1. The Seven Piece German Block Set
This knife set collection literally has it all. From quality knives with extra sharp edges to handles on each knife that are almost too easy to hold, the collection of these seven knives will help any cook at any level flourish in the kitchen. While German-style knives are known to be on the heavier side, these knives are the opposite, thanks to being made from stainless steel and forged to produce a sharp but rust-resistant blade.
This collection of knives comes with a German chef's knife that chops through vegetables and herbs seamlessly. It also comes with a paring blade that will be your best friend in all peeling tasks on the cutting board. Then there is the utility knife, which has a curved blade edge and can cut through harder items like cheese with ease. There are also two different serrated knives in this set — one for loaves of bread and one for the smaller loaves. Plus, some reliable shears are thrown into the mix too.
But in addition to the actual knives is the quality knife block that stores this collection of knives. With an extra-slim design, it will barely take up any space on your kitchen counter. And best of all, it comes with a lifetime guarantee, meaning this knife set and block will be your one true love to grow and develop your culinary skills with for a very long time.  There are literally zero cons of this set, and the value of it is unparalleled.
2. The Forged Knife Set With a Glass Block
Not only do you get six quality culinary knives, but a tempered glass block as well. This set comes with all the knives you would ever really need in the kitchen, each designed with a beautifully sharp blade that is balanced with a comfortable and easy-to-grip handle.
This set is actually commonly used at a variety of cooking schools and for good reason. The knives are reliable, affordable, and always perform as needed with any kitchen task. The knives that are included are a German chef's knife, a paring knife, a serrated bread knife, a utility knife, and a boning knife — with the shining star of the collection being the serrated knife that makes slicing bread as smooth as butter.
But let us not forget about the tempered glass block that this collection can be stored in too. Aesthetically pleasing and providing a fun artistic flair to any kitchen, the block enables easy storage and good protection for each of the knives. Plus, the transparent glass allows you to find the knife you are looking for with ease, rather than simply having to guess based on the handle itself.
While items that are included in other sets, such as shears or honing steel, are not included in this particular set, the performance and quality of the knives far outweigh the inconvenience of having to go get these two additional items on your own.
3. The Michelin Star Chef-Approved Set
You know you are getting a good collection of knives when it is approved by some of the best chefs in the world. The forever knife set comes with six knives that are designed to be carbon neutral, extremely sharp, and durable enough to last you for the rest of your life. In fact, this knife set is so good that it is guaranteed to last for at least a century and you can test it out for two months before having to commit full-term.
The collection of knives includes a chef's knife, a serrated knife, a santoku knife, a boning knife, a utility knife, and a paring knife. They will all prove to be your new best friend in the kitchen and have been tried and tested by the best in the industry. But best of all, the price of these knives comes at a jaw-droppingly low price Despite being approved by the best chefs in the world, this set is actually affordable to the average household.
Coming in a pristine storage case that resembles that of a gift box or even a jewelry box, these knives can be well stored and protected when not in use in your kitchen. But let's be honest, you will likely be using these amazingly handy knives for every task in your kitchen, with the ultra-strong steel that is used in the collection slicing through anything with just one chop, slice, or dice.
4. The Japanese Block Set
If you aspire to have a Japanese chef's knife in your kitchen, why not commit to getting an entire collection of Japanese culinary knives? While it is likely going to be a more extravagant splurge, we can all but basically, guarantee that the investment will be more than worth it.
Each knife in the set is handcrafted by Japanese artisans who have literally sharpened their knife-making skills for their whole life — with many of the techniques being passed down in the family. Not surprisingly, these knives in the set will all be extremely sharp yet equally durable too. 
But even more special is the storage block that comes with it. Made from bamboo, the Japanese design translated into the block itself, while also having a slim and minimalistic size that prevents cluttering up even the smallest of kitchens. Aesthetically pleasing and coming with premium functionality, this knife set is one that should be at the top of everyone's wish list.
5. The "Safety First" Knife Set and Block
Knives are notoriously dangerous and tend to cause some injuries in the kitchen. It is likely that every aspiring chef will cut themselves at least once while trying to master the various techniques. But there are certain collections of knives designed to reduce the risk of injury with kitchen knives.
This set has designed its collection of paring, utility, chef, and santoku knives to have a squared edge rather than a blunt point. This difference in the blade can significantly lower the risk of injury when learning your way with these various knives. Plus. The blade of the knives is all coated with a non-stick solution that prevents food from getting stuck.
Best of all, the storage of these knives is also focused on safety. With a knife block designed to fit these uniquely shaped knives, they will sit soundly in their designated slots and slide in and out with ease every time you want to use them.
6. The Modern Day Knife Block Set
Times are changing and so are design preferences for the modern-day home. So, to support the new minimalist approach with interior design, this collection has elevated the way in which kitchen knives can be stored.
Coming with the standard collection of essential kitchen knives, the storage block is designed to be a circular tube with clear material. This enables the knives to appear to be floating when stored within.
But the minimalist design does not just stop at the knife block. Each of the knives is also made with a minimalist design too. They are created to be one solid piece of steel accompanied by a simple handle design. Functionality-wise, they are cute like a dream and look undeniably cool. The simple and sleek knife block set deserves a spot on every modern home kitchen counter.
7. The Professional Level Knife Set
This collection of kitchen knives is one that many professional chefs would drool over having the chance to use. Offering the best Japanese-style kitchen knives that include the deba knife for meat and fish, the santoku knife for all cutting needs, and the nakiri knife for vegetable dicing, these three knives are really what dreams are made of.
Design-wise, this trio of knives deserves a place on the cover of a style magazine. Each comes with a handmade steel blade and wooden handle, they really do look like a piece of art. And the storage for this set of knives certainly treats it like one too.
Those who get this exquisite knife set will receive it in a gift box that is carefully lined with satin material, looking similar to what prized artifacts in a museum are stored in. Chances are you will fall in love with this set and want to proudly display it on your kitchen counter for all to see.
8. The Rolling Set of Knives
This one is a bit more unique and really designed for chefs on the go. While there is no actual storage block that comes with this set of seven knives, the rolling travel bag makes it ideal to bring with you if you are traveling to your holiday home and want to bring your favourite cutting collection with you.
The rolling storage bag that securely holds these knives come with a preventative slip-grip that can withstand a range of extreme temperatures. And while you get your standard chef's knife, bread knife, utility knife, and paring knife, you also get a flexible boning knife that bodes well for those steak dinners.
Beloved by the nomad families and those who are pursuing a culinary career at school, this set is an affordable way to get all your basic culinary knives in an easy-to-carry case.
Conclusion
There are plenty of different knife sets and blocks to choose from this year. From sets that offer the absolute premium collections to those that are more than affordable and accessible to the average household, there is no doubt the perfect collection is there for you too.
Ready to get knives of your own? Banquist offers the best kitchenware, from chef-approved knives to dinner plates. Check out our incredible selection.
 So no matter what stage of your culinary progression you are at, remember that a collection of quality kitchen knives can really help you slice, dice, and mince your way to the next level.
 Sources
Best Kitchen Knife Sets of 2021 | CNN Underscored
The Best Chef's Knife for 2022 | Reviews by Wirecutter | NY Times
The 15 Best Knife Sets for Key Kitchen Tasks | BBC Good Food
Share This