Stoneware Dinner Sets: Our Recommendations
By Bridget Reed
Feb 18, 2022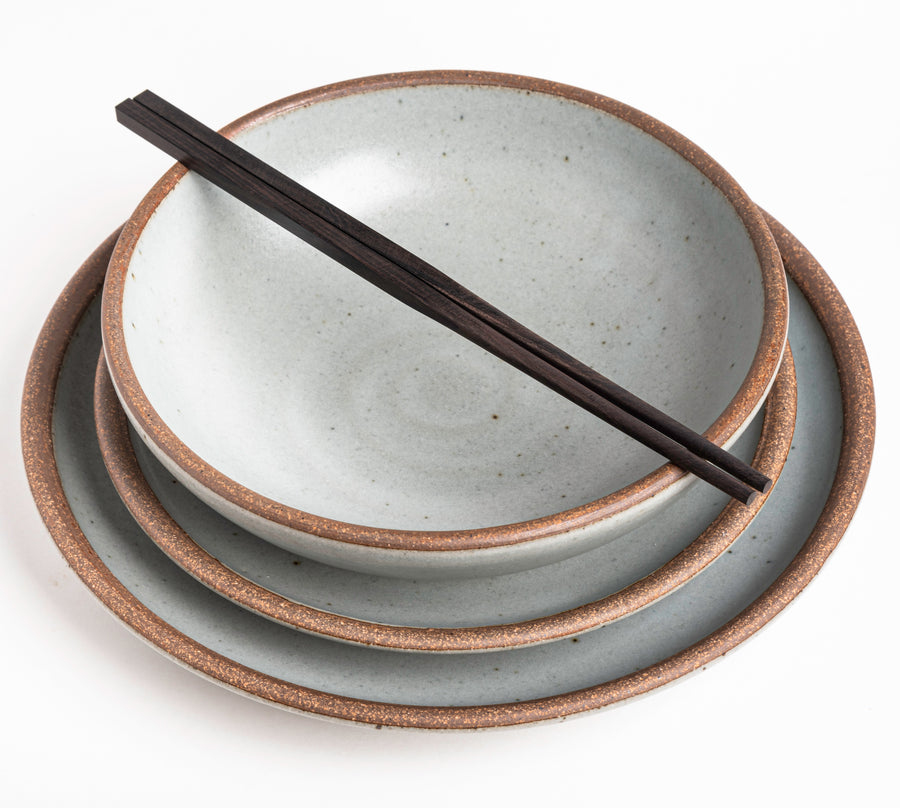 Over the past two years, many of us have taken to finding new ways to create incredible foodie experiences.
While back in the day we would go to the best restaurants in our home city for a great night out with friends, many of us have shifted towards gathering our friends under our own roof and throwing a memorable dinner party.
In fact, many of us have also decided to take an online cooking class so that we can take our cooking skills to the next level. Many recent studies show that this has become one of the most popular hobbies for couples and households — especially during quarantine periods at home.
So now that many of us have taken our cuisine preparation to the next level and nailed the taste component, it is also time to learn how to make your dinner look good too. This really all begins with the way in which you present your food. In fact, the majority of the world's greatest chefs all agree that the type of tableware you use to serve up a meal can actually help elevate the entire dining experience — including how your food tastes.
There are many different tableware sets that you consider investing in for your own home. From a porcelain set to a  stoneware dinner set, the type of material that the tableware is made from is a very important factor to consider.
While each type of tableware has its own perks, it is the stoneware dinner sets that are all the rage right now. And is also what we recommend when it comes to tableware that will enhance your dinner table theming.
With stoneware dinner sets being all the rage, we have rounded up our top recommendations for stoneware dinner sets. Ranging in prices that include sets for all budgets, we highlight the very best collections that every household needs.
Why Stoneware?
Before we get into our list of recommendations, it is first important to explain why stoneware dinner sets are the way to go. Stoneware is a material that is extremely durable and can support both casual and fine-dining dinner situations.
One of the biggest reasons that so many people have fallen in love with stoneware dinner sets is because they offer an earthy and minimalistic design that allows the meal to take centre stage. The majority of stoneware dinner sets will have a unique design element to them and almost all come with a layer that is glazed to really enhance its finish of it.
Stoneware dinner sets can be a bit more tolerable in extreme temperature environments, but still require extra care and love to prolong the longevity of your collection. While some could be placed in the dishwasher, it is almost always recommended to wash your stoneware dinner sets by hand. That way there is no risk of the glaze becoming faded.
When it comes to stoneware dinner sets, you can have a classic collection of matching pieces or get creative and create a mix and match collection. So what ones should you consider getting? Here are our top recommendations.
1. Sets That are Designed for Longevity
Even if you get a budget-friendly stoneware dinner set, it is likely that it will come with a bit of a cost involved. So you want to make sure that you get your money's worth and will last you a very long time. That is why we recommend getting a collection that is designed for extra durability and can withstand falls, slips, and smashes. This is extra great for families, as you know that your dinner sets will be kid-friendly as well.
2. Sets That Withstand High Temperatures
Sometimes when you are meal prepping you want to easily re-heat a part of the meal in the oven. But it is important to remember that not all stoneware plates are oven friendly. However, we recommend finding a stoneware dinner set that does bode well in high temperatures. While you should never push the limit on the temperatures you expose any of your stoneware pieces to, there is a benefit of knowing a stoneware plate can reheat in the oven if needed.
3. Sets That Have Earthy Hues
One of our favourite types of stoneware dinner sets is the rustic ones that look like they belong in a barn wedding. The earthy hues and simplistic design offer a laid-back feel to a delicious meal. And aesthetically it also offers the chance to get that perfect Instagram shot. 
There is a reason that so many interior designers and party planners recommend stoneware tableware with earthy hues. It is one of the most popular homeware trends that we hope never goes out of style.
4. Sets That Mix and Match
While it is really convenient to have a stoneware table set that all matches in terms of design, it can be a bit stale and boring. Nowadays, it is actually cool to mix and match your tableware — whether it be with the style and design or simply in the colour palette. But we recommend having fun with your stoneware collection and getting a few different types of pieces for your set.
This will add a fun vibe to your dinner table, likely add more colour, and also provide you with more options when it comes to theming your table. For example, a few different coloured stoneware plates will allow you to have more diversity in the floral arrangements you also have at the table.
5. Sets That Tell a Story
While there is a time and a place to purchase your stoneware table sets from big brands, there is equally a time and a place to support local artisans and ensure that your purchase goes towards the greater good of the world.
Many stoneware pieces are made by local artisans. We recommend finding companies that sell these pieces and ensuring that the artisans see the profit to support their own family, or getting them directly from the artisans during your travels.
The best part about getting these locally crafted stoneware pieces is that they tell a story. You will always have an inspiring tale to tell at the table and it provides you with a great keepsake as well. With the handcrafted stoneware sets, no two pieces are the same. This means you can have a truly one-of-a-kind collection that no one else in the world has.
6. Sets That Help the Planet
Similarly to getting stoneware sets that support local communities, we also recommend getting sets that support the planet as well. For example, there are some amazing stoneware sets that are actually made from recycled clay and are packaged with recycled materials as well.
We live in a world where every consumer choice actually matters. So when it comes to selecting your stoneware sets, why wouldn't you want to pick the one that also helps you shop more responsibly as well?
And similarly to the local artisan sets, these sustainable stoneware sets are extremely unique and have a lot of character in their design. This type of purchase will not only inspire you to be a better consumer, but also cook more responsibly with locally sourced food as well.
7. Sets That are Second-Hand
Now, this may seem like a weird one to recommend but bear with us for a moment. Second-hand stoneware sets are often some of the best finds because many are not being made that way anymore. It is like a tiny portal back in time and offers you the chance to hold a piece of culinary history.
Plus, it also enables you to shop responsibly and out to use homeware items that are still just as good as new ones. You do not always need to purchase the most expensive and new sets to have the most beautiful ones. There is a charm in second-hand sets that come with so much character and style — and for often a quarter of the price too.
8. Sets That Store Easily
This is perhaps one of the most important recommendations to consider. You want to make sure you get a stoneware dinner set that you can both store easily and that work with the dining table you have at home. If you are limited on storage space, go for more minimalistic options that are easily stackable.
And of course, make sure that the pieces in the set suit your dining room table and also can fit in the parameter of that space as well. The worst-case scenario is having stoneware pieces that are too big to fit on your table in an aesthetic way — likely leaving you and guests flustered. So do your research and measure up so you can find stoneware table sets that work for your table and the storage space in your kitchen.
Set the Table
These stoneware dinner sets we have recommended are really just the beginning when it comes to the types you can get. Banquist offers the best kitchenware, from chef-approved knives to dinner plates. Choose the set that most inspires you and gets you cooking more in your kitchen!  
Sources:
16 Clever-Approved Dinnerware Sets | Architectural Digest
The 11 Best Dinnerware Sets for Serving Up Supper in Style| Southern Living
 10 Best Dinnerware Sets of 2022 - Top-Reviewed Plate and Dish Sets | Good Housekeeping
Share This