Party Tableware: A Simple Guide
By Bridget Reed
Jan 18, 2022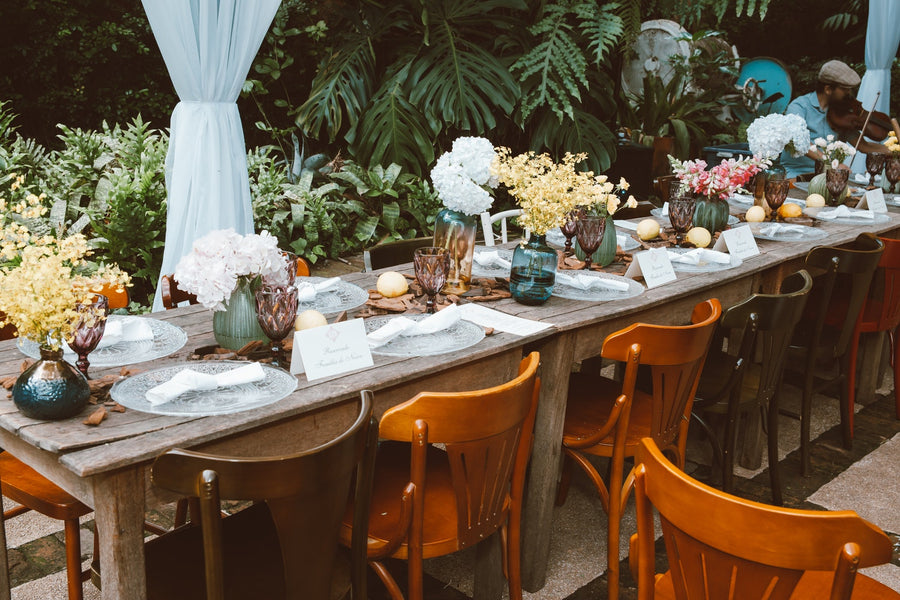 In the world that we live in, dinner parties are becoming more and more the norm.
In fact, it is a great way to have fun with close friends or family without having to venture out into the city amidst the crowds.
Dinner parties are fabulous for many reasons. With just a few being the opportunity to share new recipes you have learned from Michelin star chefs, be amongst good company and create a beautiful environment in your home—with party tableware included.
This simple gathering allows you to provide a boutique hotel experience in the comfort of your own home and earn a reputation as one of the best dinner party hosts in town.
But there is a lot to learn and remember when it comes to how to host a dinner party. And while taking some individual cooking lessons online can help you prepare, there are many other components to it.
In fact, there are some new rules for dinner parties that you should be aware of. And a big component to impressing dinner guests is the tableware you use! Now, to many people, this is something that minimal thought may have been put into before.
It is the tableware that you use which will make the food you serve look exquisite, create a stunning ambiance at the dining table and ensure that you wow all your guests.
So where to start when it comes to party tableware? We have put together a simple guide for you to follow so that you nail every aspect of this and solidify your reputation for throwing some of the best dinner parties in town.
Make It Picture Perfect
First and foremost, one of the most important aspects to focus on when it comes to party tableware is to ensure that it is picture-perfect. The best way to achieve this is to select pieces that complement each other and support the overall theme of the evening. The table should be memorable and something that each guest wants to photograph before the food even arrives.
For example, if you are planning an autumn-themed dinner party, choose colours that compliment the fall foliage that you will be decorating with. While everything does not have to be the exact same colour or from the same brand, they should all work together when arranged on the table and create that perfect picture.
Remember the Formalities
This is a dinner party after all, so you want to ensure that proper protocols are followed too. This means remembering the basic formalities and essentials for tableware. Experts will agree this includes the following:
1. Set It Up According to the Courses
This is where meal planning comes into play. You will want to ensure that the flatware you use is set up from left to right, where guests work their way out with each course served. Same for plates. You will want to put the smaller appetizer plate on top and the largest main course plate on the bottom.
2. Knives and Spoons Do Not Belong Together
Another important formality to remember is that the fork (or forks) always goes on the left-hand side of the plate. And that the knives and spoons should go to the right-hand side of the plate.
3. Glasses Go in Order Too
This means that the water glass should always be placed about the dinner knife, with the white wine glass to the right of it and then the red wine glass at the center.
4. Don't Forget the Name Cards
If your dinner party is four guests or forty guests, name cards are a must. It will ensure that the guests feel special and allow you to strategically place guests to optimize the value of conversation throughout the evening.
The Tablecloth Drives the Design
There are many different types of tablecloths to consider. You can have patterned linens or you can have neutral coloured textiles. Or you can go bare and have only a table runner instead. Tablecloths should be treated like the canvas for the great masterpiece you are about to create. So make sure that the colours, tones, and designs match the tableware you plan to use so it all works symbiotically in the end.
Ceramics Are All the Rage
Ceramic tableware is the new trend at the moment. Not only do they give that dreamy terra-cotta vibe, but allow little details to take the centre stage when the table gets arranged. For example, you can have a neutral ceramic plate with a bespoke napkin ring with a bold color holding a linen napkin placed on top. And ceramics don't stop at plates. In fact, you can get a whole ceramic set of tableware, from cups to bowls and even salt and pepper cellars.
Candles Create the Mood
The atmosphere of your dinner party is very important. And that atmosphere can be largely driven by what goes on your table and the little additions that support the tableware. For example, candles can have a huge impact on lighting, mood, and the overall vibe of your party. And there are so many different types of candles to choose from. You can get traditional with a long waxed candlestick or modern with tiny tea lights in little glass bowls.
Glassware Give You Character
While glassware may seem straightforward—your water cup and wine glasses—there is so much more to this aspect of tableware. Glasses can come in a range of styles and have exquisite details that really wow your guests. You can go classic glass or get an alternative with unique glasses that combine metallic or copper features. And with the wine glasses, one of the trendiest options to give guests are stemless wine glasses. Use those and the whole dynamic of your table arrangement will instantly change.
Cake Stands for Dessert
No dinner party is really complete without a cake stand. And just like the rest of your tableware, you should really ensure that the cakestand matches the overall décor and vibe you are going for. There are many different types of cake stands—ceramic, woven basket, glass and metal. And you don't have to always serve cake on the cake stands. You can also use it to display miniature desserts like eclairs or use it as the base for a doughnut tower instead.
Check for Durability and Multiuse
While going all out in the details is important, it is also important to ensure that your tableware will get longevity and can be re-purposed for other occasions too. You will want to find quality tableware that looks beautiful while also being durable—no one wants to deal with a broken plate at a party. And if you are hosting a largescale dinner party and won't need to keep forty sets of dinner plates, consider renting them from a theming company instead.
Look for Sets of Tableware
While it can be fun to search for unique and random pieces that seem eclectic but come together in the end, it can also be very time-consuming. That is why another great tip for party tableware is to search for sets. Often you can buy sets that come with up to five pieces. This means that they will give you the dinner plate, the salad plate, the soup bowl, the teacup, and the saucer all in one go. It is also a much more cost-effective way to get your tableware.
Materials and Glazes Matter
Not only do the type of tableware materials matter, but how it is glazed or sealed does too. You want to ensure that you are using food safe tableware that ensures your guests won't be consuming any chemicals or things other than their food. You will likely also want dishwasher-safe tableware as well unless you truly do enjoy washing by hand.
Don't Overdo It on the Size
Again, this is where meal planning for your dinner party will come into play. Because you want to ensure you have tableware that works for what you are serving. For example, a Sunday roast plate will be a much different (and larger) size than if you are serving tacos. So while aesthetics play a big role in your tableware, so does the practicality of it all.
Put Your Personality Into It
The type of tableware you use at a dinner party also says a lot about you. So while there are certain formalities and guidelines to follow, you also want the arrangement and the entire evening to represent you too. So you have permission to also get creative, put a bit of flair into your arrangement, and don't stress about the small stuff.
Overall, throwing a party for guests of any size can be a lot of work. But the satisfaction of a great evening with your dearest friends is always well worth it. And with tableware tips to help you enhance the overall evening, you will be sure to wow everyone who walks through the door—regardless of the actual tableware you use. So have fun and choose the tableware you love. 
Sources:
The Best Stylish Tableware for a Dinner Party | BBC Food
The New Rules of Dinner Parties: Don't Be On Time – and Bring More Booze than You Need  The Guardian
How to Host a Dinner Party - T Magazine Guides | The New York Times
Share This