Virtual Cooking Classes: Top Choices
By Bridget Reed
Dec 6, 2021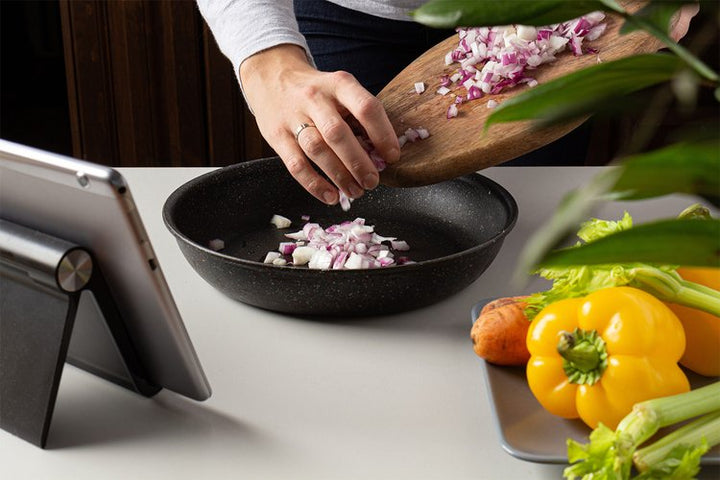 If you are craving something new in the kitchen, then now is the perfect time to sign up for a virtual cooking class.
In fact, virtual cooking classes have exploded in popularity as of late. We think it is largely due to increased demand in wanting to spice things up in life and it is an easy way to connect.
One of the best parts about virtual cooking classes is that you can follow along with the instructor and learn to cook with the world's best chefs regardless of where you are located. Whether you sign up for one of those Instagram cook-alongs or enroll in a semester-long cooking course online, there is a good option out there for you!
So while in-person cooking classes seem to be few and far these days, you have plenty of options when it comes to learning a new culinary skill, baking, or cuisine online! To help you sort out which one is the best for you, we've rounded up the top choices for you to consider.
1.  Banquist—The Ultimate Cooking Experience
We pride ourselves on offering an incredible virtual cooking class experience from the comfort of your own kitchen. Not only can you learn to make Indian fusion dishes from the best in the industry, but we will also organize to have your ingredients sent to your home kitchen ahead of time so you can prep. 
This means you will have exactly what is required for the classes to make the perfect dish. We also offer kids cooking courses that go for multiple weeks, meaning they will learn new skills, have new recipes to keep them occupied, and by the end of the course be able to cook you dinner for a change.
2.  Leiths—Mastering Culinary Skills
For those that are interested in enhancing their culinary skills (knife skills, mastering a list of ingredients, creating special sauces, etc.) in the kitchen, this virtual cooking class is for you. You will get to finesse your skills and techniques with Masterchefs who have years of experience in the industry. Not only do you receive video guides and feedback, but you can also sign up for six-month online courses that will prepare you for a career in the culinary industry.
3. BBC Food—An Extensive Library of Classes
If you are after learning some new dishes to freshen up your weekly meal rotation, these virtual cooking classes are best for you. Instead of having to take multiple weeks of classes, you can actually pick the exact classes you want to take and do them in your own time. 
The virtual classes are pre-recorded and often include a time-lapse, so the actual lesson will be no longer than a ten-minute class. Our favourite class is learning how to make the perfect waffle, which will be a family breakfast staple in no time (and is especially popular with hungry teens).
4. Delia Online—A Passion Project for the World
This one is more of a do-it-yourself cooking class online, with the biggest perk being that the classes don't cost you anything. You will be able to source the enormous library of recipes and tutorials that range from cake to chicken to steak to pasta dishes. The classes come with step-by-step instructions and tips for improving your technique, where you can go at your own pace the entire way.
5. Sur La Table-The Redesigned Cooking School
This cooking school is renowned for its in-person classes. But they have adapted to the times and now offer fantastic virtual cooking classes as well. 
One of their most well-received has been the 'Thanksgiving for Two' course, which provided a fun date night activity for couples and allowed for families to still create memorable meals despite so many restrictions. These classes range from around one to two hours and are led over Zoom.  
6. The New York Times—The Subscription Based Classes
This US newspaper has garnered a reputation over the years for providing fantastic recipes for readers to recreate at home. They have now upgraded this offering to be a subscription-based membership where you can access thousands of cooking classes even if you aren't located in the US.  One of the most unique parts of this virtual class is that they have a dedicated section to help you limit your food waste and give creative ideas for how to utilise leftovers.
Choosing the Right One for You
There are a lot of great virtual cooking classes to choose from. The key is to sign-up for the right one for you. This means the one that is within your budget, offers the skills you want to learn, is convenient with your schedule, and is a class that inspires your love for cooking. Banquist can help you with all of that and more!
Sources:
11 Best Online Cooking Classes 2021 | The Strategist
The best Instagram cookalongs to follow in your kitchen at home |The Guardian
Share This