Top Chef Online Cooking Classes
By Bridget Reed
Dec 6, 2021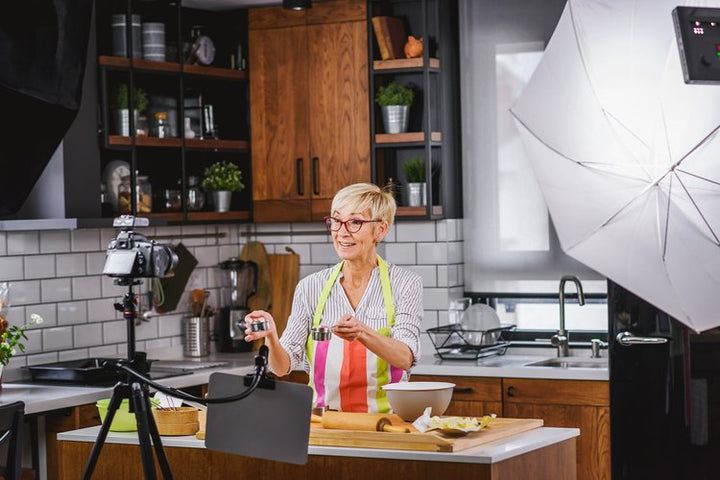 If we've learned anything in the last year and a half of spending way too much time at home, it is that the internet is a brilliant source of online cooking classes.
With so many of us discovering just how much extra time we have in the day when we aren't commuting two hours a day, upgrading our cooking skills has become a passion project for many of us. But more so than just that, cooking has provided us with an outlet to de-stress and have some fun during some really stressful times.
Online cooking classes are providing us with an alternative to dining out on Friday nights. And to be honest, it is so much more fun, especially when you get to learn to cook with the world's best chefs.  Nowadays, you don't have to travel to Paris to learn how to make the perfect macaroon. Instead, you can simply sign up for a chef-led online cooking class that will teach you the very same lesson.
Whether you want to enroll in plant-based cooking classes or to get guidance in upgrading your banana bread, there is the perfect online cooking class out on the world wide web for you. That's why we have rounded up the top chef online cooking courses so that you can get whisking away with the best in the business and have a delicious time in your kitchen.
1. Banquist: Exclusive Classes Led by the UK's Best
You'll quickly become a Masterchef when you sign up to take online cooking classes with the best chefs in Europe. If you are wanting to enhance your Italian cuisine skills, then learn to make pasta with Theo Randall. 
As the head chef at River Café, he won his very first Michelin Star and his Theo Randall restaurant is crowned the country's best Italian restaurant. And if you want to spice up your culinary skills, sign up for learning to make Indian fusion with Atul Kochhar, who has multiple award-winning restaurants and was the first Indian chef to receive a Michelin Star.
2. Bread Ahead: Instagram Classes Everyday
This London-based bakery goes virtual every day at 2 p.m. on their Instagram page. All users are welcome to follow along to lessons in baking everything from carrot cakes to brioche and sourdough pizzas. They always list the ingredients that participants will need ahead of time so that you can stock up and be prepared come 2 p.m. It's a great way to upgrade your banana bread game and bake something a bit different.
3. Food With Chetna: Led by the Bake Off Star
If you are wanting to fine-tune your cooking skills, then this online class is the perfect one to follow along. Chetna is a former Bake Off television star who is now passionate about teaching others the magic of cooking. You'll improve your techniques and learn creative dishes like chickpea spinach curry.
4. The Devilled Egg: Subscription Classes With a Free Trial
Becoming a Masterchef takes practice. That is what The Devilled Egg's subscription classes are best for those wanting to really take their cooking game to the next level. At a reasonable price, participants get access to an extensive library of cooking classes that can be done on their own time. And just to make sure you love it before signing up for good, you get to enjoy a free month's trial first and take all the classes you want.
5. Learning With Experts: Personal Instructors and Classes
Offering an extensive list of big-name chefs, Learning with Experts offers participants a more intimate experience with virtual cooking classes. The classes are bundled together in groups of four and each comes with an assignment of its own. 
You will get feedback from the instructing chef on all your assignments and personalised tips to focus on. Best of all, the space in these classes is limited so you can get the most value for your money and time.
6. Jeremy Pang's School of Wok: Specific Dishes to Master
If you are missing your favourite Chinese restaurant, look no further than this online cooking class. Offering simple videos that break down every single step to staple Chinese dishes, you will be able to cook your favourite Chinese meals at home in no time.
Choosing the Right Course for You
Learning from the best in the business is how you will get better in the kitchen. And with so many incredible chef-led virtual cooking classes to choose from, you will find the best one for you in no time. Who knows, maybe you will be leading one of these courses someday!
Sources:
The best online cookery classes to take right now | Delicious Magazine
Virtual Cooking Classes, Food Events and Tutorials to Stream Now | Country and Townhouse
These are the best online baking courses to join | Independent
Share This