Stoneware Tableware: Everything You Need for a Memorable Dinner
By Bridget Reed
Feb 18, 2022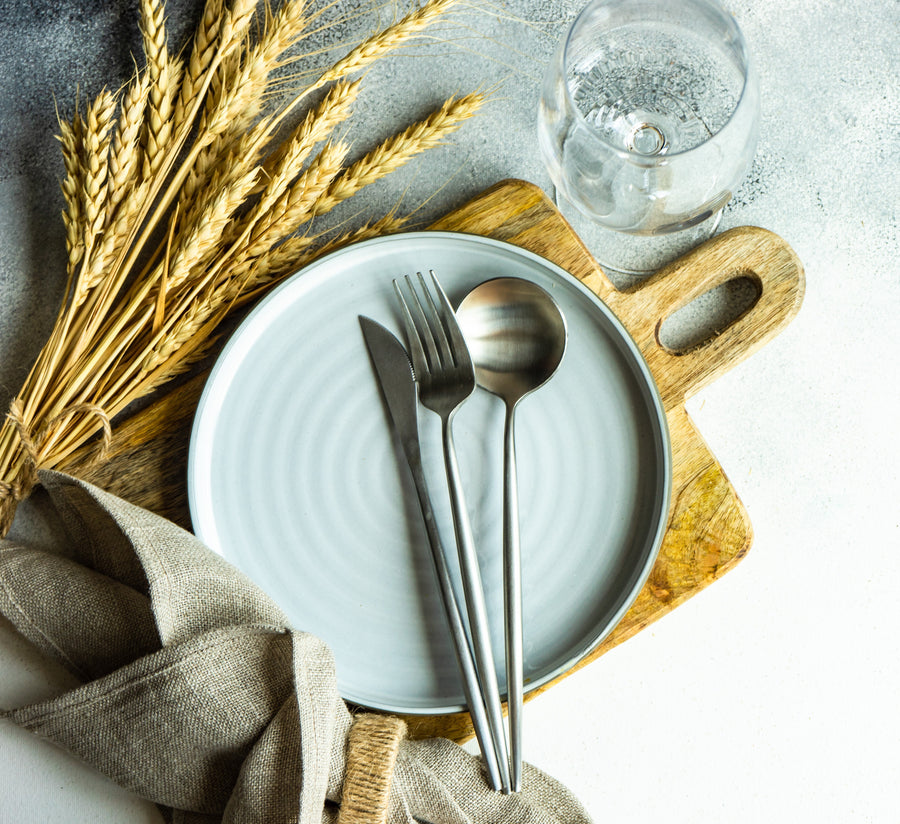 You know you have made it to adulthood when you are actually researching what type of tableware to get for your home.
Think back to those early college years where the red plastic cups and cheap $1 plates were all you really needed to serve up a hearty meal. Now, you probably cringe at the thought of using such basic and unglamorous tableware.
More and more of us have been practising our cooking at home skills by taking an online cooking class and having more time to get creative in the kitchen. And it is through this period of time that you have likely realized that if you serve up your meal in style, it will automatically taste better.
Many of the world's best chefs will attest to the fact that presentation is the final and most important step to serving up a delicious meal. In fact, it should look like a piece of art when it is presented on the table.
So if you are wanting to serve up a memorable dinner, then you will want to do it right when it comes to selecting your dinnerware. And you do not have to wait until your wedding or buying your first home to upgrade from cheap tableware to stoneware tableware. There is no time like the present to bring out the interior designer in you and have fun designing your perfect tableware assortment.
To help make sure you do it right when it comes to stoneware tableware, we have rounded up everything you need to know so that you can be sure it helps you create the dinner of your dreams.
What Is Stoneware
First, let's get into the basics and discuss what stoneware tableware even is. When it comes to tableware, there are a variety of different materials used to create the sets. Some are more fragile and not microwave safe. Others are more durable and also kid-friendly.
Stoneware tends to be amongst the special materials used as it tends to come with a glazed layer to finish off the design. This gives the tableware both an earthy and polished look — making it great for both your casual weekday dinners as a family and for hosting guests during a special occasion.
There are a couple of things to keep in mind about the care of stoneware tableware. First, while it tends to work well in various temperatures, you do not want to expose it to extremes. This means that super high heat and freezing cold environments will not be suitable for the longevity of these tableware sets. Secondly, since many of these sets are hand-painted and have that extra layer of glaze, it may be best to hand wash these plates rather than chucking them in the dishwasher.
Select a Set That Does It All
When it comes to getting our stoneware tableware collection, you will want to first determine the overall style and vibe you are going for. While you can usually buy stoneware tableware in complete matching sets, that is not often the trend these days. 
In fact, having a mismatched assortment of tableware has become the cool thing to do. So you can get an assortment of various colours and styles that all complement one another and can help lift the overall design of your memorable dinner.
Decide the Style of Dinner
Now comes the important part — deciding the type of tableware you actually need! If you are wanting your memorable dinner to be on the formal side, you will need to get at least a five-piece set per person. This typically includes a plate for dinner, a salad plate or dessert plate, a bread plate, a bowl for soup, and a teacup and saucer.
But of course, this is the traditional way to do formal dinners. You can still host a memorable dinner with more casual tableware sets. For example, if your guests are not into a cup of tea to top off the meal, then ditch that for a red wine glass or champagne flute instead. And if you are throwing together a grazing platter for appetizers, you likely can ditch the soup bowls too.
Know Your Space
Now, this is probably one of the most important things to consider when it comes to selecting your stoneware tableware — the space of your table. There is nothing more devastating than getting the ultimate stoneware set only to find out that it does not quite suit your dinner table.
Keep in mind that not only will you be having place settings for all the guests at the table, but you will also likely have other table decorations like flowers, candles, and place cards. Plus — do not forget all your delicious food as well. So try to not only find stoneware tableware that you personally like, but that also fits with the size of your table.
Simple Is Best
You actually do not need a lot to make a great impression for a memorable dinner. Sometimes simple is best. These days, earthy hues with subtle designs can allow you to really showcase the beautiful food you have cooked and make that the focus of the evening. Plus, this will allow you and your guests to take the ultimate foodie pics as well that are perfect for Instagram.
A good source of inspiration is to pay attention to what the best restaurants in your city are doing in terms of stoneware tableware. Pay attention to the details they have chosen and what types of tableware they use to serve up various dishes.
Make Dinner Memorable
While in our youth we may have laughed at the thought of putting so much effort into our tableware, we are now at that stage of life where we appreciate these things in life. If you work hard in the kitchen, your food deserves to be presented on the best tableware there is and do it justice. 
That is why stoneware tableware is such a great selection when it comes to creating a memorable dinner for you, your family and all your guests who are lucky enough to taste your delicious food. Banquist offers the best kitchenware, from chef-approved knives to dinner plates. Check out our incredible selection.
Sources:
The 11 Best Dinnerware Sets for Serving Up Supper in Style | Southern Living
16 Clever-Approved Dinnerware Sets | Architectural Digest
10 Best Dinnerware Sets of 2022 - Top-Reviewed Plate and Dish Sets | Good Housekeeping
Share This