Plastic Wine Glasses Perfect for Parties
By Bridget Reed
Feb 24, 2022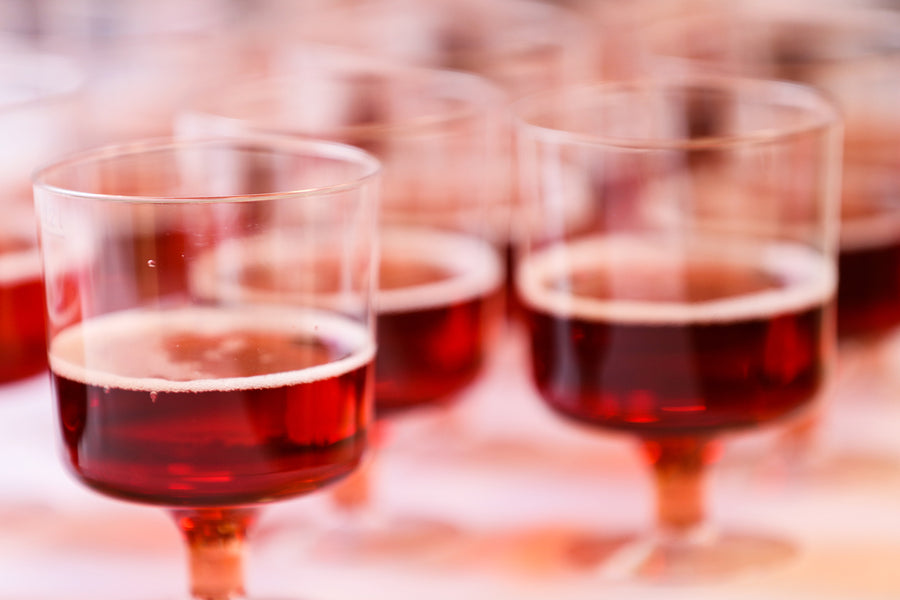 There are some moments in life where a bottle of wine is well suited, but the wine glass feels like too much of a risk.
This is where plastic wine glasses come into play and make drinking wine fun rather than stressful.
Traditionally, wine glasses have been made of the finest crystal glass accessible to wine glassmakers. This allows for intricate design shapes so that the aromatics of the wine itself can be enjoyed to a max.
How would plastic wine glasses compare? Well, in addition to it being considered a more unusual wine glass, some of the best chefs around say that drinking from plastic wine glasses is not a dealbreaker. In fact, there are numerous benefits of choosing this type of wine glass, with one of the top being a party essential that prevents guests from breaking real glass.
If you want to throw a dinner party to show off the new skills you learned in your most recent cooking class or want a safe way to drink outside without risking breaking an expensive glass, plastic wine glasses are the perfect selection.
To back this up, we will pour into the details of what a plastic wine glass is and the art of the design process behind it, all the reasons experts recommend considering drinking from it, and the best ones around for purchase.
What Is a Plastic Wine Glass?
Much like their crystal glass counterparts, plastic wine glasses actually also come in all different shapes and sizes. In fact, the design process and details are pretty much identical — except for the fact it is simply made out of different materials. Here are some common features to keep in mind when shopping for a plastic wine glass.
1. Does It Have a Stem?
There are two types of plastic wine glasses — those with stems and those without. Just as with crystal wine glasses, the plastic wine glasses will often have a stem incorporated into the design to ensure that the temperature of the drink does not get altered. But many times, a stemless plastic wine glass tumbler will help keep the drinking environment casual.
2. What Type of Plastic?
This is another very important feature to consider, as there are many different types of plastic that can be used to make these glasses. You will want to ensure that the type of plastic material used is both BPA and BPS free, along with being shatterproof. The most common types of plastic used are copolymers, polycarbonate, and acrylic. Do your research and know the type of material you are drinking from.
3. Can It Go in a Dishwasher?
Not all plastics are created equal, which means not all are designed for the dishwasher. So do your due diligence ahead of time and make sure that the plastic wine glasses you are purchasing can safely go in the dishwasher. This will come down to the material it is made of. Usually, plastic wine glasses made of polycarbonate or acrylic need to be hand washed and dried right away.
Why a Plastic Wine Glass?
What are the benefits of using a plastic wine glass over a traditional one made with glass? There are actually many different reasons to use a plastic wine glass over real glass. Here are just a few of the reasons to consider.
1. Sturdy and Reliable
While of course there are reliable wine glasses that can withstand some tough love, plastic wine glasses take that precaution to a whole new level. It is great to know that whatever happens at your party, or however rowdy guests may get, the plastic wine glasses will hold strong and likely be able to remain intact no matter what happens. Mishaps happen, but losing wine glasses can be avoidable.
2. An Upgrade From the Red Solo Cup
While back in college you would likely be willing to drink out of anything so long as there was alcohol in it, the years after graduation have hopefully inspired you to upgrade your drinkware. The plastic wine glasses allow a decent upgrade from the red solo cups without having to break the bank or literally break glasses.
3. Stack for a Party Design
You know those wine glass towers you see in the movies or at black gala events? Well, you can replicate those at your own party — but with much less risk. Plastic wine glasses allow you to show your creativeness off at your next party, in which you can build a tower of wine or champagne glasses without having to risk mass carnage if it does tip over. In fact, many plastic wine glasses are purpose-built to be stacked on one another.
4. Light and Easy To Drink
A big factor for any wine glass is to consider how drinkable it is. You want it to be lightweight enough that it is seamless to sip from, while also being strong enough to not crack. Plastic wine glasses still have all the curves, lips, and rims that other wine glasses do too. In fact, many look identical to the real deal when placing them side by side.
5. Take Them Outside
If you want to have a party at home that allows for indoor and outdoor integration, then plastic wine glasses are certainly the way to go. They allow guests to switch up the environments they are in without having to be nervous about the glasses they are carrying. It also allows for you to likely host more people too, as you will have more space to utilize.
The Best Plastic Wine Glasses
Now on to the most important part: which plastic wine glasses to invest in. We have rounded up the best-reviewed ones from experts in the wine industry. From unique designs to practical sets, here are the best plastic wine glasses you will want to use at your next party.
1. The Stemless Ones
Coming in sets of four, these stemless wine glasses made of plastic are literally unbreakable, while also being equally well priced. Best of all, these wine glasses are completely recyclable. Many people will end up getting plastic wine glasses for party use only, and it is comforting to know that they can simply be recycled rather than dumped the next day during clean-up. In fact, we reckon many of your guests will hardly even notice they are drinking from a plastic wine glass.
2. The Dishwasher Safe Ones
If you are throwing a party at your house, there will likely be some cleaning up to do the following day. That is why the dishwasher-safe wine glasses are a great selection because it means you do not have to waste hours handwashing them. Plus, the lack of stems on these wine glasses allows them to easily fit in the dishwasher.
3. The Fancy Ones
You can still celebrate those big milestones in style with plastic wine glasses. In fact, these are perfect for birthdays, weddings, and other celebratory occasions. 
Because these plastic wine glasses tend to be cheaper, it is not unreasonable from a budget perspective to purchase these in bulk without having to break the bank. Plus, because they are more durable, it will be much easier to transport them to the venue for the big day.
4. The Long Stemmed Ones
Just because crystal hand-blown glass is not used does not mean that this plastic wine glass with a long stem is not just as pleasant to sip from. In fact, these long-stemmed ones are so elegant they can be served for nearly any occasion. The long stem ensures that the temperature of the beverage stays just right. And the plastic material provides comfort that the long stem won't break.
5. The Detachable One
Yes, you read this correctly. Thanks to the flexibility of plastic, this wine glass can actually play the role of both a stemless and long-stemmed wine glass. The bowl of the glass is detachable from the stem, leaving it up to you with how you want to drink from it. Plus, the detachable element makes it much easier for those with limited storage options.
6. The Cooling Ones
If you are wanting to ensure that your Chardonnay remains ice-cold for the whole afternoon then this plastic wine glass is for you. In fact, they are designed to cool the wine. This wine glass is especially for those afternoon pool parties, where the shining sun risks warming up the white wines too quickly. But with this wine glass, every last sip will be just as refreshing as the first.
7. The Stackable Ones
We mentioned this feature earlier on, and this set of wine glasses does exactly that — stacks on top of one another. The art of drinking wine transfers over to the presentation of wine as well. So the ability to stack wine glasses at your party will have you going viral all over social media in no time. These wine glasses are sturdy, strong, and stackable. What more could you want in a wine glass?
Cheers
Plastic wine glasses are here to make your life and throw a party, stress-free. Which of these fantastic options will you be using? When you're ready to buy, Banquist offers the best kitchenware, from chef-approved knives to dinner plates. Check out our amazing selection.
 Sources:
11 Best Plastic Wineglasses on Amazon 2021 | The Strategist
10 Unusual Wine Glasses To Add To Your Collection| BBC Goodfood
Plastic Wine Bottles Are Here to Make the Outdoors Fun Again| Food and Wine
Share This