Knife Block Sets: One for Every Home
By Bridget Reed
Feb 18, 2022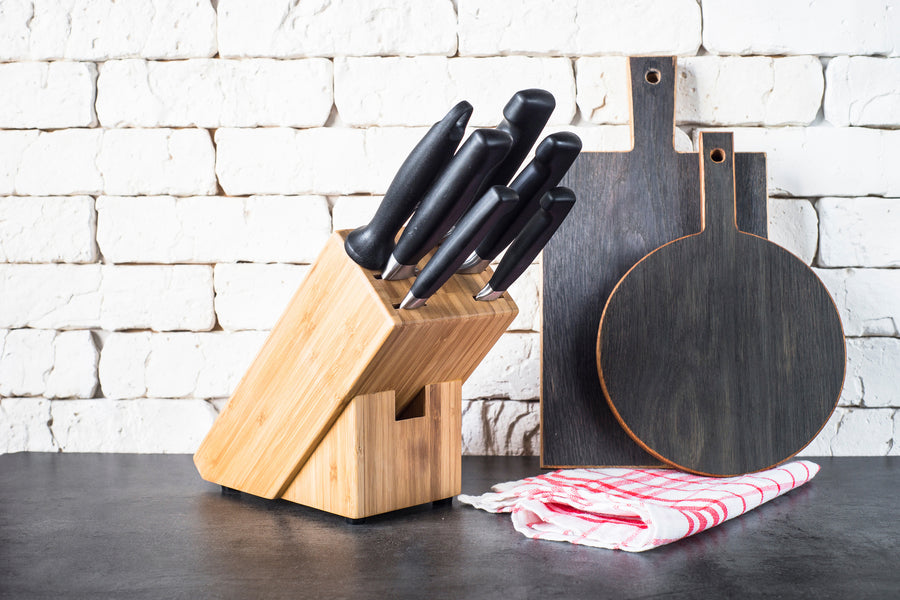 If you get one thing for your kitchen, make it a quality collection of knives.
When you talk to the world's best chefs, they will all likely give home cooks the same advice. A quality kitchen knife is great, but a block set of every type you will ever need is the best thing for budding chefs.
And we think that advice is pretty solid, with a good knife helping you chop like a pro for every single kitchen task you need to do. In fact, not only is a good knife is essential for the kitchen, but it can be one of the only tools you really kneed.
Plus, for those that are considering taking an online cooking class, you will want to make sure you have a quality collection of knives at your disposal.
So for those that are looking for knife block sets, we are here to ensure you that there is literally one for every home, budget, style, and level of chef skills in the kitchen. To help ensure that you have the best knife block set possible for your home, we have gathered the top qualities to look for when you go shopping.
What Is a Block Knife Set?
But before we get too far into the features, it is important to first clarify what a knife block set actually is. While some sets range from three knives and others have up to 15 knives, at a minimum they will always have a chef's knife, a utility knife, and a serrated knife.
You will likely almost always go to your chef's knife when it comes to kitchen tasks—it will help you from cutting onions to slicing tomatoes and even mincing garlic. But the utility knife is just as useful, designed to assist with quick kitchen tasks like cutting an apple or a block of cheese. And of course, there will be the serrated knife too so that you can always slice that fresh loaf of bread to perfection
However, knife block sets do not stop there. While you could simply purchase the three main knives, some sets include specialty knives, designer knives, and even steak knives. And the design of blocks varies too, from a classic wooden block to clear circular blocks that make the knives look as if they are levitating. Then there are even blocks that have sharpeners integrated so they can have a fresh slice every time you take it out.
Top Things To Know When Buying a Knife Block Set
When it comes to buying knives, everyone's needs and preferences will be different. It is finding the right balance between the quality of the blade, the comfort of the grip, and the price point compared to your actual budget.
The good news is that there is a variety of knife block sets for you to sort through and choose from. Here are some basic things you should know about knife block sets in general.
1. There Are a Variety of Materials Used
Not all knife block sets are created equally. Most of the knife block sets are made from high carbon stainless steel, which will slice through literally anything with minimal effort and look pristine throughout the years. It is the carbon that gives the blade the slicing magic, while the stainless steel ensures that the knife will look good even if it is well-loved.
2. Forged Versus Stamped Steel
There are also two different ways that the knives in a block set are made. If a knife is forged, then it means that only one piece of metal is used to form the blade, while the blade that is stamped means the blade was made from a larger piece of steel. Forged knives tend to come at a higher price than stamped knives, but many beginner cooks prefer the lightness to the stamped knives.
3. Western Versus Asian Styles
It is also important to recognize that there are two different types of styles to knife block sets. One style is known as the Western style, which means the knives are thick, heavy, and can cut through the thickest of items (such as roast beef). Then there are the trendy Asian knife block sets, which slice with tenderness and allow for ultra-thin slices on fish, vegetables, and other meats.
4. All Knife Block Sets Need a Sharpener
No matter what knife block set you decide to purchase, know that they need to come with a sharpener. Because all knives kneed to be cared for with a sharpening tool. Some knife block sets come with a sharpener integrated into the design, while other sets provide a sharpener as one of the items included in the set. Regardless, make sure you have a sharpener in your kitchen so you can care for your knife collection properly.
Top Features To Look for in a Knife Block Set
Now on to the fun part, finding the perfect knife block set for you. We have rounded up some of the best qualities in sets to consider bringing into your kitchen. From affordable and classic to modern and worth a splurge, here are the sets you should be paying attention to.
1. A Synthetic Knife Box Set
One of the most important features in a knife block set is ensuring they will have a long life to match the price you paid for them. A synthetic knife set means that the collection of knives will never get warped or splinter. Ten years down the line the handles will still feel just as smooth in your grip. These types of knives we consider to be near perfect, with rounded blades on the chef's knife and extras such as kitchen knives and honing steel included.
2. A Low Maintenance Knife Block Set
Then, of course, there is the knife block set for those who just can't be fussed in the kitchen. The low maintenance set provides enough functionality while ensuring the upkeep and care of the collection of knives is not tedious for the home chefs who have other things on their plate too. 
This type of block set achieves just that by having a fine-edged knife slot for each of the pieces in every slot, that way the blades are honed every time they are taken out to use. Plus, this type of knife block set labels where each of the knives goes, saving you more time and preventing any confusion for the newbies in the kitchen.
3. An Asian Knife Block Set
If you are wanting to splurge or simply collect knives that are just as much a piece of art as they are a functional kitchen tool, then this type of knife block set is for you. These knives are crafted in Japan by artisans who have spent their whole lives honing in on this skill. 
The blades all come with stunning patterns while being equally durable. Staying true to the Asian design and style, this type of block set tends to come in a bamboo block and will take up minimal space on the kitchen counter. A quick tip though, make sure to bring these knives into a professional to sharpen for you, as it is a delicate process.
4. A Budget-Friendly Knife Block Set
For those that want premium knives without breaking the bank, then getting a budget-friendly set is certainly the way to go. In fact, despite what public conception may be, you can get quality Asian knives that are still made with traditional Japanese techniques but for a quarter of the price. 
This type of seat will still do it all, from chopping up your vegetables to slicing up your fish. You may not have the premium brand name engrained on the block set, but you will have yourself a collection of enviable knives.
5. A Knife Block Set for the Professionals
Even professional chefs need a knife block set in their homes. This type of set will come with the most common knives that actual chefs use while on the job, and usually includes a chef's knife, a paring knife, a serrated knife, a santoku knife, a bread knife, a steak knife, and sharpening steel. 
These sets are designed to provide the same efficiency and support that chefs would get when at work, but made to double as a great piece of décor for the kitchen counter. There is usually even a slot on these blocks to place a recipe card or a tablet to follow recipes.
Conclusion
Finding the perfect knife block set for your home really is not that hard. The main thing is to ensure that you get a set that suits your specific cooking needs and style. If you are a casual home chef who dabbles in recipes every now and then, you likely do not need a knife block set for professionals. And if you are a collector of premium Asian knives but have a tight budget, know there are suitable options out there for you too. Banquist offers the best kitchenware, from chef-approved knives to dinner plates. Check out our incredible selection.
Pick your knife block set and get chopping away!  
Sources:
Best Kitchen Knife Sets of 2021 | CNN Underscored
5 Best Knife Block Sets, According to Food Network Kitchen | Food Network
The 15 Best Knife Sets for Key Kitchen Tasks | BBC Good Food
Share This