News & Advice
Your Guide on How To Cook Roast Beef (2021)
By Bridget Reed
Dec 7, 2021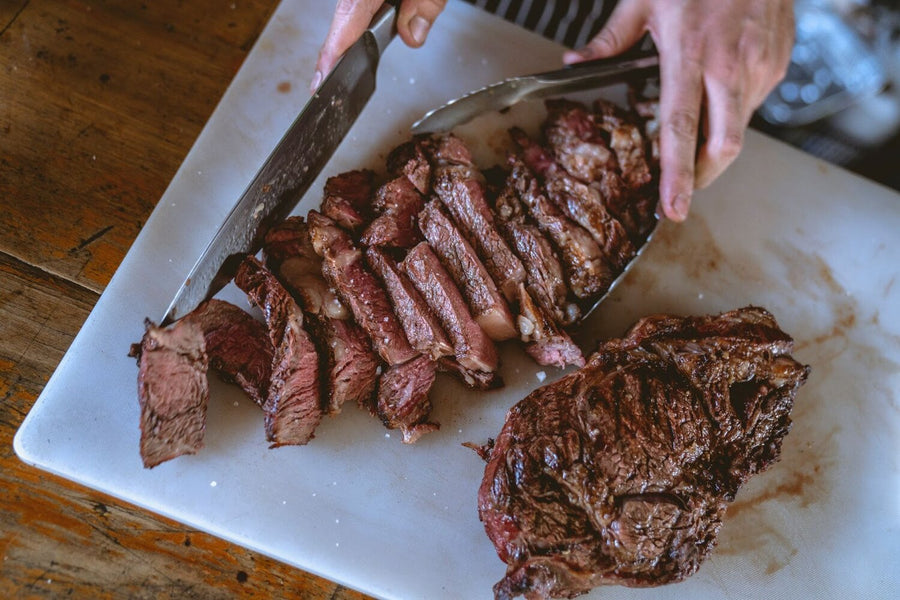 All hail the Sunday roast! As proud Brits, the Sunday roast is the best way to cap off the weekend. It is a time where we all unplug from our phones and the television, sit around the dining room table, and enjoy a long early dinner.
Growing up, it was always the best meal of the week. Roasted vegetables, Yorkshire pudding, and roast beef were the main event. Our parents were our heroes for making this delicious meal and it really did taste like home.
While we may remember our parents slaving away in the kitchen for hours to prepare the weekly staple dinner, making the main event of roast beef is actually easier than you might think. With our guide, you can learn to be a pro chef yourself and continue this long-standing British tradition.
Back in the day, eating meat signified affluence. But nowadays, eating meat is much more mainstream. The roast beef dish being easily made by anyone who attempts it. We love this dish for many reasons, and what makes it even better is that roast beef is low in fat and high in protein, meaning there are numerous nutritional values to it as well.
So say goodbye to that store-bought deli meat and say hello to your new favourite method of cooking meat. Whether it is for your family Sunday roast or you are hosting a dinner party with friends or colleagues, this guide is designed to ensure that you can easily whip up a delicious meal.
Top Tips for Roast Beef
Making roast beef is something that has been done for centuries. With that comes a long line of wisdom that has been passed down. In addition to the exclusive menus and cooking courses Banquist offers, these tips and tricks have been sourced by us with you in mind.
1. Buy the Best Meat You Can
When it comes to making a quality roast beef, buy the best meat you can afford. 
This is not an ingredient that you want to go cheap on because the better the meat is the more delicious your outcome will be. You can go to your local butcher to source your cut of meat, or you can arrange to have your ingredients delivered directly to your home.  
2. Choose the Right Cut
It is equally important to ensure that you select the right type of cut for your roast beef. The best ones to choose from are usually a round roast, sirloin roast, bottom round roast, or an eye of round roast. While other cuts will still work, these four have been tried and tested as some of the best that money can buy.
3. Tenderness Matters
The tenderness of your meat is super important for the end result. When it is tender, there will be an equal balance of juiciness and flavour that really makes this dish extra special. To ensure that it does get the right amount of tenderness, it is crucial to check the temperature of the oven and ensure it is fully preheated before you start cooking. 
Ideally, you want the oven to be at 220 degrees Celsius and ensure the temperature is consistent for the entire time that the roast beef is in the oven. To check the level of tenderness, you can stick an internal thermometer in, where you are looking for the sweet spot of 62 degrees Celsius.
4. Perfect Your Slicing Technique
Another tip to ensuring that your roast beef dish impresses is the way in which you cut it. It is probably one of the most important steps in the entire process. The golden rule of thumb is to slice your roast beef across the grain. 
You can find the grain by looking for the long lines on your roast beef, which will go in the same parallel direction. Cutting against the grain prevents you or anyone else from eating a muscle fiber and getting the maximum tenderness in each and every bite.
5. Have the Right Tools
Your tools matter when it comes to cooking roast beef. You will want to have the right kitchen tools available to you during the process so that the recipe is easy to enact. The key items to have are a roasting pan, thermometer, an excellent chef's knife, and a paring knife. This will ensure that both the roasting and slicing processes can be done to perfection.
The Simple Steps for the Perfect Roast Beef
We are being serious when we say that making the perfect roast beef is actually really easy. This recipe is designed to be able to feed up to eight people and will take around two hours of total cooking and prep time to complete.
Ingredients You Need
The first step is to source all your ingredients and prep them. Here is what you will need:
1. Around three kilograms of beef. We recommend getting a three-bone rib of beef if it is available to you.
2. Flour, salt, pepper, and mustard powder
3. One onion that is cut in half.
And that's it! All you need for this roast beef recipe are these few simple ingredients. How easy is that?
The Simple Cooking Steps
1. After you have sourced all of your cooking ingredients, you will want to get your beef to room temperature for the maximal cooking experience in the oven. Ideally, set your beef out on the kitchen counter for at least an hour prior to when you plan to start cooking.
2. Ensure your oven is set to 220 degrees Celsius. This is the proven temperature that has had the most success at producing a tender, juicy and tasty roast beef dish.
3. Prep the beef. The super-simple method is to season the beef by rubbing salt, pepper, and a little mustard powder. However, you can get creative here with your seasoning and try other alternatives as well. Other options include a herb and pepper combination that is proven to give your roast beef a delicious crust.
4. Lay the two halves of your onions on the roasting tin. Then place the seasoned beef on top of the onions. You will then place it in the oven for 20 minutes, where it will roast at 220 degrees Celsius temperature. After the time is up, you will then adjust the oven temperature to 180 degrees Celsius and set your timer for one hour and 40 minutes.
5. Once the cooking time is complete and you have checked the internal temperature of the beef as well, take your roast beef out and let it rest on your kitchen counter. As we mentioned in our tips, it is important to use a proper cutting knife and to slice the meat away from the grain. Keep slicing up the roast beef and lay it on your presentation platter.
6. To really impress your guests or family and make the roast beef a picture-perfect moment, add a few garnishes on top of the roast beef. It will look too beautiful to eat, but the smell of the flavours means that it won't take long before people start digging in.
Final Thoughts on Roast Beef
Once you have tried this roast beef recipe, we are confident you will never go back to your old ways of boring pre-prepared deli meat. Nothing quite compares to the sweet aromas and juicy flavours from homemade roast beef.
While our guide to making this easy roast beef was straightforward, it does also leave plenty of room for the imagination. You can try making a variety of roast beef dishes that are just as simple to make, the only main difference coming from the sauce and seasoning you use.
Try playing around with making a mustard and treacle crust or whipping up an Asian sauce to pour over the roast beef.
Another way to really top off your roast beef dish is by creating the other traditional side plates that accompany it in a Sunday roast meal. This means roasting carrots and potatoes, making Yorkshire puddings, and adding a delicious gravy into the array of items on the table.
Roast beef dishes don't just have to be saved for Sundays though. This dish provides plenty of opportunity for leftovers that result in a week's worth of savoury roast beef sandwiches for lunch.  
Sources:
A Brief History of Eating Beef | Hereford Beef
Perfect Roast Beef Tips | Good Housekeeping
Share This