Indian Cooking Classes
By Bridget Reed
Dec 6, 2021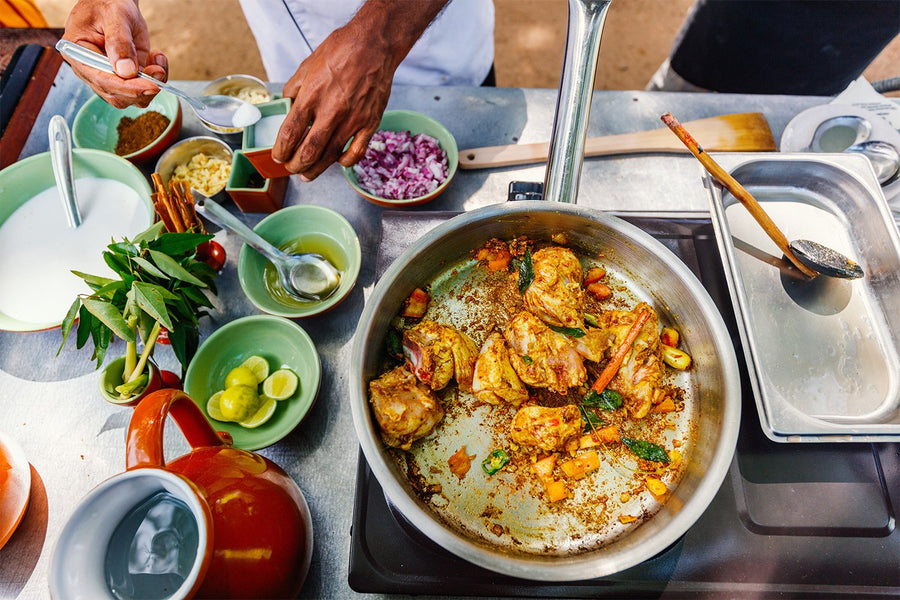 The flavours of India are an essential ingredient to their culture, with people all around the world passionate about becoming immersed in their culinary scene.
Indian food has been around for thousands of years and has been designed from the beginning to be shared and eaten in a group—whether that be with families, friends, or even strangers.
Their range of dishes ranges from mild and sweet flavours to spicey and hot that only a few are brave enough to try.
From using local vegetables and other foods that align with the religious beliefs of the country, there is something that both vegetarians and meat-eaters alike will enjoy. And surprisingly, many ingredients in Indian dishes are an international affair these days!
Regardless of how familiar you are with the Indian culture or cuisine, anyone can learn to become an Indian cook. We want to help you cook up some of the best Indian dishes in the world in your very own kitchen.
With Indian cooking classes available both online and in-person, you can learn from the world's best Indian chefs and get a taste of the many flavours of India.
To help you pick the best class and get ready to cook up a storm, we are going to share all there is know about choosing Indian cooking classes, along with share the range of things you will learn in a cooking course and how to go into your first class prepared.
What Are Indian Cooking Classes?
Indian cooking classes are a group event centered around learning how to master a certain Indian cuisine dish, whether it be a traditional one or a fusion one. Likely you will be whipping up a delicious curry, learning how to make Naan, and mastering the perfect buttered chicken.
We're not going to beat around the bush on this one—Indian food is simply incredible. There is a reason that other cultures around the world have become fond of this type of cuisine, especially in the United Kingdom. In fact, London is now one of the epicenters for producing exceptional Indian restaurants and chefs. And now, you can learn their tricks and tips through a cooking class.
How To Take an Indian Cooking Class
Choosing the perfect Indian cooking class comes down to your own schedule, budget, culinary goals, and interest. But regardless of what you are wanting to get out of a class, there is bound to be one for you.
In fact, nowadays there are both online and in-person Indian cooking classes that range in style, group size, costs, and structure. It is up to you if you want to take a class in the comfort of your own home kitchen or travel to central London or Mumbai for an in-person and immersive experience.
Whatever you choose though, we can guarantee that you will be cooking and eating incredible Indian cuisine that your taste buds will be craving for a very long time.
Online Indian Cooking Classes
We have teamed up with a range of Michelin-star chefs who specialize in Indian cuisine for special online cooking courses. One of our most recent is the Indian Fusion Course with Atul Kochhar.
Atul is actually the very first Indian chef to ever win a Michelin-star and has paved the way for Indian fusion dishes ever since. He's opened up numerous award-winning restaurants and is now offering culinary enthusiasts the chance to learn from him on our special four-lesson course.
In general, when you take an Indian cooking class with us, the process is as follows.
1.  Enroll in a Class
We are constantly updating our collaborations with world-class chefs, so there is always a new opportunity to sign up for. Our classes always focus on new recipes from the Michelin-star chefs themselves and range from being a single lesson to a multi-lesson course like the one Atul Kochhar is hosting.
2. Choose the Dates  
It is up to you to decide when you want to master your next Indian dish at home. When you sign up for the online class, you can pick the date that suits your own schedule best, along with how many other people will be joining you for the tasty experience.
3. Get a Meal Kit Delivered
Once you sign up, you will then get to look forward to your Indian cooking kit being delivered fresh to your home the day you have selected to take the class. We prepare these kits to ensure that you can follow along to the recipe exactly as the chef is doing, and even offer the option to have various wines paired with each dish as well to enhance the flavours even more. Cooking kits are all the rage right now and we pride ourselves on delivering you the very best and fresh kits possible.
4. Follow on-Demand Video Tutorial Guides
Then, you will be able to access the video tutorials that will take you through the entire class step-by-step. The Michelin-star chef will be making the meal with you and since the videos are on-demand, you can stop, pause and re-watch any portion whenever you'd like. This will allow you to truly hone in on the little details that make them a master at their craft.
5. Indulge in a Delicious Indian Meal
Finally, it is time to eat. At the conclusion of the course, you will have prepared multiple courses to dig into, each as flavourful as the next. It is an experience that you won't ever forget and one that you will likely want to repeat as soon as you can.
Cooking Classes in India
For some, they want the fully immersive experience of a cooking class in India or London, which has a huge Indian culture and population.
With food and spice being such an integral part of the culture of India, you can benefit greatly by being there in person. And with options of celebrity chef events, cooking schools, and classes hosted by locals, you can find the right type of in-person cooking class for you.
The main thing to keep in mind is to ensure that your Indian cooking class aligns with your budget and your culinary aspirations. If you are wanting to become the next great Indian chef, then you should definitely attend at least a month-long course at an accredited culinary school. But if you are just wanting to sample little bites of cooking Indian cuisine, taking a class from a local or through a celebrity chef event is a great splurge.
There is no bad time to take an in-person cooking class, just make sure to check on current travel requirements as they are constantly being updated.
What You Will Learn in an Indian Cooking Class
In general, you are always going to learn a lot from a cooking class. These experiences enrich us all, regardless of how skilled in the kitchen you already are. 
General benefits you will get from a cooking class include an enhanced sense of wellbeing and connection, the joy of learning something new, and the satisfaction of being able to prepare a restaurant-worthy meal.
And when it comes to an Indian cooking class, you really are in for a treat as there is so much to learn about this exotic culinary art form. A common lesson that you will learn no matter the format is that you've got to do the hard work to make the perfect curry and preparation of your ingredients ahead of time will elevate the end result.
 Here are just a few of the things that will likely be covered in your class.
1. Ingredients Indians Use
While Indian food often tastes like an explosion of flavour, it is all about finding the perfect balancing act of ingredients. Examples of ingredients that are commonly used in a range of Indian recipes include basmati rice, sesame oil, bay leaves, chickpeas, cilantro, and lots of spices, but we'll get to that next.
2. How To Spice It Up
One of the key components of a great Indian dish is perfecting the spice mixes. These include cardamom, clove, cassia bark, black pepper, cumin, nutmeg, mustard seeds, and turmeric. The type of dish you are making will determine the types of spices you will be mixing together—all of which have great health benefits for you too.
3. Perfect Fusion Meals
Indian fusion dishes are currently all the rage right now, and some of the best Indian chefs have mastered combining Indian and European cooking techniques and recipes to create a unique burst of flavour. Some examples include a spicy courgette masala, sea bass in a banana leaf, a spiced lamb wrack, and burnt hispi.
4. Master the Perfect Naan
Curries simply wouldn't be the same without that garlic naan bread to scoop up the meal with. Plus, sometimes that naan is a real-life savior when the spices and heat get too much for our taste buds to tolerate, regardless of how delicious it is.
5. Prep Onions Like a Pro
As we alluded to earlier, one of the secrets to being a great Indian chef is to master the simple steps like cutting an onion. It is these early steps done correctly that will allow all the flavours to properly settle into the dish that you are making. There are no shortcuts when it comes to preparing the ingredients of an Indian dish.
Indian Cooking Terms To Know
While some Indian recipe names and cooking terms sound complicated and foreign, they are actually quite simple and something you can learn prior to your class. Here are a few helpful terms to familiarize yourself with.
1. Achaari: This term is used to describe the level of heat to a dish, and a dish that is described as achaari usually has a tangy flavour that is the result of mixing spices such as chili, mustard, fennel, and cumin.
2. Korma: You've likely heard of the popular Indian dish 'Chicken Korma', but do you know what it actually means? The term Korma is derived from Northern India and describes marinating the main ingredient, like chicken, into a mixture of yoghurt and spices.
3. Masala: This term means mixed spices, so when you see a dish with the term 'masala' in it, know that you will be getting a variety of flavours.
4. Saag: This term is used to describe dishes that use greens such as spinach. But a saag is never cooked alone—instead, it is either combined with meat, fish, or other vegetables and paired with naan bread.
5. Vindaloo: If you see this term, be prepared that it is indicating it is a very hot dish. The term is derived from the coastal region of Goa in India and is a word that describes the mixture of lots of chilies, cinnamon, and cumin—producing a very hot and spicy mixture.
Final Thoughts on Indian Cooking Classes
We won't blame you if you are absolutely craved for an Indian cooking class right about now.
With visions of delicious curries, fresh naan bread, spiced vegetables, and a spread of dishes that are perfect to feed you, your family, and your friends, an Indian cooking class offers you the chance to make all that a reality.
Not only will you master new culinary skills, but you will get the chance to learn from some of the most well-regarded Indian chefs in the whole world—who wouldn't want to experience that? And in addition to that, you will have new and creative recipes to perfect in your weekly meals for months on end too!
Regardless of your experience level or how you choose to take an Indian cooking class, we can guarantee that you will not regret it.
What are you craving to master first? That chicken masala dish that your local Indian restaurant cooks up so deliciously? A fresh batch of naan bread to compliment that spicey curry? Or an Indian gulab jamun to give your taste buds some sweetness after your firey meal?  
Sources:
How my Puerto Rican mother became an expert Indian cook | The Guardian
The biggest mistake people make when cooking curry, according to the Indian Chef of the Year| The Independent
Share This