English Tableware: Perfect for the Holidays
By Bridget Reed
Feb 18, 2022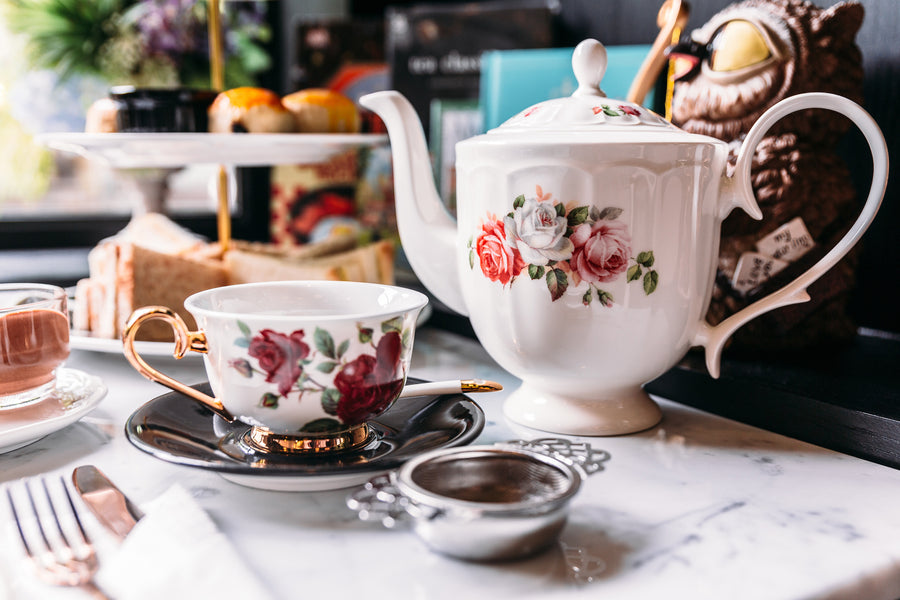 Of all the trends that have happened over the last year, upgrading the effort put into home cooking has certainly taken a big rise.
In fact, enrolling in an online cooking class was one of the most popular experiences last year. And will likely continue to grow as more and more research comes out around the benefits of cooking.
Not only is it great for your well-being to hone in on improving your skill sets, but it can equally instill a new passion in you and even help you and your partner become a better team after learning how to work together in the kitchen.
With many of the world's best chefs now sharing their Michelin star winning recipes to the world, such exquisite home-cooked food deserves premium English tableware to match. And not just for the holiday season, but for any and all occasions.
Studies out of Oxford University have found that the presentation makes food taste better. 
After hours, and even days, of slaving away to perfect that holiday roast turkey, you want to pay it true justice by serving it up on plates that enhance the quality of food. 
So say goodbye to those paper plates and plastic bowls. Instead, introduce a whole variety of tableware into your home to use for any type of meal you cook. And the best part of all is that you can now mix and match your tableware and be amongst the trendsetters as a result.
The tableware you choose to use at your party should be something you are truly proud of. And we are here to guide you through doing just that.
Tableware 101
First, let us start with the basics and define what tableware actually is. Often also referred to as dinnerware or even crockery, tableware is the selection of dishes that you use to set the table, serve the food and showcase the food. This consists of cutlery such as forks and knives, glassware for both water and wine, plates to eat your food from, and bowls to display food in.
Before you focus on the colours, patterns, and details of your tableware, it is helpful to understand the variety of materials to choose from There are five different types of tableware that are widely used.
1.  Bona China—The Classic Selection
Back in the day, it was common to gift bona china tableware sets as wedding presents. They are always of an elegant design and look like they can belong in a palace. Not only is it a strong and durable form of china material, but is equally microwave safe. Some people like to reserve bona china for special occasions only, where others are happy to use it on a daily basis.
2. Earthenware—The Sturdy Selection
Nothing is worse than your tableware breaking. So if you want a sturdy selection of tableware, consider using ones made of earthenware material. Not only does it adds sturdiness to the design, but it also provides a more casual look to the table. But often these are not as heat resistant so you won't want to be putting this type of tableware in the microwave.
3. Porcelain—The Versatile Option
Tableware made from porcelain is not only able to be used in a variety of environments and proves to be oven, dishwasher, and microwave safe, but they provide an elegant style to any household table.
4. Melamine—The Outdoor Option
If you want to serve up a dinner party outside then tableware made from melamine material is likely your best bet. This is because they are literally shatterproof and can be chucked in the dishwasher, making it a dream investment for entertaining.
5. Stoneware—The Family Friendly Option
This type of tableware uses special glazing that gives the sets a soft and smooth look and is simple enough to be used for everyday meals. But they also provide a simple elegance that makes them equally great for entertaining. This material is best for tableware that comes with intricate designs. But these will almost always need to be washed by hand.
 How To Pick Your Tableware
Now comes the tough and fun part—actually choosing your collection of tableware. There are many different factors for you to consider, which we have rounded up for you.
1. 8 to 12 Is the Magic Number
The first is how many pieces of each should you consider. In general, you will want around eight to 12 pieces of each type of tableware you get, so you always have enough for hosting your holiday party. You won't always need to use all the sets unless you tend to always have a large household. But this number ensures that you can usually entertain the maximum amount of people that can sit at a standard dining table.
2. Let It Tell a Story
In modern times, the type of tableware you get says a lot about you. In fact, many people search for tableware pieces that tell a story and is special. It provides you with a deeper connection to the meal itself and can even provide. For example, a dinner plate that was made by hand in Guatemala or a teacup you purchased from the streets of Istanbul can feel a lot more special than a stock standard collection you ordered online. 
So while there is always a time and place for the traditional tableware setting, there is also a time and place to be unique and mix and match for the purpose of setting a deeper sense of connection at the table.
3. There Are Five Standard Pieces to a Formal Set
When you are purchasing or collecting a formal tableware set, you will be wanting to have the following items: a dinner plate, a salad plate, a dessert plate, a soup bowl, and a teacup and saucer. For the formal style, it is often best to buy in a set. But there are also some sets that have 20 or more pieces per person. It all depends on what you think will be the best value in the investment and how often you reckon they will all get used.
4. Go Standard and Dress Up With Table Décor
While it is always nice to have a formal set of tableware on hand, there is nothing worse than keeping them tucked away in a cupboard only to pull out once or twice a year. So in this modern-day age where less is more, you can invest in more casual everyday tableware and use other types of décor to make the collection feel more formal during the holidays or a dinner party. 
For example, simply dressing up the tableware with fancy placemats, chargers or a tablecloth can really lift the overall look. So can placing name cards at each setting or bringing out the wine glasses or champagne flutes.
5. Consider the Size of Your Table
This is another important consideration when deciding on the type of tableware you want to bring out for the holiday party. The size of your table will largely dictate how extravagant you can get with each place setting. You want to make sure the table does not feel overwhelmed or too crowded by the time everyone sits down to actually eat. So sometimes less is actually more when it comes to the tableware collection you use for parties.
Styles That Are Trending for the Holidays
While a white tablecloth holiday dinner party will always be in style, people are getting more creative with their tableware nowadays.
1. Ceramics Are Taking the Lead
For example, ceramics with a dust of detail are becoming all the rage. These are popular because of their simplicity, allowing cooks to really go at it with the presentation on the plate. Not only are we seeing a lot of fine dining restaurants transition to ceramic tableware instead of the traditional china. So it makes sense this trend is now coming into dinner parties at home too.
2. Mismatched Collections
Another common theme amongst tableware trends for holiday parties is growing outside the traditional holiday colours of greens, reds, and whites. Instead, people are experimenting with getting brighter and mismatched colours that really bring a whole new type of energy to the table. 
This goes with glassware too. Long gone are the days when all the water glasses have to match. In fact, people are having a lot of fun getting mismatched glassware that creates a greater masterpiece when it all comes together.
3. Chip Resistant Tableware
There are so many horror stories of expensive tableware getting chipped or broken by dinner party guests. Hosts are now transitioning to chip-resistant tableware. It still looks just as elegant and beautiful but is much more durable to a few knocks on the table.
Conclusion
English tableware is something that can not only be used daily in the household but brought out to shine during holiday parties. Pick tableware you love and want to use all the time. Banquist offers the best kitchenware and tableware, from chef-approved knives to dinner plates. Check out our amazing selection and see for yourself.
Source:
9 Best Dinner Plate Sets: From Everyday Crockery to Party Tableware | The Independent
Looks as Good as it Tastes? Why an Attractive Plate Makes for a Tastier Dinner | Food | The Guardian
Disrupting the Dishes | The New York Times
Share This