News & Advice
Things You Will Learn in Cooking Courses
By Bridget Reed
Dec 7, 2021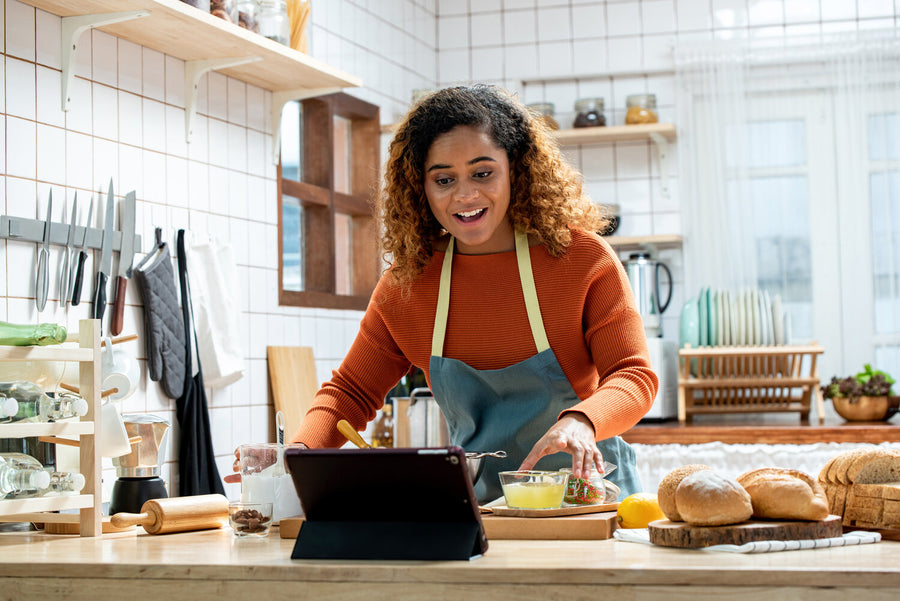 The last year has been full of many changes in our own daily lives. For one thing, many of us have not had the ability to dine out at restaurants as much as we may have once been doing. With the absence of dining out making more of the need to become a Masterchef in our own kitchen, thousands of meal kits were ordered to make cooking at home easier. 
Restaurants and cooking companies alike turned to creative options that allowed people to enjoy cooking courses and food delivery, becoming one of the biggest trends this year. The convenience and ease that these meal courses and delivery provide are two-fold. First, they come with the best recipes to follow along with that were created by some of the best chefs in the industry. Second, these meal kits come with fresh ingredients delivered to your door.
There is a growing need to sharpen up our own cooking skills. It will provide a whole range of benefits, from surprising your own taste buds to being able to host your own dinner parties at home with loved ones.
For those that wonder what a cooking course will be like and why you will learn so much from just a few classes, we have rounded up all the top reasons as to why cooking courses will enhance your life in the kitchen and what you can expect to get out of them.
 Learn How To Prepare the Kitchen
All great chefs have this step in common. The first part of any cooking class will be teaching you how to get everything in place in your kitchen. Also referred to as "mise en place" and originating from the French cuisine culture, the most important thing you will learn in cooking classes is how to be prepared to make anything. 
From organizing the ingredients in the order that you need them to double-checking you have the right amount of everything, preparing the kitchen will help you turn a good dish into a great dish.
Understand the Purpose of Kitchen Tools
In addition to learning how to prepare the kitchen, you will also learn the purpose and importance of your kitchen tools. One of the easiest ways to enhance your cooking skills is through simple kitchen accessory upgrades like a better cooking pan or shark kitchen knife.
When you are able to chop and slice more efficiently and cook more evenly, the results of your cooking will grow tremendously. You will also learn that you do not need the most expensive kitchen tools, but rather a few quality items that come in handy for each and every dish.
Get Practice in Planning Menus
Cooking courses are great because they will already have pre-planned the recipes that you will learn to make. This is super important to get familiar with because many cooking classes will help you get more comfortable with making multiple items for a meal—such as an appetizer, main, and dessert. You will learn how to plan out the necessary time needed for each dish and which items you should start cooking first, as sometimes the dessert should be dealt with before the main.
Become a Master With the Meat
You will learn the art of being both a cook and a butcher in many of the cooking classes available. This is not only a fundamental part of becoming a master chef, but also a great party trick to impress all your friends and family. 
During a cooking class, you will practice a variety of different cuts and understand the techniques needed for various types of meats. You will then learn how different parts of the meat need to be prepped and cooked differently to get the best result.
Practice Quality Over Quantity
One of the biggest secrets to becoming a Masterchef is perfecting quality over quantity. This is especially true when it comes to using herbs and spices. Often, you do not need a lot to get a powerful flavour.
It is all about fine-tuning your ability to mix in the perfect quantity of each spice or herb so that they all complement one another in the dish you are making. Some of the best cooking class instructors will also teach you how to use bouquet garni to create an aromatic mixture of flavours.
How To Use Leftover Ingredients
Another very important and practical part of your cooking class is learning how to not waste anything. In your cooking class, you will discover how to properly prep your food and use every ounce you have set aside for a productive part of the recipe. You will be stunned at how nothing ends up in the trash during your cooking class.
Learn the Importance of Taste-Testing
Cooking classes will teach you the importance of taste-testing and how to do so properly. By continually taste testing what you are making, you will know if your dish is on the right track. If your dish tastes too sweet, too bitter, or too flavourless, you still have time to adjust the recipe to get perfection. 
That is the beauty of cooking—there are always remedies to get your dish back on track. Taste-testing will also help you learn to better evaluate yourself and acts as an important benchmark for what you are doing well and where you have room for improvement.
Gain Confidence To Put Your Own Spin on It
Cooking classes are taught by chefs who have established themselves in the industry. But they didn't get to where they are by simply following what others do. They mastered the fundamentals and then put their own spin on things. 
When you are taking a cooking class with a Masterchef, you are likely using recipes that they themselves have created, tested, and perfected. But that does not mean there is room for you to put your own spin on it as well. Cooking classes will teach you how to be creative and add little tweaks to make a dish your own and truly unique.
How To Read a Recipe
In addition to getting access to great recipes from great chefs, you will also learn how to properly read a recipe. This means understanding the terminology, what the ingredients are, and the method in which you need to follow.
A cooking class will take you through each component step by step and guide you along the entire way so you gain valuable experience in reading a recipe so you can then do it again all on your own.
Learn To Believe in Yourself
One of the biggest secrets to becoming a great cook is confidence. While practice, knowledge, and exposure are all important in progressing your skills, cooking confidently is what will make your dish great. Cooking classes will give you the confidence that you can make any dish to perfection and that it will come out of the oven tasting fantastic. When you trust yourself, the results in the kitchen are sure to follow.
Sign Up for a Cooking Course Today
There are many benefits that come with signing up for a cooking course. The convenience of our cooking classes is unparalleled, with access to online video classes, exclusive recipes, and meal kits for the class delivered straight to your door.
You are never too young or too old to take part in a cooking course. We offer them for both kids and adults alike. They offer you an opportunity to learn, grow and have fun at home, along with the added benefit of serving up delicious meals for your family.
So why not make the most of the extra time at home and learn from some of the very best chefs in the industry? Cooking courses have never been more accessible than they are right now, with the luxury of being able to complete them both online and in-person where possible. 
From making savoury meat dishes to mastering classic desserts, you will quickly expand your skill set and gain confidence in your own cooking abilities.
Sources:
Choosing the Right Pan Can Make You a Better Cook | NY Times
Food Trends for 2021: Cooking Along with a Kit | Forbes
A Necessity During Lockdown, Meal Kits Will Outlive COVID | Fortune
Share This