Christmas Tableware: A Complete Guide
By Bridget Reed
Jan 18, 2022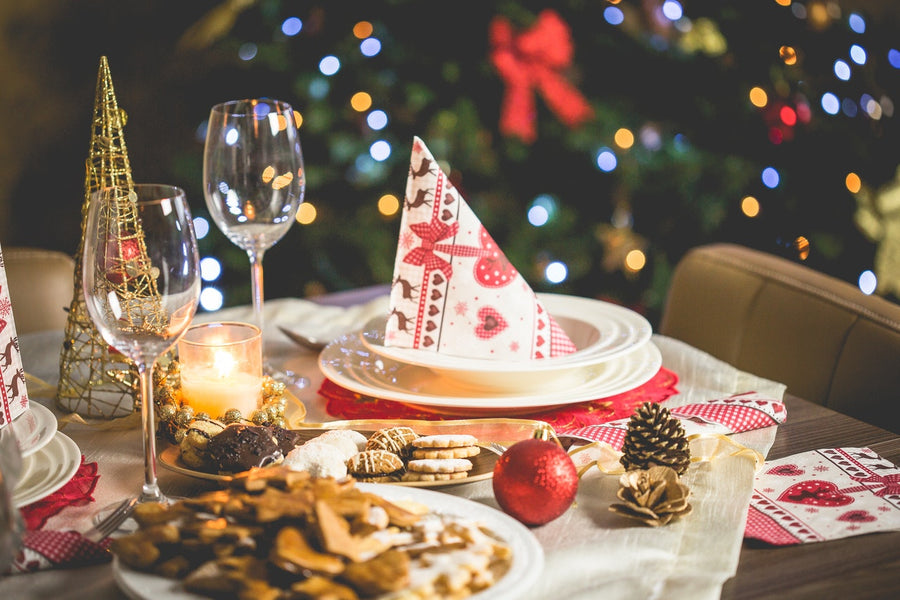 There are so many wonderful things about the Christmas season.
There is the Christmas tree with all the beautiful decorations and lights wrapped around it. There are presents tucked underneath the tree. There is the classic Christmas pudding recipe that you get to make once again. And there is the Christmas dinner that you get to prepare for.
With all the rewards of a cooking class, the Christmas dinner is finally your time to shine. After you have learned from the world's best chefs, it is now time to put on the show for your friends and family
And one of the biggest secrets there is when it comes to nailing the traditional dinner is through Christmas tableware.
While there are many ways to style a Christmas table, it all really comes down to the tableware that you use to support the beautiful food that you make.
But how do you go about and create a timeless table for the festive season? Especially when you are likely busy trying to do so many other things to make the evening special as well?
To help take some of that stress off and ensure that your elegant table setting for Christmas dinner is perfect, we have put together the complete guide of everything to consider—from the arrangement of the tableware to the types of cups, plates, and even forks you choose to use.
Setting the Table
First, let's start with the basic plan that will ultimately drive the type of tableware you need. There are two types of table settings you can choose from: casual and formal. The casual setting consists of one wine glass, only a few utensils, and two plates. The formal setting puts on the whole show and includes both a red and a white wine glass, multiple plates to represent each course that will be served, and a lot more utensils to the layout.
But regardless of the style you go for, the basic principle of how you will set the tableware is important to note. The plates will always go in the middle, with the smallest plates stacked up on top. The forks always go to the left-hand side of the plate, with the forks being lined up in order of what will be used first on the outside. The knives and spoons will be on the right-hand side of the plate, with the knife always set closest to the plate.
The menu that you plan on serving for Christmas dinner will largely drive if you go casual or formal in terms of your tableware arrangements. And it will also dictate the sizes of your tableware too.
Pick a Theme
Next, there is the theme that you need to select. Regardless of if you decide to go formal or casual, it is important to choose a theme and stick to it. The details really matter when it comes to creating a beautiful table arrangement. This is often driven by a colour palette. If you are wanting a classic Christmas-themed table, then green and red palettes will drive your tableware. But if you are wanting a more modern theme, perhaps earthy hues may better suit you.
Regardless of the direction you go in, the colour will not only create the atmosphere but support the meal you will be serving up. Often textures go a long way in helping support this as well. For example, a woven table mat can contrast nicely with the holly arrangement that you put into your linen cloth napkins sitting atop the salad plate. Christmas looks different to each person, so pick a theme that will bring the most joy to you.
Top Tableware With Christmas Crackers
Christmas crackers are a longstanding Christmas tradition. And you are never too young or old to enjoy cracking one. Christmas crackers make the perfect top off on any tableware layout. They offer a burst of colour, an extra Christmas present to open, and a true staple to Christmas traditions. 
The best news is that there is a whole range of Christmas crackers you can select from that will go with any theme or budget that you have. And with Christmas crackers, you really do not need much more to top off the design.
Plaid Works With Everything
Patterns are great for Christmas tableware. And some of the trendiest at the moment are tableware with plaid. Using traditional holiday colours, the plaid plates, bowls, and even napkins will help you give a burst of Christmas colour in the most elegant way. Even glassware comes with a hint of plaid as well. There is also the plaid table runner to consider as well.
Pick a Christmas Centrepiece
Make sure that your tableware arrangements leave room for the Christmas centrepiece as well. You can never go wrong with a great floral centrepiece and it will last for weeks following Christmas day if you tend to it enough. There is a reason that so many Christmas tables are not complete without a floral arrangement—they provide an element to so many of our senses. Just make sure that the centrepiece doesn't take up too much of the table, as there still needs to be some room for the food too.
Play With Height
You do not need to have a lot to do a lot. Instead, you just need to focus on getting tableware that comes in different shapes and heights so that you can add an interesting balance to the table. It is the height of the wine glass, the circumference of a plate, and the fold of a napkin that can really solidify a Christmas table landscape and turn it from normal to extraordinary. This also includes the height of other decors you choose to use as well—everything from candles to florals.
Get a Complete Set
If you are short on time or want an easy way to win people over at Christmas dinner, then go for purchasing complete tableware sets that are already designed to work together. That way you just have to place them on the table. But that goes without saying that not all the tableware needs to come from the same set. In fact, there is beauty in finding mismatching pieces and somehow making it all work.
Platter the Starters in Advance
There is likely going to be a lot of food to serve up on Christmas. A great way to fill the table in an elegant way and keep the crowd from getting hungry is to platter up appetizers and arrange them in a beautiful way at the center of the table.
These Christmas starters will get everyone anticipating the main event, provide an aroma that builds hunger and make the table itself look inviting. Nothing gets people seated at the dinner table than food that is laid out and ready to eat!
Make Place Card Settings
Even if it is just your family members that are going to be at the Christmas dinner table, there is something about place cards that take a table to the next level and make guests feel special. For Christmas, there are so many creative themes to consider. You can make ornaments as the place card settings. You can make cookies as the place card settings. 
The options really are endless. And the best part of all is, you can make sure that your grandmother and third cousin are not seated next to each other so that their standard debates can be avoided at the dinner table.
Use Candles To Drive the Mood
As we mentioned earlier, candles can play a big part in creating a mood—especially for that special Christmas dinner. From traditional candlesticks to little tealights, there are so many different styles of candles to incorporate into the table design. It is the candles that signify that this is a special dinner rather than your everyday meal and will help lift the atmosphere and make it feel like a unique event.
Avoid Expensive Tableware
There is a fine line to draw when it comes to the type of tableware you bring out for the Christmas dinner. It all depends on who will be seated and the ages of the guests. You don't want to bring out the best china if you will have a bunch of young kids joining your Christmas dinner. But if it is adults-only, you might be able to risk it. Regardless though, you don't want to spend too much money on tableware as there is a chance it can break. Instead, go for the more durable options that allow you to still get used out of them after the big holiday event.
Ensure It Highlights the Food
As we mentioned at the start, the main focus of the dinner should be the beautiful food you have cooked. So you want to make sure that the tableware you use is supportive of it and allows you to nail the presentation of the food as well. So it is not a one-size-fits-all approach. It really depends on what you plan to serve up.
So this Christmas, get festive and focus on the tableware.
Sources:
26 Elegant Christmas Table Settings 2021 - Stylish Holiday Table Centerpieces | Town and Garden
25 Best Vintage Christmas China Patterns for Your Timeless Table | Country Living
Share This