Chinese Chef's Knives: These Are the Ones You Should Invest In
By Bridget Reed
Jan 18, 2022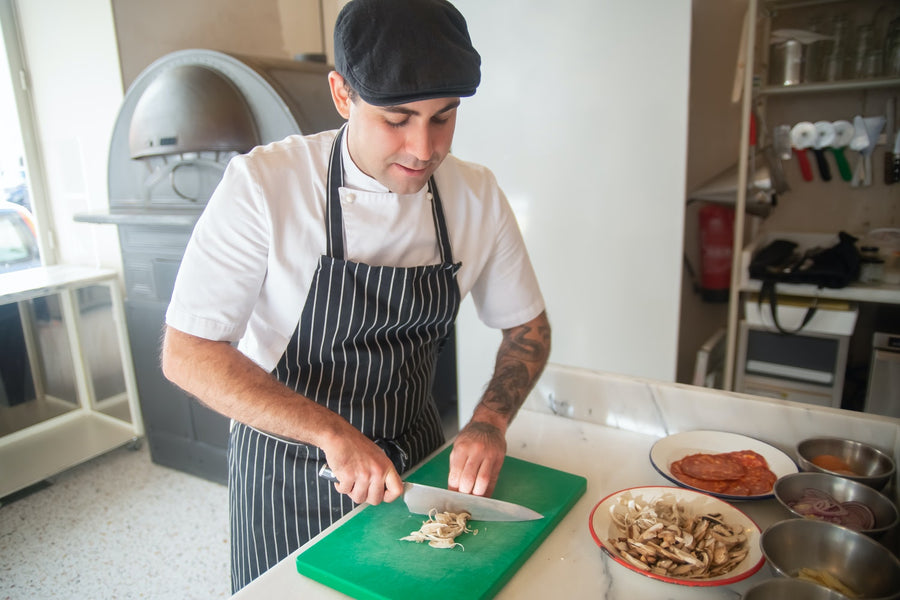 There are a lot of different knives out there.
And since everyone is a chef in their own right, given most of us cook at home for at least a few meals a week, getting the best chef's knives is essential for kitchen prep.
Plus, for those who want to learn from the world's best chefs through online cooking classes, you will often discover that one of the biggest tips they give students is that a quality knife is one of the few things you need to make almost anything.
Think about it; you need a knife to cut your roasted turkey and a knife to dice up your onions. In fact, it is likely hard to think of a meal that does not require at least some type of slicing or dicing.
So the million-dollar question becomes what type of knife should you get? Experts will say that often expensive knives are not necessarily the best. Instead, it is getting a quality knife that can do multi-purpose things in the kitchen. And for that, we look to the Chinese chef's knives.
Not only can they smash up bones and act as a literal cleaver, but they can do all the chopping, mincing, dicing, and slicing that you need to get done in the kitchen. Experts will agree that the Chinese chef's knife is the only one you should really invest in.
What is it about this useful tool that is worth the investment? And why is it regarded as one of the best? We have rounded up all you need to know about the Chinese chef's knife and the qualities to look for when purchasing one for your own kitchen so that you can get cooking away efficiently and effectively.
What To Know About the Chinese Chef's Knife
Not all knives are created equally. In fact, the Chinese chef knife has long been regarded as the king of slicing up everything from meat to vegetables in an easy cutting stroke. This came from the long history in China that one singular knife was used to complete all tasks in the kitchen. So they made their blades as efficient as possible. 
That is why it can even double up as a cleaver when needed as well. Most of the Chinese chef's knives are made of stainless steel and measure in at around eight inches, with a thin blade and an edge angled at about 20 degrees.
Before we get into the top qualities to look for, here are the aspects of what makes a Chinese chef's knife so special.
1. Flexibility of the Blade
Because the knife is designed to do literally everything, the blade itself is designed to be extremely flexible and durable. The design achieves this by ensuring that there is the proper thickness in the blade and that carbon stainless steel provides a durable result. Plus, the material of carbon steel is really easy to sharpen, so these knives have very long lives. But it is also important to be careful with how you care for them because they can still be prone to chipping.
2. A Long Blade and Thick Handle
Another common trait of the Chinese chef's knife is that the blade itself typically runs for the entire portion of the handle too. This means that it is extremely durable and that there is no weak spot in the entire design. The best Chinese chef's knives will use additional steel to complete the design and create a seamless connection between the handle and the blade.
3. Wood Is Part of the Tradition
Many traditional Chinese chef's knives will also come with a wooden handle, as this is what was used back in the day. Generally measuring in at about four inches, the wooden handle is more aesthetic than practical, as it can be damaged by water or split if not properly cared for. There are also modern designs that allow the knife to be dishwasher safe.
Top Chinese Chef Knives To Invest In
While the general design of the Chinese chef's knife is similar, it does not mean there is room for variations in the look, efficiency, and costing. Based on what company you get your Chinese chef's knife from will determine how it is made and how efficient it is. That is why we have rounded up the top qualities to look for when selecting the perfect knife for you.
The One Made for Vegetables
If you are more of a vegetable chopper than a meat cleaver kind of cook, then you should focus on getting a Chinese chef's knife that is designed for vegetables primarily. This will likely lower the price of the knife while also ensuring it is still made to a high quality. This knife is designed to maneuver efficiently and even comes with its own gift box for safe storing when not in use. These knives also come with a handle that uses water-resistant material so that you can use it daily and chuck it in the dishwasher afterward.
The One That Won't Rust
You know a knife is made with high-quality material when it does not rust even after being exposed to water daily. There are Chinese chef knives out there that use a Japanese stainless steel material that is known for ensuring the blade is not threatened by exposure to water. Plus, because of the high-quality material, it is really easy to sharpen the eight-inch blade. Designed for the everyday cook, the design itself still comes with a traditional look that makes it seem as if it came all the way from China.
The One With the Best Value
As we alluded to earlier, expensive knives are not always the best ones. And that is true when it comes to getting a Chinese chef's knife that is within your budget but performs like the most expensive knives out there do. In fact, the best Chinese chef's knife to invest in is the one that you can get from your standard home goods or kitchen store but also selected by master chefs too.
The One That Is Easy To Sharpen
You will definitely want to get a Chinese chef's knife that is easy to sharpen, as no one wants to deal with a dull knife. So choose one that is simple to sharpen the blade and is made with a more thick and durable design. Because it is designed to sharpen easily, it should also be resistant to chipping easily too. With an eight-inch blade that never goes dull, you will find much versatile use from this Chinese chef's knife.
The One That Chops Precisely
Precision is key when it comes to chopping, slicing, cutting, dicing, and so on. You want to be able to cut up all your ingredients in a matter of minutes and not have to worry about replicating the process twice. 
That is why you want to look for a Chinese chef's knife that is designed o be extremely precise in each cut and achieves this through a 16 degree angled blade and lightweight material. But take note that because of the curved angle of the blade, the technique you should use with it should be one where it is rocked while you chop, rather than going up and down with a straight-edged blade.
The Professional Grade Knife
If you are a master chef yourself or a very passionate cook who takes your time in the kitchen very seriously then you will want to invest in a Chinese chef's knife that is designed for the best in the business. Note that this will certainly come with a price tag, but is often worth it if you are really going after some world-class recipes in the kitchen or have a lot of chopping to do. 
The best professional-grade options are the ones that are made with up to 60 layers of forged steel and also have chromium, cobalt, and tungsten in the mix to give the knife optimal durability. Because these are often made by luxury suppliers, beautiful one-of-a-kind designs are often also watermarked on these knives.
Conclusion
So as you go out to find the best Chinese chef's knife to invest in, keep in mind that there are many different factors at play to consider. First, you need to understand what makes a Chinese chef's knife so special and ensure that this is the right cutting tool for you.
And once you commit to investing in this all-inclusive cutting knife, you need to do your due diligence on finding the right type of Chinese chef's knife for you. As these are not all created equally. Some are designed for those on a budget or who are novice chefs in the kitchen. Others are designed for the Gordon Ramseys of the world and come with a much loftier price tag.
When it comes to committing to the perfect Chinese chef's knife for you, do your research and choose the one that makes the most sense for your needs in the kitchen.
Sources:
The Best Chef's Knife for 2022 | Reviews by Wirecutter | NY Times
'It's Literally the Perfect Knife': Dan Hong on the Three Most Useful Objects in his life | Food | The Guardian
Best Chef's Knife Review 2019 – Top Cook's Knives Tested | BBC Good Food
Share This