News & Advice
How To Cook a Turkey: Easy & Quick Method to the Perfect Turkey
By Bridget Reed
Dec 7, 2021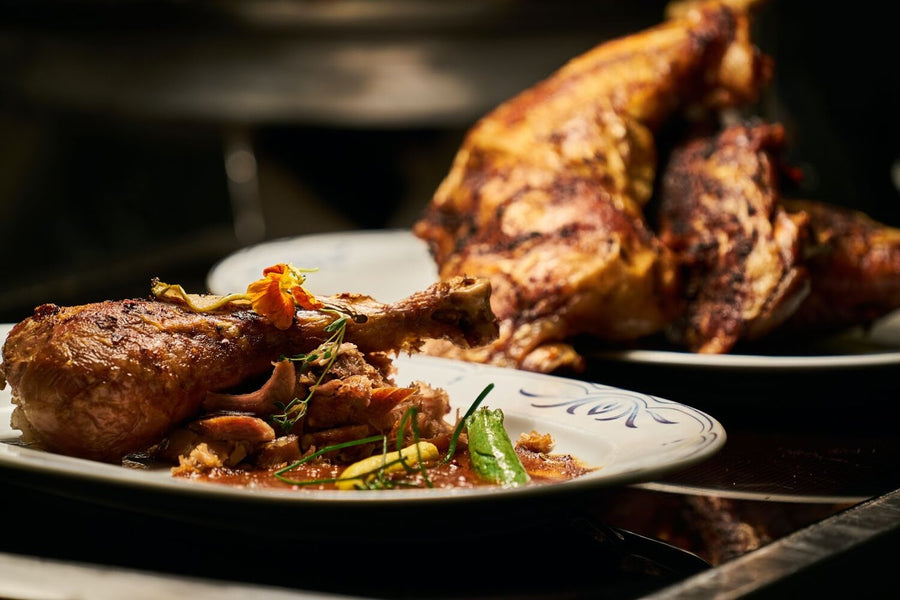 Nothing screams the holiday season more than the perfect roast turkey. A Christmas turkey has become synonymous with the holiday season and the main course that everyone anxiously waits all day for.
But a roast turkey does not have to just be a once-a-year occasion. In fact, cooking up a turkey dinner is a great way to become a Masterchef of your own and impress all your friends and family.
There have been too many stories to count about cooking fails in the kitchen when it comes to cooking a turkey. Many of these cooking fails come down to the common mistake of forgetting to thaw the turkey, which is crucial for making the perfect roast.
However, with the help of gourmet meal boxes designed by master chefs and quick and easy recipes like the one we are about to share with you, you will be well on your way to perfecting the art of the cooked turkey—making for an absolutely delicious dinner any day of the week!
In fact, this dish is so easy to make that after your kids do a few kid's cooking courses of their own, they can be your sous chef for this dish too! 
Before we share with you our quick and easy method to the perfect turkey, we have rounded up some of the top tips and tricks to keep in mind when it comes to whipping up this delicious recipe. 
Top Tips for the Perfect Turkey 
1. Size Really Does Matter
A general rule of thumb to follow when cooking a turkey is that each person will need around one pound of uncooked meat. But if you are going with a boneless turkey, cut that portion size in half. If you are making this dish for a dinner party event, go for two or three small turkeys instead of trying to source one really large one. 
2. Don't Forget To Thaw
As mentioned before, the lack of thawing a turkey out in preparation can really be a make it or break it type of situation in the kitchen. In general, you will want at least a day for your turkey to thaw out in the refrigerator. 
Put a reminder in your phone, post sticky notes in the kitchen—do whatever you need to do to remind yourself of this ever so important step in the process! 
3. Be Generous With the Salt
To ensure that your turkey does not come out dry and flavourless, go generous when it comes to the salt. This is often referred to as dry brining and will ensure that the skin of your turkey comes out nice and crispy with a juicy and moist texture on the inside. The easiest way to do this is to rub salt all over your turkey, place it in a large bag, and let it soak in overnight. 
4. Get Creative With the Seasoning
To get your turkey to really pop with flavour, be sure to play around with rosemary, thyme, and sage in generous amounts. And don't neglect the cavity of the turkey, which will ensure that the rest of the dish gets an equal amount as well. 
5. Invest in a Quality Roasting Rack
Don't go cheap when it comes to the roasting rack. It is designed to help ensure that the bottom portion of your turkey does not get too steamy or becomes stuck to the pan. It is a small investment that will pay dividends in the end! 
And what to do if it comes time to cook up the turkey and you realize you don't have a roasting rack on hand? Not to worry, as you can make an alternative version by layering onions, celery, and carrots on the bottom of the tray. 
6. Be Patient When It Comes to Carving
One of the best parts of the process is carving up the dish. However, doing this too soon can ruin all of your hard work. So remember to let it rest before you carve it up to serve. A pro tip with the carving is to do that in the kitchen, rather than at the dinner table. 
You'll have more space and it can get a bit messy! And take your time with the finishing touches of the garnishes. You have worked hard in the kitchen, so deserve to take the extra bit of time to perfect your final touches before presenting your dish to others. 
Our Quick and Easy Recipe
Whether you are preparing a Sunday roast for your family, hosting a dinner party, or celebrating the holiday season with a classic dish, this recipe has been tried and tested to ensure that you will get the scrumptious roast turkey that is made famous in the movies.
This recipe is designed to serve up to 10 people, will take around twenty minutes of preparation, and three-plus hours to cook.
Ingredients You Need
The first step in the process is to ensure that you've got everything you need well in advance of actually cooking the turkey. You can do so by ordering a gourmet meal box or supporting your local market. Regardless of the method you choose to source your ingredients, you will need to make sure you have these items on hand:
1. One onion that is cut into quarters
2. A bundle of bay leaves
3. Around five kilograms of thawed turkey
4. Stuffing or seasoning
4. Softened butter
5. A whole nutmeg
6. Ten pieces of streaky bacon
7. A glass of red wine—we recommend Merlot
The Quick and Easy Method
After you've sourced all the ingredients and have prepped them accordingly, these simple steps will get you that much closer to your delicious turkey dish.
1. Set your oven to 170 degrees Celsius. While the oven warms up, place the chopped onion and bay leaves between the legs of the turkey. You will then continue the preparations by putting the stuffing or seasoning in the cavity of the turkey. Then check to make sure the neck of the turkey is secured in place with skewers.
2. Now smear the turkey with butter and nutmeg. Place the slices of bacon over the turkey breast and then drizzle your glass of red wine over the turkey. Finally, wrap the turkey dish up in foil and ensure it is sealed securely before placing it in the oven.
3. You will then put the turkey on a roasting rack, if you have one, and set the timer. This will be determined by the weight of your turkey. A general rule of thumb is 20 minutes for every kilogram plus an additional 90 minutes. So if you have five kilograms of turkey, you will set your timer for three hours and ten minutes.
3. When there are 90 minutes left on the timer, briefly remove the turkey from the oven, open up the foil and remove the bacon. You will then return the turkey back into the oven, but this time leaving the foil open from the top.
4. As the time starts to kick down on the clock, start checking the internal temperature of the roast turkey. You can quickly test this by placing a skewer in the thigh and seeing if the juice of the meat runs out clearly. If the colour is still pink, you should add at least 15 minutes more.
5. When the cooking time is complete and the temperature is set, take the turkey out of the oven and leave it to rest—still covered in the foil—on the counter for at least half an hour. Once the juices of the turkey have settled back into the meat, you will be set to carve, garnish, and platter up to serve for dinner. Any leftovers will make for a delicious turkey sandwich the next day, so be sure to put whatever is not finished back into the fridge when everyone is finished eating.
Final Reminders for Cooking Your Turkey
Cooking a turkey to perfection will give you a great sense of satisfaction. But more so than that, this dish is full of nutritional benefits. Some turkey health benefits include having a strong source of vitamin B and zinc. 
So your tasty meal provides nutritional value to those you are serving as well. That is why this quick and easy recipe is so great because you will have the ability to cook up a delicious and nutritional turkey meal any day of the week!
Sources:
The History of Christmas Turkey | Independent
10 Very Important Turkey Cooking Tips You Need To Know | Good Housekeeping
Share This