chefs
Michelin Star Chef, Atul Kochhar
By Bridget Reed
Jan 18, 2022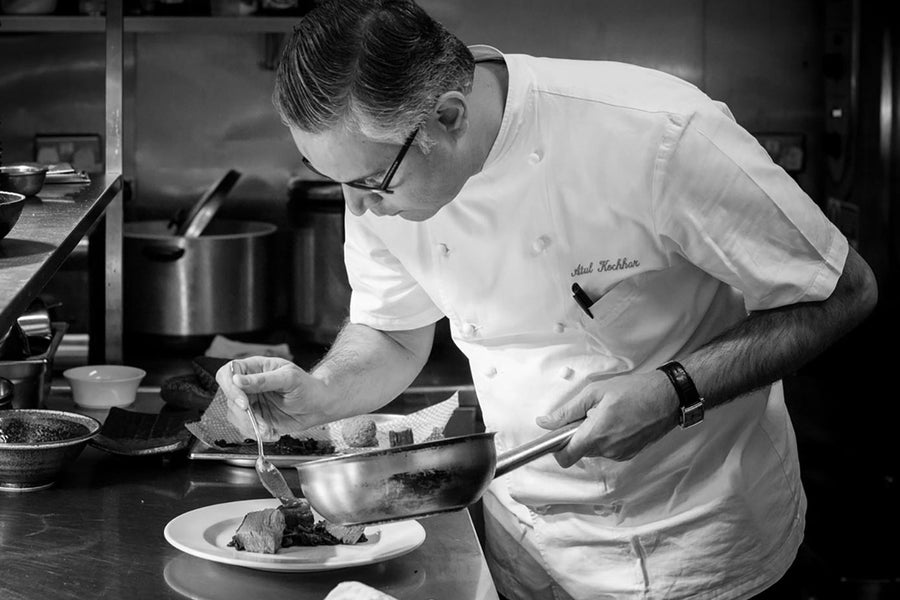 Indian food in the UK has quickly become a cultural icon. Who doesn't love getting an Indian takeaway on a Friday night? In fact, who doesn't crave a spicy and delicious Indian dish paired perfectly with garlic naan bread?
London especially is jam-packed with Indian food restaurants that are both cheap and cheerful for those wanting a budget meal to Michelin-star acclaimed restaurants let by the legendary Atul Kochhar himself.
In fact, it is Atul's restaurant Tamarind that has changed the way people living in the UK think of Indian cuisine. While the cheap and cheerful option is always nice, his elevated way of fusing both the UK and Indian culinary techniques and ingredients has made him a pioneer with Indian fusion.
And the best news is, you can now experience Atul's legendary meals in your very own kitchen as well with his Indian Fusion cooking class.
Over the last year or so we have seen online cooking classes in the UK dramatically skyrocket to the point where you can now learn from the best chefs all over the world without actually having to leave your home.
To make you crave Atul's unique cooking class experience where he teaches the best Indian and European techniques to create one-of-a-kind dishes, we're sharing all you need to know about who Atul is and what you can expect in his class.
Who Is Atul Kochhar?
While Atul is a critically acclaimed chef nowadays, he is adamant to always remember his humble beginnings and his journey to becoming a pioneer of Indian Fusion cuisine.
Here is everything you need to know about what has made Atul one of the most well-respected chefs in the industry.
1. He Got His Start in Hotels
Atul is originally from Jamshedpur, India. And it was there that he started working at hotel restaurants and growing his culinary career. In fact, it was during his time working in India that he got the opportunity to work in London.
2. He Has Multiple Restaurants
Atul doesn't just stop with one Michelin-star restaurant to his name. Tamarind was what skyrocketed him to culinary stardom, but he has then since gone on to open other award-winning restaurants that include Benares, Hawykyns, and Vaasu.
3. He Was the First Indian Chef To Win a Michelin-Star
While Atul likes to let his innovative dishes speak for themselves, he truly established himself as a culinary pioneer when he became the first-ever Indian chef to win a Michelin star back in 2001.
4. He Is Inspired by His Homeland
London is Atul's home base, but he takes most of his inspiration from his home country of India. In fact, he often takes trips back there to research recipes and ingredients to bring to his restaurants back in the UK. You'll also notice that he loves vegetarian fusion dishes, with many of the main ingredients being grown in India itself. 
What To Expect in Atul Kochhar's Cooking Class
 So if you are wanting to be taught by one of the world's best chefs, then Atul Kochhar's class pretty much offers it all.
Not only is he a great storyteller, but his passion for adding a unique spice to traditional Indian foods is a lesson you'll never forget.
Here is what to expect in a class with Atul.
1. Dishes Range From Easy to Insane
When you sign up for Atul's cooking class, you will get access to four different cooking classes with him. Each lesson focuses on a different dish that is designed to challenge both your culinary skills and taste buds. But not to worry, as the insane level classes are still achievable with his guidance.
2. We'll Do All the Prep Work
Another great perk of signing up to take a cooking class with Atul is that we'll do all the prep work for you. This means that we will work with Atul to ensure that all the ingredients you need are delivered fresh to your doorstep on the day that you selected. That way you just have to log in to Atul's on-demand video tutorials and follow along to making a delicious meal.
3. Have One of the Most Flavourful Meals Ever 
From learning to make dishes like Kadhai murgh and spiced courgette masala to Rajasthani Wild Fallow venison with burnt hispi, you will have a culinary experience abroad without even having to leave your kitchen.
So spice up your life and sign up to Atul's cooking class today!
Sources:
Atul Kochhar Recipes | BBC
Where it's Forbidden to Serve Meat | BBC 
Regional Tastemaker of the World: Michelin-starred Chef Atul Kochhar is Back in India to Tell Stories with Flavours | New Indian Press
Share This