The Ultimate Guide to Cooking Classes
By Bridget Reed
Dec 6, 2021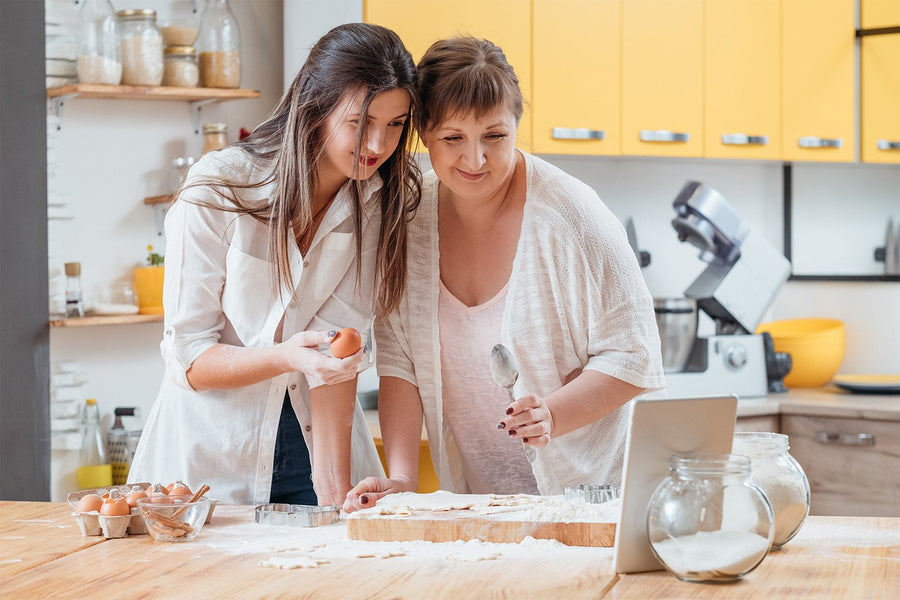 Becoming a Masterchef in the kitchen has never been easier than now.
For many of us, trying to meal plan and create a delicious menu of weekly dishes can feel like a real challenge. But with the right cooking classes, you can actually plan and create meals that become the highlights of your week.
Cooking is a skill that anyone can learn. All you need is the right instructor, practice the correct techniques and be brave in trying new recipes or methods.
Whether you are looking for a fun family activity for everyone to do together, wanting a date night idea for you and your partner, or simply wanting to enhance your own skills and stay connected with your community,  there is a range of cooking classes that can serve up exactly what you're craving.
So before you start searching for "cooking classes near me," we are going to share everything there is to know about cooking classes and how to find the perfect one for you.
What Are Cooking Classes?
Let's start with the basics first and cover what cooking classes even are. In short, cooking classes are where an expert chef leads a class of hungry students into becoming masters of food preparation, creation, and presentation. 
During a cooking class, you will learn how to prepare your kitchen, read recipes, get your ingredients ready, finesse small details in the cooking process and make your dish look Instagram-worthy.
Cooking classes take place both in person at restaurants and cooking schools, as well as online and even on social media. That is what makes cooking classes so incredible in this day in age—they are available in a range of formats that suit your specific lifestyle.
How do online cooking classes work?  And where can you go to take a cooking class in person? We are going to dive into all you need to know about how to take a cooking class.
How Do You Take Cooking Classes?
Now that we've covered the basics of what a cooking class is, let's move to the next part—how to take a cooking class.
As we've mentioned previously, cooking classes come in a range of styles, formats, and durations. With both online and in-person cooking classes available near you, it has never been more accessible for you to sign up and enhance your culinary skills.
To take a cooking class, you will first want to determine if you want to take one online or in person. Once you decide this, you will then need to sign-up for a class that compliments your schedule and budget. 
You can register for any of these classes online in advance. Others will be accessed by buying a membership or subscription online or tuning in to the live streams that take place on influencers' social media platforms.
The logistics that go into preparing for a cooking class all boils down to exactly what type of cooking class you are signing up for. For example, taking one of our exclusive Banquist collaboration cooking classes with Michelin Star chefs is simple, because we send you all the ingredients you will need ahead of time direct to your door. 
But other online cooking classes will require you to source the ingredients ahead of time. And if you are taking an in-person cooking class, you will likely just need to show up at the venue and they will have done all the preparation for you.
Types of Cooking Classes
So what types of cooking classes should you consider taking? There are endless amounts to take if we are being perfectly honest, and that is great news for you. This means that you will be able to find the cooking course that best supports all your needs and is designed in a way that will help you accomplish your culinary goals.
Here are just a few of the types of cooking classes you can take:
Online cooking classes: We offer cooking classes that are designed to help you create an incredible four-course meal. The menu is designed to help you create a starter, main, side and dessert dish, as well as the sending you the perfect wine to pair it with.
Fun cooking classes: Cooking is hard work, but it should also be fun. Fun cooking classes are designed to ensure that you not only learn new skills but also have plenty of laughs along the way. Fun cooking classes can be found for both adults and kids alike.
Cooking classes for beginners: Another type of cooking class that you can take is one designed to teach you the fundamentals of cooking rather than a specific dish or type of cuisine. For example, you can learn how to perfect your pasta-making techniques in just four lessons with us.
Couples cooking classes: These classes are designed to cater to couples who want to have a date night cooking a meal together. These classes can be done in both an intimate setting in-person or online at the couple's home.
Hungry to learn more about the types of cooking classes you can take? We are going to break it down even further and highlight all the types of cooking classes you can enroll in and highlight the benefits of each.
Online Cooking Classes
Online cooking classes are one of the most convenient types of classes to take. You don't need to leave your home and you can access some of the best cooking classes from around the world directly through the internet. These online cooking classes come in three different formats.
The first type of online cooking class is something that we specialize in—exclusive classes led by the very best chefs in the world. These classes are designed to create a special and memorable experience for you. When you sign up for an exclusive cooking class experience, you will get access to the step-by-step video tutorials and have all the ingredients you need to be delivered directly to your door, often coming with a wine pairing as well.
The next type of online cooking class comes through social media, where influencer chefs or culinary experts go live on Facebook or Instagram at specific times. These are free for users to follow along with and are a fun way to stay connected to an online community.
The last type of online cooking class is the live sessions that take place over Zoom or Facetime. During these sessions, you will get individual feedback from the chef and you can ask questions in real-time. It is basically set up exactly like a cooking class in person, but done over a video stream instead.
Perk: You can learn to be a Masterchef from the comfort of your own home.
Corporate Cooking Classes
Another type of cooking class that is available is the corporate cooking class. These are a great team-bonding experience that allows a large group of people to learn new skills, collaborate, and eat together in a memorable way.
These corporate cooking classes often take place in a restaurant or cooking school and can be hosted exclusively for the group. These classes are perfect for a holiday party, end-of-year celebration, or a way to bond a team away from the office.
Corporate cooking classes also provide teams with a chance to practice problem-solving together, get creative together and socialize together. With many teams spending so much of the last two years apart, corporate cooking classes are a great way to bring everyone together again.
Perk: A delicious team outing that serves up great food, great memories, and great team bonding.
Gourmet and Michelin Star Cooking Classes
These cooking classes are some of the best to take because you are learning from literally the best in the culinary industry. Gourmet chefs who have earned a Michelin Star have years of quality experience and a plethora of knowledge to share with their classes. These classes are much more exclusive and spaces limited due to popularity, so you will have to sign-up for them quickly.
Some of the best Michelin Star cooking classes to take are done online now, as they often have busy schedules too and it makes the entire class happening much more logistically plausible. But there is also a range of Michelin Star chef-led cooking classes that take place in person too.
Regardless of if you take these cooking classes online or in-person, you will be in for an absolute treat and a once-in-a-lifetime experience.
Perk: Learn to make the world's best dishes from the world's best chefs.  
Italian Cooking Classes
Who doesn't love Italian food? One of the all-time favourites when it comes to culinary comforts, Italian food is something we should all learn how to master. There is a range of great Italian cooking classes to take both online and in person.
One of the top Italian cooking classes you can take is a pasta-making cooking class. The best come in a four-part series where you get four lessons on how to create various pasta dishes and pair them with the best type of wine to enhance flavouring. From tagliatelle to tortellini, you will soon be able to serve up the best Italian dishes every night of the week.
Perk: This makes for a great date-night activity for you and your partner to enjoy, especially if you are wanting a taste of Italy.
Kids and Family Cooking Classes
The best time to learn the foundations of cooking is when you are a kid. That is why kids cooking classes are so great because it helps get them to fall in love with the culinary world at an early age. There is a range of kids and family cooking classes to enroll in both in-person and online. As a family, you can all learn new skills together and create delicious memories to last a lifetime.
Perk: Your kid will become skilled enough in the kitchen to cook for you for a change.
Private Cooking Classes
If you are wanting a more personalized cooking experience that is designed specifically for you and your skill level, then you should sign up for a private cooking class. Available both in-person and online, these cooking classes will allow you to get instant feedback and ask any questions throughout the class. This is a great way to enhance your own skills if you are determined to become a Masterchef or want to break into the culinary industry as a career.
Perk: These classes are designed for you and your unique skill level.
Indian Cooking Classes
Spice up your life with an Indian cooking class. Some of the best dishes of all time are Indian fusion meals that make your taste buds explode with flavour. During these classes, you will learn the basics of how to use Indian spices, perfect the curry-making process, and delight in challenging yourself with unique dishes that take your skills to the next level.
Perk: Learn to make exotic dishes that spice up your everyday week
With so many ways to take a cooking class, you can make cooking fun and delicious every day of the week. To make sure you can take the very best cooking classes, sign up and reserve your spot today.
Reasons To Take a Cooking Class
Not only are there so many different types of cooking classes to take, but there are equally just as many benefits you will get from taking a cooking class.
Regardless of your age, location, income, or even current skill level in the kitchen, cooking courses offer us all a chance to enhance our life and spice it up in the most savoury way. Here are just a few of the benefits that come from taking a cooking class.
1. You will become more confident in the kitchen, which will transition to making you more confident in life. Confidence is the recipe for a happy life.
2. You will open yourself up to discover the wonders of new foods and recipes from all over the world. Just because you can't travel to Japan right now doesn't mean you can't enjoy the taste of Japan still.
3. You will gain the skills to impress your friends and family at your next dinner party. And spending time with those you love over a delicious meal is one of the most rewarding things in life.
4. You will master recipes that can then be passed down within your family for years to come. Family recipes have long been, and will always be, cherished and a great way to preserve a legacy.
5. You will have fun, smile, laugh, and have a tasty time.  Life is too short to be serious in the kitchen.
6. You will make the most of your time and give yourself a chance to be in the present. You will be able to disconnect from the stresses of your life and focus on one thing only—making the perfect dish.
Terms To Know Before Your First Cooking Class
While cooking classes are designed to teach you, it is never a bad idea to prepare in advance so you can show up for the class as an A+ student. Here are some of the most common culinary terms to familiarise yourself with in advance of your first cooking class.
1. Al dente: Firm to bite and used to describe pasta or vegetables as the in-between texture of crunchy and soft.
2. Baste: To brush liquid like stock or butter over food while it cooks.
3. Coddle: To heat food in water just below the boiling point.
4. Julienne: To cut an ingredient into thin and short strips, often with a knife or peeler
5. Render: To eliminate fat from met by cooking in low heat
6. Score: To make cuts in food with a knife at the very surface, most commonly on bread, meat, or fish while it is cooking
Top Tips You'll Learn in Cooking Classes
To preview what you will be learning during your cooking class, we're sharing the top three tips that are often shared, regardless of the type of class you are taking. While each class offers
something unique and different from the instructing chef, we want to preview the wealth of knowledge you are about to get in your cooking class.
Cooking classes are so much more than just an experience. It comes with a range of rewards that include world-class knowledge of the top tips and tricks that those in the culinary world use every single day.
Tip 1
A sharp knife is key. Every chef agrees, a sharp knife is the most important tool to mastering and perfecting any recipe. You need a sharp knife to cut with precision and make the process much faster in general. If you invest in anything for your own kitchen, it should be a sharp knife and a sharpener so that you can prevent it from going dull.
Tip 2
Always "mise en place". This French term is a classic in the culinary world and means "putting in place". In the culinary world, this means that the first step of every recipe is to prepare your kitchen. The cooking classes will all request you do this and includes getting all the ingredients out in advance and ensuring they are pre-measured and prepped before you start anything else. This is what all the best chefs in the world do and ensures that you will be able to follow through with the recipe to perfection every single time.
Tip 3
Clean as you work. The best kitchen is a tidy kitchen, and you should always be cleaning up your mess as you move along throughout the recipe. This is something that all cooking classes will remind you of because it makes it so much simpler to work your way through the dish without getting overwhelmed. 
This means doing little things like wiping down your cutting board after prepping the ingredients, putting any used pots or pans in the sink or dishwasher, and washing your hands. This will also mean that you will spend less time cleaning at the end of the process and have more time to sit down and savour each bite of your dish!
How Much Do Cooking Classes Cost?
When it comes to paying for a cooking class, you can rest assured that you will be able to find one that is within your budget.
Cooking classes come in a range of different prices and vary based on the status of the leading chef, the intimacy of the class, whether or not ingredients are supplied for you and whether the class takes place in person or online.
On average, here is what the various types of cooking classes cost.
6-month in-person culinary course: £1,500 with all materials supplied

Michelin-Star led 4-lesson online classes: £179.99 with ingredient delivery included

Michelin-Star led exclusive online class: £70 with ingredients delivered

Community in-person cooking classes: £50 with ingredients provided

Social media cooking classes: Free, but ingredients not included
As you can see, the costs of cooking classes range based on the calibre of the instructor, the number of lessons included and whether or not the ingredients are included in the cost of the class. The great news is, with such a range of costs there is sure to be one that meets your budgetary needs too.
Wrapping It Up
Cooking classes are an incredible way to enhance the flavours of your life and something that anyone can do. Food is a daily component of our lives, so why not learn how to master whipping up a range of dishes that you and your family look forward to every single day?
If you are wanting to get back out there and connect with others in your community, we suggest looking for in-person cooking classes at your local restaurant or cooking school. And if you are craving an intimate culinary experience from the best chefs in the world, we suggest signing up for an online cooking class that you can do from your own kitchen at home.
To get cooking, sign up for the most innovative, exclusive, and delicious cooking classes now.
Sources: 
5 Easy Ways To Connect When You're Isolated| BBC Good Foods
Keep It Simple: What I've Learned from Cooking with Chefs Online | The Guardian
Virtual Cooking Classes, Food Events, and Tutorials to Stream Now | Country and Townhouse
Share This