Tableware Set: Best of 2021
By Bridget Reed
Feb 18, 2022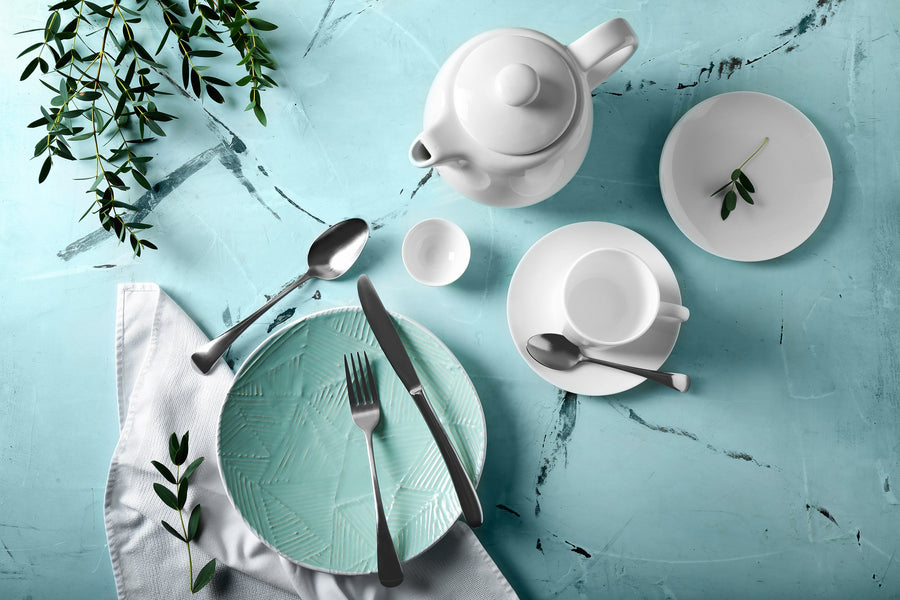 Move over restaurants; dinner parties at home are so on-trend now.
After a huge increase in online cooking classes over the last year, it is no surprise that people are wanting to invite their friends over to show off their new skills.  And we don't blame you. Who would not want to show off what they have learned after a class with some of the top Michelin Star chefs in the world?
But it is important to remember that whether you are setting the table for your Monday night dinner, a date night, or a special holiday party, you will want to make sure you are doing your recipes justice by mastering the presentation of it all as well.
And there is no better way to make your food look just as delicious as it will taste than using a supporting tableware set.
While each household will have a different need for tableware, it is important to at least have a few of the basics ready for any occasion. This means having the everyday crockery and the festive china all accessible for you whenever you need it. But with modernistic and simplistic styles taking over this decade, mismatched tableware has even become something many homes are getting into.
If you are wanting to upgrade your tableware game and ensure that all your cooked meals are truly Instagram-worthy, then we are here to help guide you in the right direction. We have rounded up the best tableware sets of 2021, with sets that fit a variety of aesthetics, lifestyles, and budgets.
Here is everything you need to know about tableware sets and the best ones to consider upgrading your home with.
What Does a Tableware Set Consist Of?
Before we list off the range of sets and styles to consider, let us lay out the ground rules for what makes an actual tableware set.
There are two general types of tableware sets you can choose from. The first is a casual tableware set, which will normally only have a water glass, a wine glass, three utensils, and a maximum of two plates. These are used for your everyday gatherings in a setting where you are not serving a multi-course meal.
Then you have your formal tableware settings. This is used when you are really wanting to show off all your Michelin Star cooking class training during more special occasions. This will be where you bring out multiple wine glasses, multiple plates and bowls, and multiple sets of utensils.
The types of materials tableware sets come in also vary. Bona china is the most traditional material used for formal sets and is often gifted at weddings. Then there are the earthenware materials that offer a great sturdiness to casual sets. 
Porcelain is highly coveted and elegant but can be a bit more fragile. Melamine sets are most common for outdoor dining sets and stoneware is becoming all the rage with a simple look that offers the ability to also include intricate designs.
The Best Tableware Sets of 2021
1. The Japanese-Style Set
Everyone loves Japanese culture. Their simplistic yet elegant style has made people all over the world admire their style. So, it is no surprise that Japanese-styled tableware sets are all the rage. The simplicity of it all makes for the chance to use these sets for both formal and casual settings. And there are often multiple colour schemes to choose from.
Best of all, these Japanese-style sets tend to also come with a breakage replacement program. This means if one piece in the set breaks, then you can easily replace just that one for a minimal cost. And these sets are all able to be used in the microwave and dishwasher. With the option to choose various colours and even styles, many people are choosing to go for the mix and match approach as well.
2. The One-of-a-Kind Sets
People these days are willing to pay more for unique items. And that sentiment holds true with one-of-a-kind sets. While it may be pricier than the average person's budget. the fact that no other household will have the same set makes it worth the splurge.
Plus, there are so many colours and patterns to choose from. From the bold patterns to the subtle colour tones, every person can find a set that really speaks to their unique style. These sets are always great for hosting dinner parties and aid in making tables feel extra special. In fact, many feel as though they could find their way into a royal dinner party setting too!
Similar to the Japanese sets, these unique one-of-a-kind sets offer the chance to mix and match designs with colours to create a really personalized collection. Designers love unique tableware sets like this and it is not uncommon for fashion designers like Vera Wang to do collaborations and make their mark in the tableware industry too.
3. The Ethical Sets
These days, it is up to consumers to really make the world a better place. Any opportunity you get you should really be trying to make purchases from brands whose missions you align with and who are truly trying to do good in the world. Tableware sets that come from ethical factories or small communities have become all the rage lately, and for good reason.
The best part about ethical tableware sets is that not only are they made in conditions that are enriching to communities but truly benefit the artisans who make them. While the designs and colour ranges tend to be more limiting, the ones that are chosen make a positive impact on the world. And that is certainly a story you want to share at the dinner table.
 4. The Budget-Friendly Set
Sometimes, your budget truly does dictate what type of tableware you can purchase. But that is okay because there are still some great budget-friendly tableware sets to choose from. In fact, you can likely get a12 piece set for just over £50. These sets are easily available at a range of retailers both in stores and online. While the quality of the colour may fade over time, it is something that likely only you will ever notice.
Just because you are choosing a tableware set that is made for those on a budget does not mean you still can not select the set that best suits your style. From scratch-resistant and kid-friendly dinnerware that is made from melamine to the bold and glazed sets that photograph brilliantly, you will certainly find one that makes you excited to serve up your home-cooked meal.
5. The Minimalist Set
For similar reasons as to why the Japanese tableware sets are so popular, minimalism sets are equally leading the way in tableware trends. Coming in basic white with flat bottom designs, tableware can not get any more simple. And this is great because it lets the food take centre stage.
And making it more minimalistic is the upkeep required, which is next to nothing. You can easily place the sets in the dishwasher without worrying about their perfectly white shine fading.
For those that love to add in a bit of colour, these sets also provide the opportunity to mix and match with pieces from other collections and will really contrast well with the solid white of the rest in the collection.
6. The Freezer-Friendly Sets
Sometimes you need to schedule your calendar so that you can cook in the afternoon and serve in the evening. But in order to do so, you will need to move some of the food into the freezer for a while.
Choosing tableware sets that are freezer-friendly is a huge plus, as you can finish off your prep work by finishing up the presentation of the food at the same time. Then when it comes time to serve, you just take it out of the freezer and put it right in the microwave.
From dinner plates to fruit bowls and party trays, you can build the ultimate collection of tableware that is functional and convenient. Plus, because it is designed to withstand such contrasting environments, you will have the comfort of a replacement promise that will replace any broken pieces for free.
7. The DIY Mix and Match Sets
There are some sets that are made with creativity in mind. They have purposely contrasted designs and colour schemes so that the customer can pick and choose a collection that best speaks to them.
So whether you are wanting to get a collection that matches a party theme or simply brighten up the mid-week meals, mixing and matching tableware sets can certainly be the way to go. Plus, these mix and match sets make it easier to stay within your budget. 
Conclusion
With so many amazing tableware sets, there is no excuse to not show off your cooking skills as much as possible. From weekday meals to festive gatherings, tableware sets will really be the cherry on top of a delicious meal made by you. Banquist offers the best kitchenware, from chef-approved knives to dinner plates. Check out our incredible selection.
What style will you be going for?
 Sources:
The Best Stylish Tableware for a Dinner Party | BBC Food
9 Best Dinner Plate Sets: From Everyday Crockery to Party Tableware | The Independent
Disrupting the Dishes | The New York Times
Share This