Tableware & Other Kitchen Essentials
By Bridget Reed
Feb 24, 2022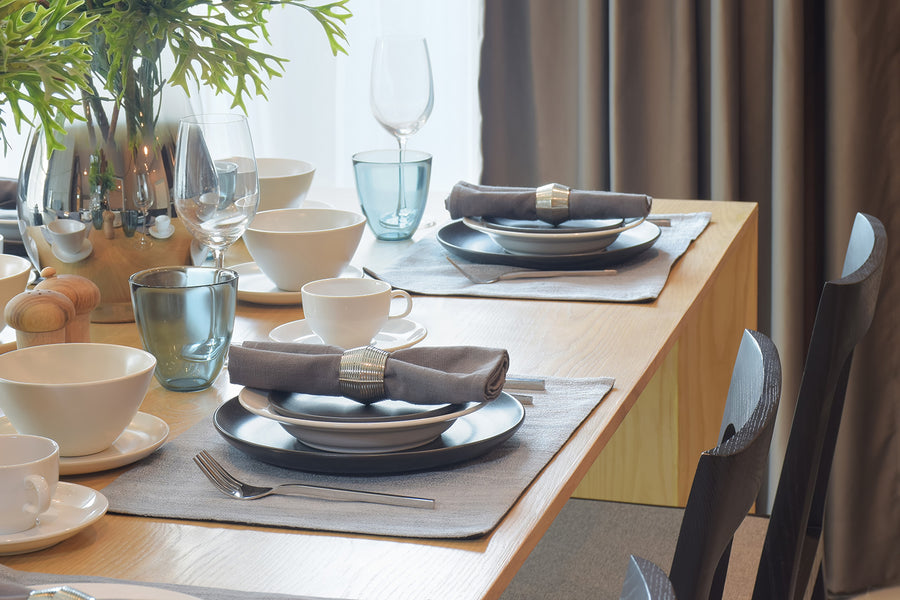 Being a culinary master is not just about perfecting recipes. In fact, most master chefs will tell you that the final and most important step when prepping for special occasions is the tableware that you serve your meal upon. Tableware includes anything from cutlery and serving dishes to stoneware, flatware, mugs, and stemware.
If you are like the majority of other households who have increased their home-cooked meals over the last two years, you will likely have at least thought about upgrading your tableware and kitchenware. It is the hands-on experience that gives you insight into just how important these tools are to have.
And if you have taken a cooking class in the hopes of upgrading your culinary skills, or simply wanting to have a fun experience, then you owe it to yourself to finish it all off by creating the ultimate table setting to give you and guests at the dining table a magical culinary experience. 
Long gone are the days when you actually have to order off the menu at a restaurant to have a great meal. In fact, you can do so in your very own home. While restaurants will always hold a dear place in all our hearts, there is just something so special about getting your friends and family around your own dinner table for an intimate setting over delicious food. 
It is something that everyone can do and we are here to tell you exactly how to do just that.
From giving you all the insight into tableware basics such as dinner plate sets, serving bowls and pots, spoons, and earthenware to sharing the best kitchen essentials that experts recommend, we have put together the ultimate guide for all things tableware and kitchen essentials.
Your next splurge on your home should be focused on the kitchen and ensuring you have all the right materials on hand. Here is everything you need to know to ensure exactly that.
Tableware Basics
It is always important to start off with the basics. So for those wondering what tableware actually is, the answer is quite simple.
Tableware is the collection of dishes, utensils, and glassware that is used to serve a meal from, eat from, and drink from when sitting together for a meal at the table.
Whether you realize it or not, you already likely have tableware in your kitchen. This includes things like dinner plates, breakfast bowls, utensils and drink glasses. The extensive nature of how much tableware you should have in your kitchen really depends on how many people you plan to feed on a daily basis. A general rule of thumb is that you should always have at least two to four extra sets of tableware in case you end up hosting other people for a meal.
Kitchenware Basics
Similar to tableware, kitchenware is the actual utensils used while preparing food. So you do not necessarily need to have multiple of each like you do tableware sets. But you should at least have one of each essential kitchenware item on hand for any recipe you are working on.
Common kitchenware tools include a chef's knife for cutting up ingredients, a chopping board for doing the cutting on, and a crockpot to cook it all in.
The type of kitchenware that your home should have really varies depending on the types of meals you tend to cook, how big the preparation efforts are and your budget. In general, the top kitchenware item to have is a chef's knife. Make sure you at least have that.
Best Tableware Sets
So what are the best tableware sets that you should consider bringing into your home? They really do vary based on the types of materials that are used, the specific items that are included in the set and the style that makes you most excited to cook.
The key items you will want to make sure are included in a tableware set are at least one water glass, one wine glass, a fork, a knife, a spoon and a large and small plate. These will be needed for the most basic of meals for your everyday dining experience.
Of course, if you want to also get tableware sets that are appropriate for hosting then you should look for ones that give a more extensive range of items — particulary in the variety of plates, bowls, and wine glasses.
Here are the top ones ranked by experts themselves.
1. The Japanese Inspired Set
One of the most addicting parts of Japanese culture is its minimalism. They are able to make anything, including tableware sets, look beautiful in the most simplistic of ways. Experts love these sets because they can work for both casual and formal dining settings.
But even more so is the practicality of these sets. They come with a special warranty that ensures if a piece of the set breaks, then the company will give you a replacement of that item so you are never in short supply of the complete ensemble.
2. The Mix and Match Sets
One of the biggest trends lately when it comes to dinnerware sets is to embrace the mix and match sets with different shapes and colors. This means that the collection of plates, bowls, utensils, serveware, and glassware all come in different hues or shades of one certain hue to create an overall ambiance. With subtle variances in the designs, it allows for a fun dining table setting that makes the food served on them even more photogenic. 
In addition to using them for meals, you can use mix-and-match tableware for decorative purposes. Anything from chinaware or porcelain plates makes excellent home decor.
3. The Ones That Help Others
This one is something that experts all agree on — if you can make a positive difference through a small consumer purchase, then choose that one. And this is the case when it comes to tableware sets. There are many local artisans who create one of a kind collections that are often cooler than the commercially branded ones.
More so, the money you spend purchasing this type of set directly goes to helping that artisan support their own family. And it will also give you a unique and meaningful talking point at the dinner table too.
4. The One You Can Afford
At the end of the day, a large part of the decision for the best tableware set for you will come down to budget. But do not let that shy you away from searching for the best ones. Just because you may not be able to afford a designer set does not mean there is an equivalent at a more affordable scale.
The key is not always about who made it, but what the set looks like and how durable and reliable it is. If it ticks off the main factors that are important to you, then it is okay to not have to break the bank and instead go for the more affordable version.
Wine Glasses
Now, while tableware sets are important, so are wine glasses. In fact, we are bold enough to argue that wine glasses are one of the most important purchases to make and can make or break the overall dining experience.
Many times a meal is further enhanced by the type of wine that accompanies it. And a wine glass is the key to ensuring that these two worlds collide to perfection. A wine glass is designed to enhance aromatics, preserve wine temperatures and enhance the overall drinking experience.  
And while there are many different types of wine glasses to choose from, and a whole variety of wines to drink from, experts recommend these wine glasses as an absolute must to have for any dining occasion — whether you are eating solo or with a whole bunch of people.
1. The Big Wine Glass
Bigger is better when it comes to wine glasses, so it is no wonder that experts recommend getting a collection of big wine glasses. These wine glasses are designed to be wide and curved in the bowl with a long stem to easily hold on to. The most amazing part of this wine glass is the fact that the glass itself is so thin it creates a weightless feel to the glass.
But be mindful that the bigger glasses do not always mean you need to pour more. In fact, the point of a bigger wine glass is not to enable you to pour more. But to allow for more room for the aromatics to swirl around and enhance the sipping experience. The big and wide wine glasses like this collection are usually meant for red wines, but white wines can hold their own if poured in here too.
2. The Collection of Red Wine Glasses
According to consumer trends, red wines tend to be the more popular choice compared to white wines. So this means that it makes sense to get a collection of red wine glasses designed for all the different varietals. 
Drinking a merlot will require a different styled wine glass compared to a port. That is why it is helpful to invest in a collection that covers all the different red wine glasses that could ever be required. So no matter what the pour is or what the meal is, you will have the perfect glass.
3. The Tumblers Set
While there is a specific reason for the wine stem, it is becoming more and more trendy to ditch it and instead drink out of tumblers. This can create a more casual dining environment while also changing the overall height of the table display.
These wine glasses are great for both the red and white pours and allow for those who are enjoying a tipple to do so in the most relaxed way. These wine glasses are perfect if you are wanting to create a casual dining experience while still offering up some exquisite wines.
4. The Flute Collection
While you may not be indulging in champagne every day, you will want to have a collection of champagne flutes on standby for when that occasion does come to fruition. Because of the extra carbonation that champagne produces when poured, you will want flutes like these to stop the bubble from pouring over and ensure that you can sip away the goodness.
These flutes come in a fun tulip shape and a longer stem so that the champagne itself remains at its chilled temperature. But experts love this set for the achievement of balancing elegance with durability — two very important factors when it comes to a champagne flute.
Kitchen Knives
While wine glasses are essential for the table settings, a chef's knife is essential for kitchen work.
Time and time again, the best chefs in the world will emphasize that if you are just going to get one thing of value for the kitchen, let it be a chef's knife. This is because it will make the chopping, slicing and dicing so much less tedious.
And when it comes to chef's knives to choose from, there are two types to choose from: Western chef's knives and Asian chef's knives. Both are designed to achieve the same result, but with the design features themselves varying. Regardless of the type of chef's knife you go for, you want to make sure it comes in a block set. That way you have all the knives on hand you could ever need for any ingredient you need to use
Here are the best knife block sets to consider getting.
1. The Ultimate German Knife Block Set
Germany is known for their reliability. Therefore it is no surprise that this collection of german kitchen knives is equally reliable. Coming in a block set where they are all made of stainless steel and can resist any threats of rust, it is a knife block that well suits any type of kitchen.
2. The Artistic Knife Block
There is always a fine balance between efficiency and aesthetics, and that is exactly what you want to find in a knife set block. The reason that experts love this one is two-fold. First, the set of six knives is designed for optimal function. Not only are the blades ridiculously sharp, but the handle is designed with ergonomic features so it fits naturally in anyone's hand.
The second reason experts love this knife block is because of how the knives are stored. Adding in the transparent glass block that leaves the knives floating in mid-air creates a modern piece of art when not in use. The practicality of this is also genius, as you know exactly what knife you are pulling out of the block every single time.
3. The Set Michelin Star Chefs Love
You know that it is a great choice of a kitchen essential when it gets raving reviews from the best chefs around the world. Experts and chefs love this knife block set because of the incredible craftsmanship that went into creating each knife in this set of three.
This collection comes with a chef's knife, a serrated knife, and a santoku knife. All three are made with material that is both carbon-neutral and guaranteed to last a lifetime. In fact, consumers have the option to try out this knife set for up to two months before having to commit to purchasing. It really is that good.
4. The Collection of Japanese Knives
While German knives are something that can be used amongst home chefs and master chefs alike, there is always the allure of one day getting to use the pristine Japanese chef's knife. Nd this set comes with three insanely beautiful and meticulously made knives that any chef would get excited about using.
The process for making these knives is quite intricate. In fact, there are over 50 steps involved in the process — many of which have been passed down as tradition throughout the family lineage. The craftsmen who create these Japanese chef's knives have been training for decades to hone their skills, making this set all the more sought after. Best of all, the bamboo blocks these come in add an additional flavour of Japanese culture into your kitchen too.
5. The Modern Chef's Knife Set
The modern-day kitchen deserves modern-day kitchen essentials. That is why this modern chef's knife set has experts buzzing, as it both stylistically and functionally ticks the box. Coming in a minimalist-designed block set, you will get all the essential knives you could ever need in your kitchen and store them in a way that does not clutter up the kitchen counter.
But it is not just the storage block that makes this a kitchen essential. The collection of six different kitchen knives ensures that you can slice, dice, and chop any ingredients with ease.
How To Set a Table
So you have done all the hard work in the kitchen. The meal has been prepped and completed in the kitchen thanks to your kitchen essentials, including your trusty chef's knife. 
Now comes the last step in the process — setting the table with your tableware.
While the actual dining table will determine a lot of the aesthetics, there are some core rules to follow when it comes to setting the table with your tableware — plates and wine glasses included.
Whether you are having a casual dinner at home or a dinner party with friends, here are the core basics that you should always try to follow when it comes to laying out your tableware.
Use Placemats
Placemats have many different functions. Not only do they thematically set the tone of the dining table arrangement, but prevent any spillage from damaging your actual table. It is always best to get placemats that are easy to wash and we recommend going for ones that produce an inviting ambiance.
Bring Out the Dinner Plate
Most of the meals that you make will likely require a dinner plate. When setting the table with this, make sure it is placed in the middle of the placemat. Because it will be showcasing the delicious food you have made, you will want it to be the focal point of each place setting.
Arrange the Utensils
The three basic utensils you will want to bring out for any dining environment are your fork, spoon, and knife. The knife and spoon always go to the right of the dinner plate, with the fork going to the left. If you choose to get a bit fancier, you will then add the dessert spoon to the top of the dinner plate and the salad fork to the left of the standard fork.
Provide All the Glasses
In general, each place setting at the dining table will at least need a water glass. This is typically placed to the top right-hand corner of the dinner plate. But let's be honest, each meal will need at least one glass of wine as well. So bring out the wine glasses and line them up to the left-hand corner of your dinner plate.
Give Out Napkins
No matter how casual a meal is, you will always want to at least have napkins for those at the table to wipe their hands on. For a casual presentation, the napkin can simply go underneath where the fork is. But if you want to bring out an added layer of fanciness, then roll the napkin in a napkin ring and place it in the middle of the dinner plate.
Get All Your Essentials
Tableware and other kitchen essentials that every household needs. When it comes to tableware, there is a whole variety of options to consider. At the very minimum, you should at least have a few dinner sets to serve those who live in your household, with a few additional should you ever end up hosting others. And when it comes to wine glasses, you should at least have a quality white wine and red wine option on standby.
For the kitchen essentials, there are lots of different items to consider getting. But of all that you can choose from, make getting a quality chef's knife your top priority. Not only will it make your life easier when it comes to prepping the ingredients, but will make you feel like a master chef yourself.
So go ahead. Stock up on the best tableware and kitchen essentials you can. It will make your time cooking and eating that much more pleasurable. Banquist offers the best kitchenware, from chef-approved knives to dinner plates. Check out our incredible selection.
 Sources:
How to Set a Table: A Guide to Table Setting | Architectural Digest
9 Best Dinner Plate Sets: From Everyday Crockery to Party Tableware | The Independent
The Best Stylish Tableware for a Dinner Party | BBC Food
Share This