News & Advice
A Step-By-Step Guide on the Perfect Roast Chicken Dinner (2021)
By Bridget Reed
Dec 7, 2021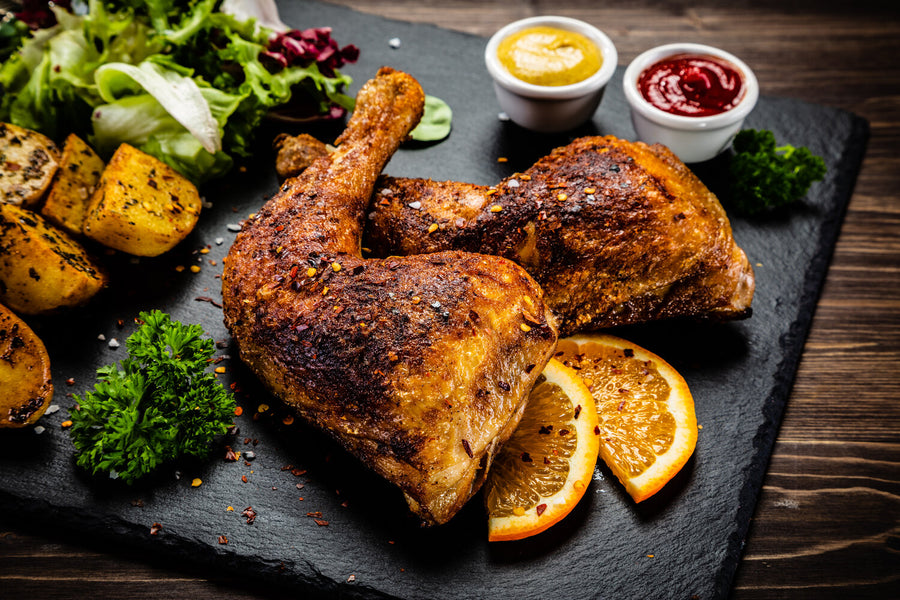 Ah, winner winner, chicken dinner!
This famous saying has been around for as long as the dish itself—and that is a very long time. Chickens have always been a meaningful animal in cultures across the world. For example, in China chickens are considered sacred and able to tell the future as they announce the rising sun.
But in other cultures, like the UK, chickens are meaningful because they make for a delicious Sunday Roast or another special dinner. As a food, chicken is a great source of protein. It is often considered one of the best types of meat to eat if you want to grow strong bones and muscles.
However, cooking the perfect roast chicken dinner is not a simple beginner dish. In fact, many will say that the best test of your cooking skills is roasted chicken. But that is no reason to feel anxious, as we are here to give you a step-by-step guide on how to do just that.
To improve your cooking skills it is always smart to sign up for cooking courses so you can learn from Masterchefs and get exclusive recipes. But another great way to improve your skills is also to try a more challenging dish like this, as you will surprise yourself with how good you really are and gain the confidence to take your culinary skills to the next level.
Before we jump into our step-by-step guide on how to make the perfect roast chicken dinner, we want to share with you some of the best tips from the culinary industry on how to master this recipe.
Tips and Tricks for a Roast Chicken Dinner
Brine the Chicken
For those of you that don't know what the culinary term "brine" is, it is where you soak the
chicken, or other meat, in salt. To do so properly, you will want to brine your chicken at least one day in advance of roasting it. 
By doing so, you will be adding flavour to your chicken and also ensuring that the chicken stays moist and can retain the water necessary to roast to perfection. Some of the best chefs also brine their chicken with buttermilk or yoghurt to add that extra level of tenderness to it.
Season the Chicken
You will want to maximise the flavours of your chicken to make the best roast chicken dinner. This means getting your hands dirty and using your fingers to evenly rub the seasoning of herbs, butter, and marinade all over the chicken. Things will get a bit messy, and that is okay.
Bring the Chicken to Room Temperature
You only get one chance to roast your chicken, so you want to make sure you do it just right. It is important to ensure that your chicken is at room temperature first before you roast it. This ensures that the entire chicken will roast evenly and efficiently, so take that few extra minutes of time before putting it in the oven.
Prepare the Chicken the Right Way
It is the small details that really make a great roast chicken. That is why you don't want to simply put the chicken on the roasting tray and send it into the oven. Instead, you want to trim and tie the chicken up so that it is in the best position possible for a solid roast. If you take the time to tie the legs, the thighs of your chicken will brown rather than burn.
Placement of the Chicken Is Everything
Place your chicken as far back as possible in your oven. This is because all parts of your chicken will cook differently, but the back of the even tends to be hotter in the front. This will increase the likelihood of the chicken roasting evenly despite the time variations of the different parts.
To take an extra step of precaution, take the chicken out of the oven halfway through and move it to the other corner of the oven. You will also want to modify the temperature of the oven while cooking and turn it down after you notice it is starting to brown.
Wait Before Eating the Chicken
As tempting as it will be, wait before you dig into the chicken. Ideally, you will want to wait for at least 20 minutes before cutting into the roast chicken. This is because the chicken will still be experiencing carryover cooking, where it will continue to cook even after it is out of the oven. So the extra time allows for you to see that process through.
The Best Recipe for the Perfect Chicken Dinner
This recipe will soon become a family favourite, with around an hour of cooking and preparation time and 10 servings to ensure that no one goes hungry.  It is perfect for that Sunday Roast or any other celebratory meal.
The Ingredients You Need
As with any recipe, the first step is to prepare your kitchen and get the ingredients delivered to your door. Here is what you will be needing to have out on your kitchen counter.
1. 300 grams of peeled and cut onions
2. Four sage leaves
3. 65 grams of breadcrumbs and 15 grams of unsalted butter
4. One egg yolk 
5. Nutmeg, black pepper, and salt
6. 20 grams of marinade for your chicken and gravy
7. 700 grams of chicken breast
8. 300 milliliters of water
9. One kilogram of potatoes that are cut in half
10. 225 grams of carrots and parsnips cut into long chunks
The Easy Steps To Make a Roast Chicken Dinner
1. First, you will want to cook your onions in a pan with boiling water, where you will also add in your sage. After five minutes, remove, drain and blend up in a food processor.
2. You will then add in the breadcrumbs, butter, egg yolk, nutmeg, and pepper to the freshly mixed sage and onion combo. Continue to blend all the ingredients together until it starts to look like breadcrumbs. Ensure to stop when it hits this texture, as you do not want the end result to look like a paste.
3. Then roll the mixture into 10 small polls and place on a tray to bake. Alongside these balls, you will put the cut parsnips, potatoes and pour them over with vegetable oil.
4. Now, either roast your chicken or, if you want an easier method, simply mix the chicken breast and marinade together and lay next to the stuffing balls. If time allows, we recommend roasting the whole chicken, but if time does not allow, this simpler solution will still get you a delicious result.
5. The chicken, vegetables, and stuffing can all be roasted together at the same time in the oven. You will want to leave them in the oven for around 25 minutes before checking and assessing how much longer they will need. 
6. While everything is roasting in the oven, now is the perfect time to make the gravy. This can be done by simply adding 225 milliliters of water into a pan and heating it to a boil. As this is happening, mix in the gravy powder and the remaining 75 milliliters of water to create a paste texture. You will then pour the paste and chicken marinade into the boiling water and let boil for around four minutes.
7. Now, take the roast chicken out of the oven along with the vegetables and let it stand. Once you have allowed enough time to pass, you can begin to serve up all the items onto serving dishes and pour a side of gravy on each.
Final Thoughts on the Roast Chicken Dinner
This recipe is perfect for all levels of culinary skill. If you are a beginner, get your confidence up by following these simple steps and roasting sliced chicken in the oven. And if you are already confident with your culinary skills and want a good challenge, go for roasting an entire chicken in the oven using our tips and tricks listed above. 
The sides of roasted vegetables, gravy, and stuffing will make for the perfect well-rounded additions to this meal.
So what are you waiting for? Step up your game with your Sunday Roast dinners and make the perfect roast chicken dinner for your friends and family (if chicken isn't your thing, try cooking a turkey). They will be blown away by your culinary skills and the jam-packed flavours they get to enjoy in every bite.
Sources:
Health Benefits of Chicken | WebMD
The Surprising Origin of Fried Chicken | BBC Travel
Share This