News & Advice
Easy & Quick Roast Beef Recipe: The Yummiest Roast Beef Recipe of All Time
By Bridget Reed
Dec 7, 2021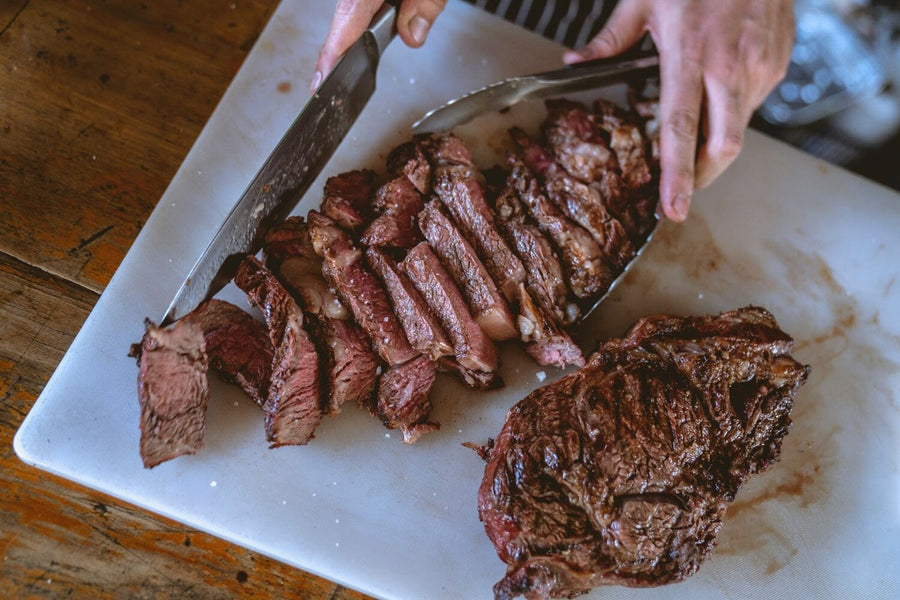 To many, roast beef brings back memories of childhood Sunday roasts, where roast beef, roast potatoes, and Yorkshire pudding were on the menu for the evening. 
It's hard to put an exact timeline on this delicious dish, but it is safe to say that roast beef has been around England for centuries. The dish holds more than just childhood memories though. It has also become a cultural icon for Brits, with recipes being passed on through generations. 
Roast beef has made its way to other cultures as well. Nowadays the iconic roast beef has become a staple sandwich in the United States and is even regarded as a staple food item for those on the Keto diet. Some restaurants have even become world-famous for the ways in which they serve roast beef and the fanfare that has followed. 
Thanks to years of others perfecting the art of roast beef, we've managed to get our hands on the yummiest roast beef recipe of all time. But better than just following the recipe all by yourself with only a glass of wine in hand, you can learn to cook this dish and others with the world's best chefs and also get your ingredients delivered directly to your door.
Before we share the yummiest roast beef recipe of all time with you, we want to share a few tips to keep in mind when it comes to cooking roast beef. 
Five Things To Keep in Mind When Preparing To Make Your Dish
1. There Are Different Types of Cuts
When it comes to roast beef, there are several types of cuts. Common ones that are often used for roast beef are referred to as a round roast, sirloin roast, bottom round roast, and eye of round roast. 
It is important to keep in mind that the leaner your cut is, the thinner you will need to slice the meat so that the result is not too chewy. An important trick, regardless of your cut, to get the perfect amount of roast beef is to use more than you think you initially need. Plus, many people also really enjoy using the leftover roast beef for sandwiches, so the more the merrier when it comes to getting the correct amount of beef to get started.
2. The Type of Seasoning Matters
How your roast beef will taste is largely impacted by the type of seasoning you use. We always recommend keeping it simple with the basics like thyme, rosemary, salt, and pepper, Of course, those wanting it spicy can swap out for options like cumin or coriander. Regardless of what seasoning you do use, remember that your roast beef will need generous amounts to really soak up the flavour. 
3. The Oven Temperature Will Change
The attention to detail when it comes to cooking roast beef is important and won't stay the same for the entire time. This is because a temperature change allows for your roast beef to be seared on all sides while also developing a delicious golden crust. So you will start out scorching hot and then lower the temperature. 
4. Check the Temperature of Your Meat
Equally important to the temperature of your oven is the temperature of your meat. This means that you will want to do some preparations an hour or two before you get started and let your beef get to room temperature first before putting it in the oven. You will also want to check the internal temperature before removing it from the oven. 
5. Be Patient With the End Result
We know you will likely want to start slicing your roast beef right away once you see how delicious your roast beef looks. But a big trick for getting the perfect cut is to be patient and wait before slicing. 
If you do start cutting too quickly, all the delicious juices are at risk of seeping out. One of the best ways to prevent this from happening is to wait an additional five or so minutes from when you think it is actually ready to be sliced. 
Our Easy and Quick Roast Beef Recipe
Now that you've got our tips fresh in your mind, you are ready to get cooking with our easy and quick roast beef recipe. We've created this recipe to be a simple way to provide a delicious and wholesome meal—made even more delicious when accompanied with a side of cooked vegetables and a Yorkshire pudding. 
Ingredients You Need
As we mentioned earlier, you can go get these ingredients from your local market, or sign up for one of our exclusive experiences with Michelin star chefs and get the ingredients delivered directly to your door. This recipe is designed to serve six people and will take around an hour or so of your time.
Here is what you'll need:  
One and a half kilograms of beef

Two medium onions

Two sticks of celery 

One bulb of garlic 

One bunch of mixed herbs or seasoning 

A generous amount of olive oil 
Method To Follow
Once you have all the ingredients on hand, follow these simple steps to make a delicious roast beef. 
1. As mentioned in the tips, ensure your cut of beef is at room temperature by removing it from the fridge for at least 30 minutes. 
2. You will want your oven to be set to 240 degrees Celsius. 
3. While you wait for the oven to warm up, wash and chop your onions, celery and garlic. For this recipe, you don't need to worry about peeling your garlic. Then assemble all your vegetables and seasoning onto an oven tray and then drizzle your olive oil generously over it all. 
4. Then do the same to your beef, drizzling with olive oil and your seasoning. Once your beef is fully covered, place it on top of the vegetables and put it into the oven. 
5. Now comes the important part. As soon as you place the tray in the oven, immediately turn down your oven temperature to 200 degrees Celsius. If you want medium-cooked beef, you will leave it in the oven for an hour. For medium-rare, leave it in for 50-55 minutes. And for well done, cook for one hour and ten minutes. 
6. Set a timer for halfway through the total cooking time, so that you know when to baste the beef halfway through and ensure that the vegetables are not too dry. When in doubt, we suggest always throwing on a bit more water or olive oil.
7. Once the cooking time is complete and you've checked the internal temperature of the beef as well, take out the tray and set it to cool for at least 15-20 minutes. Once you have given the beef time to cool off and for the juices to absorb, you can then start slicing and adding the slices to the dinner plate. 
8. This dish is best served alongside Yorkshire pudding, additional roasted vegetables, and gravy. However, any leftovers you have will make for some great roast beef sandwiches to enjoy the following day for lunch. You can store your leftover roast beef in the fridge for a few days before we suggest storing it away in the freezer. 
Final Reminders for Your Cooking Experience
Practice makes perfect when it comes to making this quick and easy roast beef. The final result will really come down to the amount of attention you place on the preparation of the beef, the oven temperature, and the amount of time you wait before slicing. 
Another great way to get more practice with your cooking skills is to sign up for one of our cooking experiences and more exclusive menus. Some of the most skilled chefs will walk you through each step with our video tutorials and we will also send you some of our finest produce in a hamper so you have everything you need to pull the dish together. 
Cooking your own roast beef dish can also become a fun family experience. Get the kids or your partner involved with this easy step-by-step process. You will not only get an easy cooking experience but also create some life-long memories in the kitchen.
This roast beef recipe is one that has been tried and tested and is an absolute favourite—proving to be one of the yummiest roast recipes we have ever shared.
Sources: 
What Healthy Eating Looks Like to Me, a Dietitian Who Eats Keto | Healthline
How to cook roast beef - tips to get perfect roast beef | Good Housekeeping
Share This