News & Advice
Four Easy Party Food Ideas To Add to Your Party (2021)
By Bridget Reed
Dec 6, 2021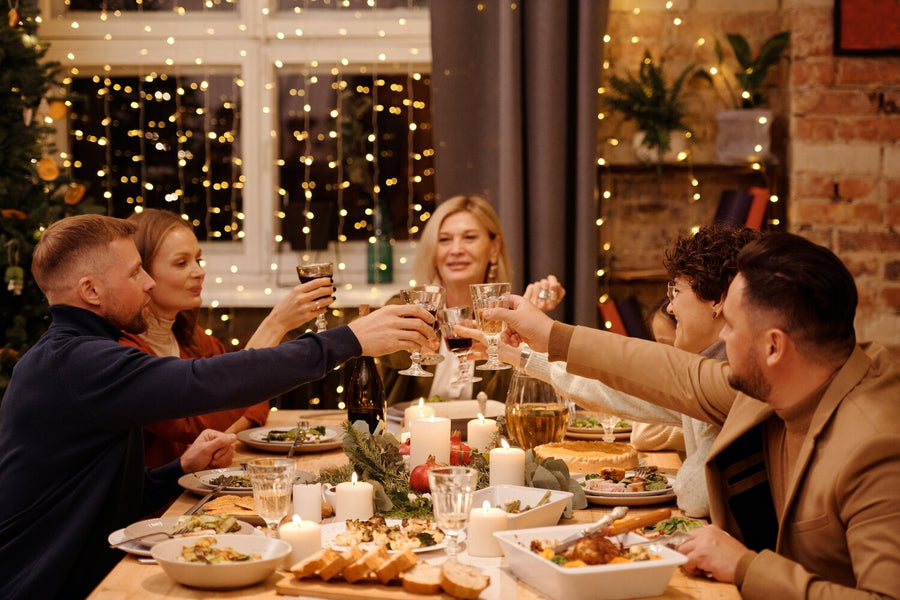 If you are wanting to get your loved ones together once again after so many months spent social distancing, then why not invite them over to your house for a celebratory reunion? 
In fact, social gatherings based around food is the trend of the year. Having group dinners at restaurants is so much fun and a great way to support local businesses. Many of us have spent the last year and a half becoming Masterchefs by following step-by-step video guides online. Now is the perfect time to really show off those culinary skills.
Throughout our time at home, we have expanded our cooking repertoire by following exclusive menus and trying out classic recipes in the kitchen like our Christmas Pudding recipe.
But if you have never hosted a food-centric party at your house before, you are going to want to keep it simple. Because you will have more quantity of everything to make and a lot more people to impress, we suggest that you spend the time to make the presentation look perfect and pick party food ideas you are confident in making. There is no need to go crazy in the kitchen when preparing for your party. Flavor, presentation, and taste are all that matter.  
To help you make your party the most flavourful event of the year for all of your guests, we have rounded up four easy party food ideas to add to the party menu and ones that you can easily plan for. We can't wait to take a bite!
1. Scotch Eggs
This cost-effective appetizer will save you both money and time in the kitchen. This recipe requires very minimal effort in the kitchen with a phenomenal result that will have all your guests grabbing multiple servings at your party. This gastropub staple is the perfect finger food, and it pairs wonderfully with ranch, hot sauce, or hot mustard dipping sauce. This recipe is for 4 people, but to make more simply double or triple all the below ingredients.
Ingredients You Need
1. Four large, peeled hard-cooked eggs
2. One beaten egg
3. One pound of pork sausage
4.  ¾ cup bread crumbs
5. One teaspoon of dried minced onion
6. One teaspoon of salt 
7. A handful of all-purpose flour
How To Make Scotch Eggs
1. Start by heating your oven to 205 degrees Celsius.
2. Combine your sausage, onion, and salt in a bowl. Make the mixture into four sausage patties.
3. Coat your hard-cooked eggs in flour, then place each on a sausage patty. Mold the patty around the egg, then dip each patty-covered egg into the beaten egg. 
4. Cover each egg with breadcrumbs completely. Evenly space the eggs onto an ungreased baking sheet. 
5. Bake your eggs for 35 minutes, or until the sausage is cooked through.
2. Coronation Chicken
Coronation chicken is easier than it looks. Sure, it's easy to find coronation chicken everywhere from Asda to your local deli, but there's something special about making this classic party snack from scratch. Plus, it's a great way to use last night's leftovers in a pinch. Make this recipe your own by adding veggies, walnuts, garlic powder, herbs, or blue cheese—anything your heart desires! 
This extremely versatile chicken salad-esque dish can be eaten in sandwiches, on jacket potatoes, or in a salad, or you can enjoy it on its own straight from the pan. Best of all, you can make coronation chicken in five minutes or less.
Ingredients You Need
1. 500 grams of shredded cooked chicken
2. Six tablespoons of mayo
3. 3 teaspoons of mild curry powder
4. Two tablespoons of mango chutney
5. ½ teaspoon of ground cinnamon
6. 3 tablespoons of sultanas
7. A pinch of black pepper
How To Make Coronation Chicken
1. Combine the mayonnaise, curry powder, mango chutney, sultanas, pepper, and cinnamon in a bowl.
2. Stir in the shredded chicken until it's fully coated.
3. Tomato and Mozzarella Bites
This skewer dish is incredibly simple to assemble, delicious to eat, and beautiful to look at. The contrasting colours of this dish will get your guest's attention and the ease of making will allow you to keep making seconds and thirds on-demand—as we can guarantee these will not last long. Kids love them, adults love them, and we love them, too. But the beauty of this dish is that it is one of the simplest dishes you will ever make, and it's packed to the brim with flavour.
Ingredients You Need
1. One cup of balsamic vinegar
2. Forty cherry tomatoes and forty mozzarella balls
3. Twenty fresh basil leaves that are cut in half
4. Forty skewer sticks
How To Make Tomato and Mozzarella Bites
1. First, cut the cherry tomatoes in half. If your mozzarella balls are already mini-sized, they are ready to go. Otherwise, cut them to be similarly sized to the cherry tomato halves.
2. Put a mozzarella ball, cherry tomato half, and a basil leaf on the skewer.
3. Lay the skewer on the serving plate and repeat the process until all the ingredients are used up.
4. Drizzle the balsamic vinegar over each of the skewers and dash with some salt and pepper.
5. Add any garnishes for presentation purposes and it is ready to serve.
 4. Sausage Rolls
Who doesn't love sausages? They make for a yummy nibble that pairs with beer, wine, cocktails, and non-alcoholic beverages, meaning every guest will be satisfied with this plate of party food. A quintessentially British twist on American pigs in blankets, mini sausage rolls are a perfect pass-around appetizer, and they're guaranteed to leave your guests full and happy. You can even wrap these in bacon or dip them in hot mustard if you're feeling fancy.
Plus, with only 3 ingredients to source and 30 minutes of cooking time, this party platter could not get any simpler to make. We also recommend doubling the batch, as these will likely go fast and this recipe makes 24 sausage rolls.
Ingredients You Need
1. One puff pastry sheet
2. Twelve ounces of pork sausage meat
3. One egg
4. Thyme or onion powder (optional)
How To Make Sausage Rolls
1. First, turn the oven to 205 degrees Celsius and line a baking sheet with parchment paper. 
2. While the oven is warming up, whisk both the egg and water together in a bowl, then set it aside.
3. Cut your pastry sheet into thirds, then roll it out on a floured surface.
4. Take some of your pork sausage meat and roll it into a ½ inch thick cylinder. 
5. Place your sausage meat on the pastry sheet, an inch away from the right edge. Lightly brush the dough with the mixed egg around the sausage meat.
6. Fold the left edge of the pastry sheet over the meat, then enclose the meat using the right edge of the pastry. Press down with a fork to lock the pastry edges together. 
7. Score the pastry with lines on the top, then cut 2 inch-thick sausage rolls. Distribute the rolls evenly on your baking sheet, then brush the top with the rest of your egg mixture.
8. Bake in the oven for around 15 minutes, then rotate. Continue baking for 5 to 10 minutes or until golden brown. 
Final Thoughts on Party Food
There is a happy medium between just ordering a bunch of pizza and slaving away in the kitchen all night. It is important that you enjoy your party, too. Choosing simple recipes to whip up will allow you to feel more relaxed and enjoy the time with your guests, while still serving a spread you love. From parmesan cheese crisps to stuffed olives to skewers, your selection of party food is sure to wow your guests. And, since these recipes are so simple, hosting your party will be cheap and cheerful, whether it's your first party of the season or your third party of the week.
Lastly, here's a quick list of other easy party food ideas to try after you finish these four recipes:
Cheese balls and crackers

Chips and salsa 

Roasted cauliflower or broccoli 

Chocolate cookies and cakes 

Smoked salmon toasts with sour cream

Cocktail shrimp

Ham and cream cheese roll-ups
What party food will you be serving at your next get-together?
Sources:
These Last Minute Party Snacks Will Make You Think You're a Damn Chef | Cosmopolitan 
Top 10 Party Tips | BBC Good Food 
Share This