News & Advice
How Do Online Cooking Classes Work?
By Bridget Reed
Dec 7, 2021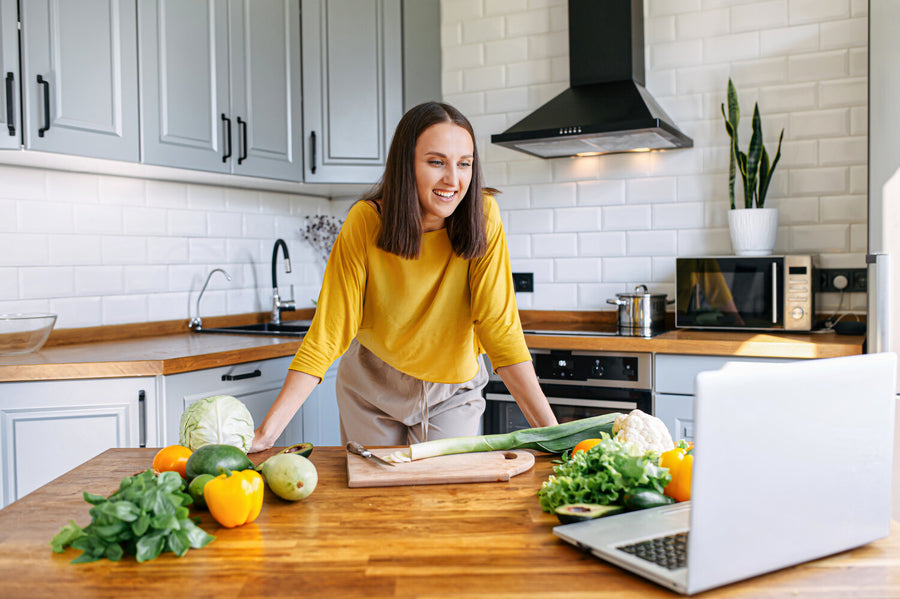 Just because we are living through a pandemic does not mean you still can't work towards becoming a Masterchef by taking a masterclass for home cooks. 
In fact, there has likely never been a better time to pursue enhancing your culinary skills than right now. Studies are showing that interest in online classes has boomed since the pandemic began, meaning that online cooking classes have never been more accessible to you.
While you can have access to exclusive menus to spice up your weekly meal planning, signing up for our online cooking courses is a convenient and worthwhile way to gain confidence in the kitchen while making different cuisine. Plus, online courses are great for beginners. It's like having a culinary school at home. 
Want to learn how to make the perfect roast? Or want to learn the right techniques to bake the ultimate Christmas pudding? While you can follow along with instructions to recipes online, cooking classes elevate the experience to the next level and provide you with a more personalized cooking experience that is perfect to do solo, with your partner, or with your young kids or teens (right from your own kitchen, no cookbook or professional chefs required). 
If you haven't done an online cooking class yet, you likely have plenty of questions as to what the experience is like, the benefits, and other tidbits that you should know before signing up.
That is why we have put together a guide of everything you need to know about how the best online cooking classes work and why you should give one a try. It won't take long before you realize that your computer can be a useful tool in the kitchen too.
The Types of Online Cooking Courses To Choose From
With a wide selection of online cooking courses to choose from, there are also multiple formats and experiences offered. In general, there are three types of online cooking classes—recorded, live, and virtual with ingredients supplied. Here is what you should know about each of them.
Recorded Cooking Classes
These courses are beneficial to those that have jam-packed schedules and need to have flexibility around when they can take their cooking course. With recorded classes, you can decide when you want to begin and pause it anytime you need. You can also go at your own pace. These courses are often recorded by celebrity chefs (think: Wolfgang Puck, Alice Waters, and Gordon Ramsay) or Michelin star chefs and packed with personality and flavor.
While the classes are not done in real-time, you will have the benefit of re-watching the classes anytime you want and rewinding the video if you need to. You'll have unlimited access to the best tips, tricks, and techniques in the kitchen—with many being free.
Oftentimes, these recorded classes are great for things such as cooking basics, understanding an ingredient list, learning knife skills, and how to make homemade dishes for all skill levels.
Live Cooking Classes
These ones require participants to log in and follow along in real-time. They are much more personal and interactive. Some will be personal lessons with a single student, where others will have dozen-plus participants logging in at the same time. These classes are much more special, hence there will usually be a charge associated. Your hosts will also be amazing chefs that offer courses over platforms such as Zoom.
The benefit to paying for a live cooking class is that you will often get instant feedback, can ask questions for help and the chef will likely even know your name. Especially over the last year or so, these live cooking classes have been particularly popular for couples wanting a special date night at home or a way to keep the whole family busy during the summer. 
Virtual Cooking Class With Supplied Ingredients
This is one of the more premium options when it comes to cooking classes. Not only do you get access to live cooking classes, but you will also get a special delivery of all the ingredients you need for the class delivered directly to your door. 
That's right; everything you need, from potatoes to vegetables, salad mix, chicken, pasta, desserts, and anything else you could possibly need to complete the live tutorials and lesson videos. No more worrying about your purchases at the market (just make sure you first check the ingredient list if you have allergies).
This is a huge benefit as it means you will be using the exact same ingredients as the instructor and not have to stress about finding more unique ingredients that can be hard to find at your local store. Our classes offer this option and ensure that the hamper of ingredients delivered to your door is nothing but exceptional.
What the Class Will Be Like
While the medium (online cooking school on your laptop) on which the cooking class takes place is different from going to in-person classes, the format is largely similar. Here are the steps you can expect to take place during your course.
Step One: Receive an Overview From the Teacher
You're not going to have to worry about logging on and starting to cook right away. Most cooking classes start off with an introduction from your teacher, where you will learn about their experience, possibly some entertaining stories, and an overview of how the class will run. That way you can mentally prepare for what to expect along the way.
Step Two: The Prepping Your Kitchen Part
It doesn't really matter what cooking class you take, you will likely always follow this important step upfront—and that is to prepare your kitchen. 
You will want to make sure you have all the ingredients laid out, all the cooking utensils within easy reach, and your apron hung over your neck. Taking the time to prepare your kitchen will allow you to feel more confident in the process as you follow along to the rest of the steps.
Step Three: The Chopping Part
Most recipes will require some level of chopping or peeling preparation before the actual cooking part begins. Normally you will let your oven or pan heat up to the right temperature while you use your knives to chop away with your newly learned chopping techniques.
Step Four: The Cooking Part
Depending on how complex the recipe is that you are following, you may just be focusing on preparing one dish or preparing a four-course meal. So some classes may involve just a straightforward cooking portion where others may involve alternating between cutting, mixing and cooking.  
Step Five: The Waiting Part
It really comes down to how complex your recipe is, but there may be some waiting time involved. This is a great opportunity to ask questions if you are in a live cooking class. Or, you can use this time to clean up your cooking station and ensure everything is looking nice and tidy. The best meals are always prepared in a clean kitchen.
Step Six: The Taste Testing Part
As you will likely learn during your cooking class, taste testing is an important part of the process. Tasting the sauce, batter or other flavouring is a helpful way to sense that you are on the right track for making a delicious meal. This is the time to make any modifications or adaptations to your dish.
Step Seven: The Presentation Part
Once your dish has finished cooking, you will likely go through a presentation part of the class. This is where you will learn how to beautifully prepare your dish on a serving plate to impress anyone you may be cooking for (and make food pretty enough for Instagram). You have put so much effort into your dish, that you owe it to yourself to learn how to make the presentation of it look as fabulous as possible.
Step Eight: The Eating Part
Just like in-person cooking classes, you never have to worry about going hungry in an online cooking class. The reward for all your work is to enjoy your meal. And if you are taking a live course, you may have the opportunity to enjoy what you have made with others taking the class as well and get to know other passionate foodies.
Step Nine: The Cleaning Part
The final part of any part of making a dish is the cleaning part. Your instructor will likely wrap up the class by giving you some tips and tricks on how to properly clean up your kitchen so it is ready to go the next time.
The Benefits of an Online Cooking Class
There are many benefits that come with signing up for an online cooking class. These include:
Enhancing your culinary skills: No matter what level you are at, there is always room for improvement in the kitchen, even if you are already a Masterchef. 

Learn to utilize your kitchen: When you are comfortable in your kitchen, you will likely do a better job at cooking up your dish. These classes help you learn to prepare your kitchen in a way that makes you feel confident. 

Discover new recipes: Signing up for cooking courses online will also give you resources to a whole new world of amazing recipes to practice. It is a great way to spice up your meal planning and master new dishes.
So what are you waiting for? If you're on a mission to be a better cook, sign up for your next online cooking course today.
Sources:
What I Learned from Cooking with Chefs Online | The Guardian
How Food Businesses are Helping us Beat Lockdown Boredom | BBC
Share This