Online Cooking Classes UK
By Bridget Reed
Dec 6, 2021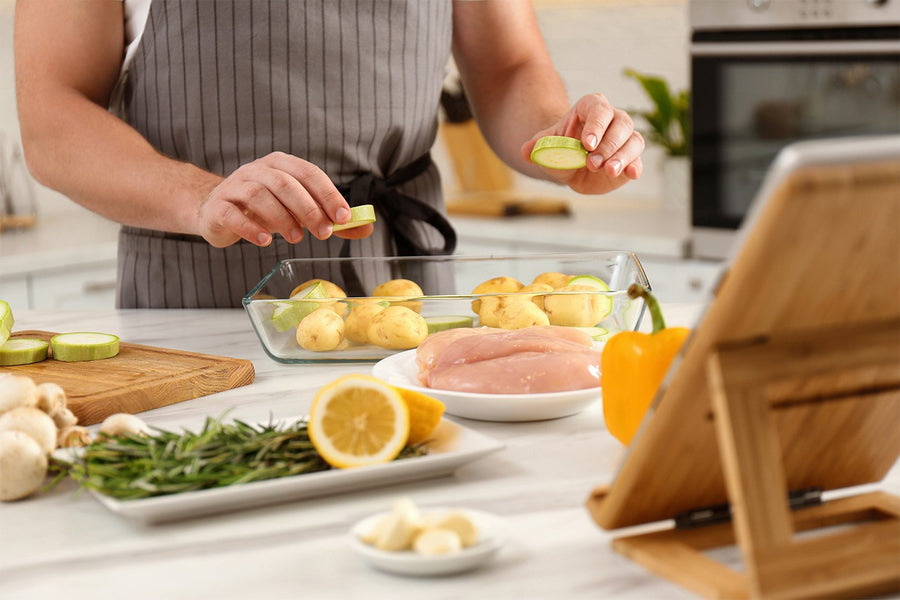 Cooking is one of those skills that you can always get better at. In fact, there is probably no better time than now to take a cooking class, especially with the plethora of ones available online in the UK.
Recent studies and experiences indicate that online cooking classes help enrich your life, and considering the crazy world we live in today, access to online cooking classes couldn't come at a better time!
Online cooking classes in the UK are allowing us all to stay tuned up to the latest culinary tips, tricks, and recipes. But also, they are allowing us to stay connected with the best of the best around the world, in addition to those in our home country. 
There are so many different types of online cooking classes to choose from. You can learn to make the perfect croissant with online baking courses or follow along to your favourite influencer chef with a range of Instagram cooking classes.
And it doesn't stop there. The availability of online cooking classes is so extensive right now that it is also easy to give the gift of a cooking class, making for a memorable birthday, anniversary, or holiday present.
With so many options to choose, from, we've given you a great starting point and rounded up some of the best online cooking classes to do in the UK.
1. Banquist: The All-in-One Cooking Experience
Offering you an exceptional cooking class experience, we collaborate with Masterchefs who have earned Michelin Stars to teach you the very best dishes that they have perfected. In addition to providing you with exclusive online cooking experiences, you will also get all the ingredients delivered to your door in advance of the class. 
With numerous collaborations offered so far, cooking from home has never been so exceptionally delicious, educational, and enlightening. With options for kids courses and couples alike, these classes are extremely popular and in high demand, so you'll want to sign up fast.
2. Massimo Bottura's Italian Course: A Range of Options
If you are craving a taste of Italy, then this online cooking course is for you. This brilliant cook offers a range of online courses, ranging from his 7 p.m. live streams that he does on social media to downloadable Masterclass series that teaches you how to make everything from a simple pesto to the ultimate risotto. He even shares his cooking hacks like how to easily peel a potato and onion so that you can use the leftover skins as part of a dish.
3. Leith's: Master the Basics of Cooking
Every great chef needs to start somewhere. When it comes to cooking, it is often in the basic cooking techniques that can take a dish from average to exceptional. Leith's cooking classes are focused on helping you master the techniques needed to be a great chef and master any recipe that you try. And if you are wanting to start a culinary career, you can even sign up for a six-month cooking course that will get you ready to work within the industry.
4. Martha De Lacey: Learn To Bake the Classics
Baking is good for the soul and rewarding for the taste buds. Why not expand your skillset and take a baking class led by Martha De Lacey, who has created a cult-like following with her East London supper clubs and phenomenal sourdough bread.
And thanks to the pandemic, she now offers online courses that provide you with access to her recipes and tutorial videos. You'll learn to master the crumpet, waffles, and even a range of homemade crackers.
5. Lorna Wing Cookery Course: Get the Teenagers Cooking
If you are wanting to get your teenager off the video games and learning practical life skills, then Lorna Wing's cooking class designed for teenagers is a great way to go. She has made the courses engaging for the tech-savvy generation and uses platforms like FaceTime, Zoom, and Houseparty to conduct the lessons. 
She even gives personalized feedback from the lessons on WhatsApp. Your teenager will certainly be impressed with how up-with-the-times Lorna's cooking classes are and will be able to cook you a meal for a change at the end of it.
Choose Your Cooking Class
With so many great online cooking classes to choose from in the UK, you will be able to enhance your skills in no time. With Masterchefs and technology combining to provide you with at-home cooking classes, your weekday menus will also certainly get a lot more interesting. What class will you sign up for first?
 Sources:
These are the best online baking courses to join| The Independent
The best online cookery classes to take right now | delicious. magazine
Keep it simple: what I've learned from cooking with chefs online| The Guardian
Share This