News & Advice
How To Cook Michelin Star Food
By Bridget Reed
Dec 6, 2021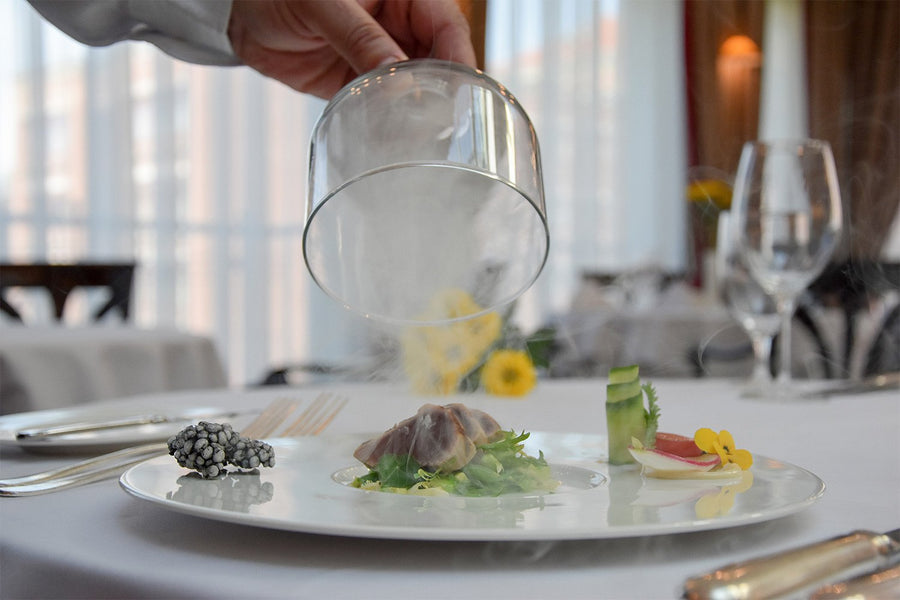 Have you ever wondered what it takes to cook like a Michelin Star chef?
Well, we want to let you in on a little secret from the get-go. It is easier than you think! In fact, you can learn to cook from Michelin Star chefs and make their drool-worthy dishes from the comfort of your own home.
This delightfully delicious food splurge could not come at a better time too. Chances are, the last year and a half of lockdowns have led you to need to cure your chronic food fatigue, with you likely getting into a rhythm of making the same meals on rotation.
While it is great to have your go-to dishes, our taste buds often demand adventure and surprise every now and then. And recipes from the best chefs of all time can help you satisfy their cravings.
So if you have ever wondered if you too could cook Michelin star food, we are here to tell you that the answer is 'yes you can.' And we are here to help you do it.
We've discovered that not only are Michelin Star chefs passionate about creating the best meals in the world, but Michelin star chefs are also eager to teach others and preserve culinary techniques and traditions.
And contrary to some stereotypes that they only do the most complicated dishes, we've discovered that Michelin star chefs like to keep it simple with cooking at home too.
Here is everything you need to know about cooking Michelin star food.
We Collaborate With the Very Best
We are passionate about connecting home cooks with the best Michelin star chefs in the industry. That is one of the founding principles of Banquist and why we continually offer new collaborations with chefs who teach and guide people like you through making a four-course Michelin star meal. 
Past collaborations include courses led by London's most iconic chef Josh Barnes and currently we are offering a three-course Michelin Star Magic with renowned chef Alex Bond—where the experience includes paired wine, a meal kit, video tutorials, and a home dining experience you will never forget.
We Do All the Preparation for You
When you sign up to learn how to make Michelin star food at home with us, we do all the hard work for you in advance. This means that we will take the chef's recipe and source and prepare all the ingredients that you will need for your course. 
Then, based on the delivery date you choose, we ship this meal kit directly to your home and pack it in a way that ensures it stays fresh until you decide to cook it. This makes following along to the course so much easier and you can follow each step precisely as the instructing chef does.
We Provide Expert Video Guides
To make learning to cook Michelin star food convenient and easy for both you and the instructing chef, we prepare expert video guide tutorials of the course, which only students who sign up for the class will have access to. 
The tutorials are both engaging and personable, making you feel as if the world-class chef is right next to you in your home kitchen. The benefit of these videos is that if you want to re-watch them complete a certain technique or step, you can pause and rewind.
We Make You the Masterchef
Our goal is to not only provide you lessons from the very best but make you the very best chef too! When you sign up to learn to make Michelin-star food with us at home, we focus on all the small details of the food kit, video tutorials, and recipes to ensure that you are able to finish the course feeling like a Masterchef yourself.
Final Thoughts
Learning to cook Michelin-Star food is something that anyone can do, including you. With exclusive collaboration courses available for you to sign-up for online, you can follow along from the comfort of your own home as you create world-class meals.
With menu items like 42 days aged Cumbrian rump of beef, scallops, and sticky chocolate caramel tarts, the rewards will be an explosion of flavour that makes you want to spend more time in the kitchen to create more delicious meals at home.
Who knows, learning from a Michelin-Star chef may ignite a passion for cooking or even a new career. And at the very least, you will get some exquisite dishes to enjoy at home and can feel proud of yourself for cooking up such an impressive meal.
Sources:
Meet The Michelin Starred Chef Silvia Baracchi, Who Is Teaming Up With 23 Chefs Across The U.S. To Promote Authentic Italian Cuisine | Forbes
10 easy dishes Michelin-star chefs like to cook at home when they're not at work | INSIDER
Cook Like A Michelin-Starred Chef: Ornellaia's Giuseppe D'Errico Is Making These 3 Easy Dishes | Forbes
Share This