Michelin Star Cooking Classes
By Bridget Reed
Jan 18, 2022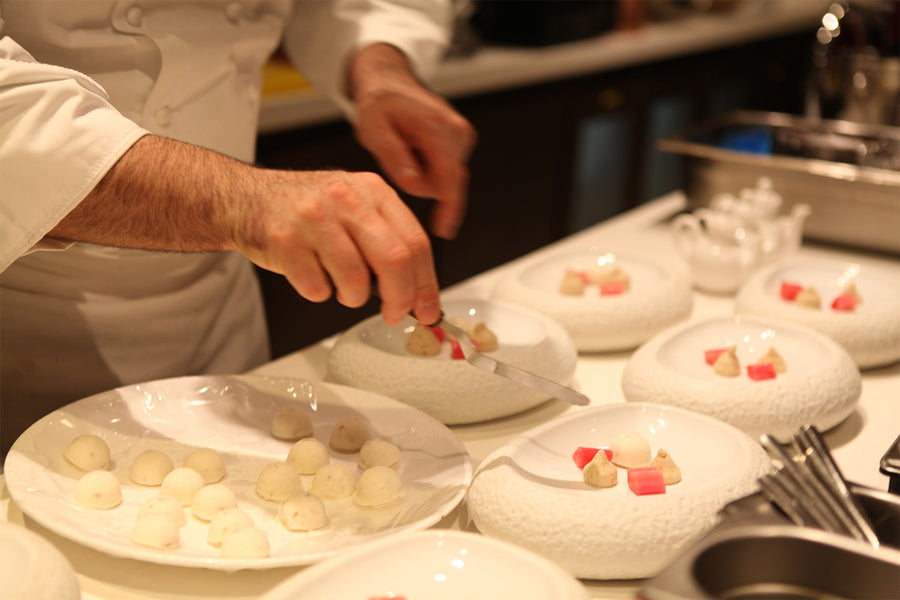 There have been a lot of new trends in 2021, with the rise in meal kits from critically acclaimed chefs being one of the biggest cooking trends we have seen.
While the world may look different than it did prior to last year, the ability to learn from the best chefs just got easier.
And it couldn't come at a better time if we are being frank. For many of us, our entire day is organized around food. 
But there is a lot that goes into a meal—there is grocery shopping, meal prepping, and then mealtime. This used to be one of the biggest appeals of going out for a date night to a Michelin star restaurant and getting the chance to have someone else worry about the food for the evening.
However, with access to a range of online Michelin star classes now more available than ever before, you can indulge in that same sort of splurge—but now rather than go out to the restaurant to eat, you get a personalized experience with the chefs themselves and leave with Michelin star tips on how to cook some of the greatest recipes from Masterchefs.
So if you are working up an appetite for discovering the secrets that make Michelin star chefs so great, and get to learn some of their best recipes as well, then signing up for a gourmet cooking class led by a Michelin star chef is for you.
Convenience in Location
Nowadays, you don't have to actually book that plane ride to Paris or New York City to learn from some of the world's best chefs. In fact, you can get practically the same type of class but do it virtually and from your own kitchen at home.
That goes without saying that the in-person Michelin star cooking classes are still widely available to enroll in. There is always something magical about traveling to the place where a chef was inspired, the ingredients for the recipe grown locally, and being in an atmosphere where others are cooking up a storm alongside you.
But travel is still hard. And these types of trips require you to plan more logistics, save more money and be more committed much further in advance.
That is why the new range of Michelin star cooking classes with us serves up something new—the convenience of location. When you enroll through a cooking class with us, or elsewhere online, then participating in the class gets a bit easier. With us, you get to decide the date that works and we plan the rest in accordance. Cooking with world-class chefs has never been more convenient.
Picking the Course
There is a range of different types of courses led by Michelin star chefs to consider.
For starters, there are courses designed for those who simply want a fun date-night activity and others that are designed to challenge those who are aspiring to be the next best chef.
The classes we provide are designed to be fun for a range of ages and experience levels, providing various collaborations with chefs who have mastered all types of cuisines. For the date night with your partner, a special collaboration where you learn to make a four-course Italian meal may be to your liking. Or, for those parents looking to entertain the young ones, baking courses for kids will teach them how to make everything from cakes to focaccia bread.
Get Your Meal Kit
As we alluded to earlier, one of the newest trending things in the culinary world is getting meal kits sent to your house to help you cook up a delicious meal at home.
And with the Michelin star cooking classes we offer, these meal kits are taken to a world-class level, with the option for wine pairing even available. When you select the date that you want to do the class, we then prepare your meal kit with all the ingredients you will need for the course and ensure it gets to your door on time and remains fresh until you start cooking.
The meal kit is designed to make it easy to follow along with the on-demand videos you will be watching of the Michelin star chef and will be the exact same ingredients you see on the screen.
Final Thoughts
Taking a Michelin star cooking class has never been easier to do, and it is something we hope you crave to do soon.
With access to some of the most brilliant minds in the culinary world, you will be blown away with how good your cooking can actually be too.
What Michelin star cooking class will you be taking next?
Sources:
Food Trends For 2021: Cooking Along With A Kit| Forbes
11 Best Online Cooking Classes 2021 | The Strategist
Tips for Michelin Star Dishes: Tips to cook Michelin star quality food at home | Times of India
Share This