chefs
Our Michelin Star Chefs
By Bridget Reed
Jan 18, 2022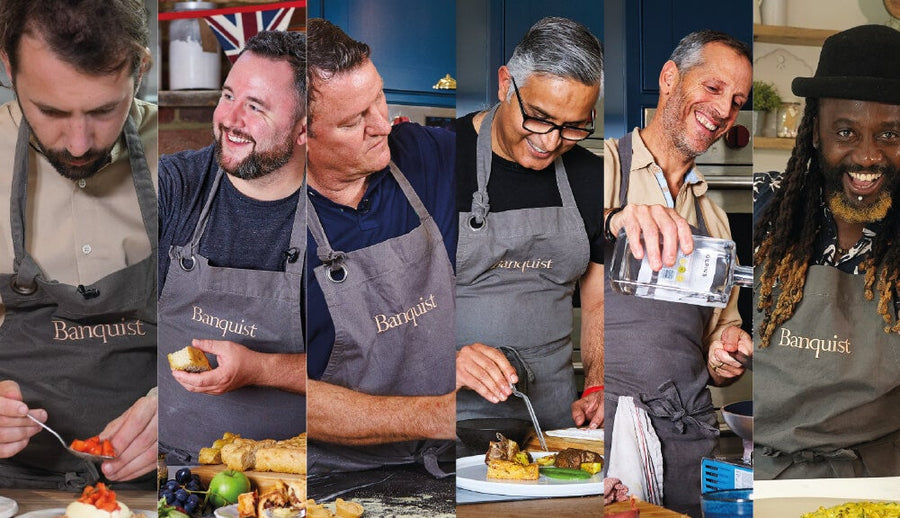 When you think about Michelin stars, you might picture a tasting menu in California or Hong Kong from high-profile chefs like Gordon Ramsay, Alain Ducasse, or Thomas Keller. 
The Michelin Guide truly differentiates a great restaurant from a good restaurant, and chefs across the world are earning their first Michelin star every year. Whether you're in France or Switzerland, Chicago, or even Virginia, it's worth taking a detour to the nearest starred eatery.
London is full of Michelin-star restaurants like Restaurant Gordon Ramsay and chefs like Heston Blumenthal that draw food critics and enthusiasts from all over to eat their way through this iconic city.
Every year we see new chefs come in and serve up their own fine-dining experiences across every category of food—creating a competitive and creative culinary scene. In fact, we reckon London is one of the hottest places to make your mark as a chef.
And if the last two years have taught us anything, it is that none of us take excellent dining experiences for granted anymore.
So while the diverse dining scene is world-class, you can now get access to the same standard of exceptional food right at home too. That's because we have teamed up with some of the world's best chefs and are now offering a whole lineup of celebrity chef cooking classes that you can take part in right from your very own kitchen.
Making for the perfect date night or a rainy day activity, our Michelin star chefs have created unique culinary experiences that will have you feeling like a MasterChef yourself. And best of all, the entire experience is already prepared for you in advance.
This means that once you sign up for your cooking class and select the date (or dates) that you want, we will work with the Michelin star chef to prepare your ingredient box and have it delivered fresh to your door. You will then also receive access to their exclusive on-demand video tutorials where they walk you through every step of the recipe.
If you weren't yet building up a craving for a once-in-a-lifetime cooking class experience, then check out who you can choose to cook alongside.
Phil Howard: The Showstopper 
If you want to learn from one of the most well-respected chefs in London, then the cooking class with Phil Howard is the one for you.
After starting his career out in microbiology, he pivoted to one as a multi Michelin-star recipient and has created an iconic legend amidst the culinary world. With The Square being the restaurant that catapulted him to stardom, he has gone on to open several other restaurants throughout the city and even runs programs to help mentor the next generation of chefs.
But Phil's impressive resume does not just stop with his food. He is an extremely disciplined and passionate person who not only overcame a drug addiction but also channeled that energy into completing a combined 50 marathons and triathlons.
With Phil's class, you'll be learning how to create showstopping dishes such as duck, lamb, and filet.
Paul Foster: The Father 
For those that want to take a cooking class as a family, then Paul's cooking classes will be perfect for you.
Paul is not only a competitive chef whose Michelin star is amongst numerous other awards he has won, but he is also a father of two young children. So he understands what it takes to get your kids engaged and having fun in the kitchen.
His award-winning restaurant Salt was the result of a crowdfunding campaign, where he is adamant on only using locally sourced ingredients for a fine dining experience.
His previous classes have been teaching kids and parents alike how to bake both sweet and savoury treats. But his cooking class coming up at the start of 2022 is mapped out to take participants on a delicious journey around the world. The four-part series will have your family learning how to make tacos, pizza, and duck pancakes.
Theo Randall: The Pasta King 
Calling all pasta lovers, this one is for you. Theo has established himself in London (and perhaps the whole world) as the absolute master of all things pasta.
Growing up with a mother who loved to cook Italian food and take the family to Italy for holidays, Theo's passion for pasta only grew through the ages. In fact, he still can remember the first time his mom ever brought home a fresh slab of parmesan cheese and grated it over her pasta dish.
While pasta may seem like a simple go-to meal for many people to make, Theo's cooking class takes students on a journey through the art of making and preparing it. In fact, he believes many people have actually been cooking pasta wrong.
Having a self-named restaurant Theo Randall at the InterContinental, he takes the techniques and recipes he has created for patrons who dine there and created a lesson in pasta you will never forget.
Alex Bond: The Veggie Guru 
Thanks to Alex's love and mastery of cooking vegetables, London now has an excellent plant-based culinary reputation that inspires vegetarians, vegans, and even meat-eaters from all over the world to dine at his restaurant Alchemilla.
You may also recognize his name from his appearance in the recent season of the Great British Menu competition that aired on BBC, where his colourful personality was just as delightful as the cuisine he cooked up.
Located in Nottingham, Alex's restaurant was founded on the principle of recreating the way people both look at and eat vegetables. This led him to win a Michelin-star for the venture, where the restaurant serves five, seven, and even 10-course meals where vegetables are always the highlight of every dish.
In Alex's cooking class, you will learn how to make a three-course meal that is inspired by plates at his world-famous restaurant. This includes items like scallops and a miso chocolate tart.
Atul Kuchhar: The Pioneer 
For those that are wanting to seriously spice up their cooking at home, then taking Atul's four-part cooking class is the perfect option for you.
Atul is literally a pioneer in the culinary industry when it comes to Indian cuisine. In fact, he is the first-ever Indian chef to be awarded a Michelin star. 
Getting his experience at restaurants in hotels in India, Atul soon garnered enough attention to get invited to London to progress his career. It didn't take long after for Atul to become a culinary sensation, with his restaurant Tamarind becoming known as the ultimate place to enjoy Indian Fusion.
Since the success of his first restaurant venture, Atul has gone on to open numerous others around London. But all maintain his passion for Indian cuisine and the cultural importance of each dish. In fact, Atul makes his way back to India every year to continually research the types of ingredients, recipes, and techniques he can introduce to the London restaurant scene.
In Atul's cooking class, you will be immersed in some of the most flavourful dishes that including courgette masala and Rajasthani Wild Fallow venison.
Choosing the Right Class for You 
With so many amazing Michelin-star chefs to cook alongside in our classes, we understand that it can feel a bit overwhelming to try to decide.
But regardless of which Michelin-star chef you decide to learn from first, know that the overall cooking class experience will be of the highest standards. And no matter which one you take, you can expect the general experience to be as follows.
Signing Up With a Few Clicks 
When browsing our library of online cooking classes with Michelin-star chefs, you will notice how easy it is to register. All you have to do is simply click on the class you are most interested in, select how many participants will be joining you, and the date you wish to participate. Some classes (the ones for the adults only) will offer an opportunity to pair wine with the experience as well, which have been selected by the Michelin-star chefs themselves.
Enjoy a Fresh Delivery of Ingredients 
We work with each of our Michelin-star chefs to source the exact ingredients you will need for their cooking class. We will then prepare the ingredients and deliver them fresh to your door based on the day that you have selected to participate when signing up. This is a huge time-saver, as you will open the box up and realize you have the exact same set-up as the chef you are following along to.
Learn from On-Demand Videos 
We have filmed exclusive on-demand videos with each of our Michelin-star chefs to guide you through the class. Showcasing their knowledge and unique personalities, you will have an intimate experience with some of the very best chefs in the world. And the benefit of having their tutorials on-demand mean you can start, pause and rewind as you need.
Delicious Food That Tastes Divine 
You don't need to go to Paris, Tokyo, Los Angeles, or New York City to experience exceptional cuisine and excellent cooking. You don't even need to go to London to experience a culinary journey with the chef of the century. 
While these Michelin-star chefs may not be cooking for you, they are guiding you along every step of the way of this special journey and sharing their wealth of knowledge and experience. 
You'll want to call Michelin's inspectors yourself after experiencing how delicious your meal tastes at the end of the cooking class. We won't blame you if you consider yourself to be a budding MasterChef yourself after tasting how divine the food is. 
You can take our classes anywhere in the world from Chelsea to San Francisco, so you can become the next Anne-Sophie Pic, Andreas Caminada, Pierre Gagnaire, or Yoshihiro Murata in the comfort of your own home kitchen. Whether you want to be a French chef, a Spanish chef, or a jack- or jane-of-all-trades, our classes can help you get there.
With a cooking class for every type of craving from sushi to French cuisine, you are bound to fill up on knowledge from the absolute best in the culinary world.
Sources:
2021's Michelin Starred Restaurants in London | Time Out| 
The 11 Best Restaurants in London | Elite Traveler
Michelin Stars, Pizza And Vegan Ceviche: 14 Hot New London Restaurants | Forbes
Share This