News & Advice
Kids Cooking Classes
By Bridget Reed
Dec 6, 2021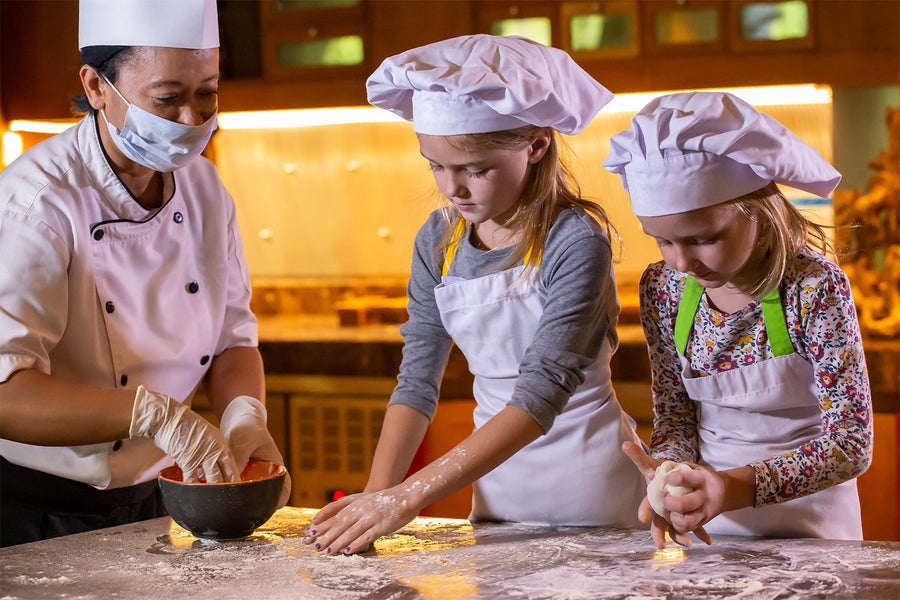 As parents, you want your kids to become well-versed with a range of skills that are both practical and fun.
While many parents do the hard yards in the kitchen, kids are more than capable of helping out and even taking charge in the kitchen from an early age. The secret is to inspire kids to want to help you prep food in the kitchen—and the solution to that is to enrol them in a cooking class!
The more kids are exposed to cooking in the kitchen, the more appreciation they will have for it and the more conscious they will be of what they are actually eating. Plus, parents and experts agree that kids should start learning various cooking skills young, and there is no time like the present to start now!
If you are considering signing your kid up for a cooking class, you are taking an important first step into introducing them to the wonderfully delicious culinary world. We applaud that and want to help you ensure they have the best experience possible. That is why we have rounded up everything there is to know about kids cooking classes.
Cooking Class Options
There are three different types of cooking class options you can provide to your children—all with different advantages. Here is an overview of each.
1. In-person cooking schools:
Enrolling your child in an in-person cooking school provides them with the opportunity to have an immersive experience with a trained culinary professional, as well as cook alongside other kids their age. These environments are fun and you just get to drop them off and leave the rest to the professionals.
2. Online cooking courses:
We offer kids the chance to learn from the best chefs in the world with our online kids cooking courses. From learning how to make pastries and baked goods to traditional Italian pizza, we prep all the ingredients and deliver them to your door and you just have to help them pull up the online tutorials to follow along. It's fun, easy and you will likely want to join in on the action too.
3. Self-taught cooking classes:
Another option is to teach your child your own family recipes and secrets. As a parent, you often take on the role of being a teacher, and running little cooking classes in your kitchen provides a unique bonding experience and the two of you can be proud of all the work you put in to create the perfect dishes together.
Benefits of Cooking Classes
There are many benefits that come along with cooking classes. Here are just a few that the experts and parents all agree upon.
1. Supports school curriculum:
Did you know that cooking classes help kids with the school curriculum too? This is because they will need to practice their reading when learning the recipe, practice math when measuring out the ingredients and even learn different languages when practising various culinary techniques.
2. Provides them with an essential life skill:
Cooking food is an essential skill that we all need to do at some point in our life. To teach them young and provide them with a vast understanding of food will likely make them more adventurous and healthy eaters.
3. Boost their self-confidence:
When kids feel like they have mastered a skill, their confidence will coincidentally rise too. You'll be amazed at your child's transformation during a cooking class.
What To Expect
While each cooking class is structured a bit differently, there is a range of things that you can expect, which include:
1. Learn new recipes
One of the biggest perks of your kid taking a cooking class is that they will learn a range of new recipes, such as the beloved toad in the hole recipe. They may even make you a meal at home for a change.
2. Learn new tricks
Your kid will master a range of culinary techniques that will help them elevate their cooking skills. This includes how to whip egg and flour to make the perfect Yorkshire pudding or how to knead dough to get that delicious pizza crust.
3. Learn to follow directions
Cooking classes are a great way to teach kids the importance of following directions. If they don't listen to their instructor or follow the recipe as prescribed, they will likely be disappointed with the results in the kitchen.
Final Thoughts
Signing your kid up for a cooking class is something that every parent should consider. With a range of convenient options and endless benefits, you will savour the results of their cooking adventures.
Sources:
Online Cookery Classes for Kids that Will Make them Love Preparing Food | Irish Examiner
What Cooking Skills Should Children Learn? | The Guardian
Share This