Japanese Chef's Knives: Which Ones Are Worth the Money
By Bridget Reed
Feb 18, 2022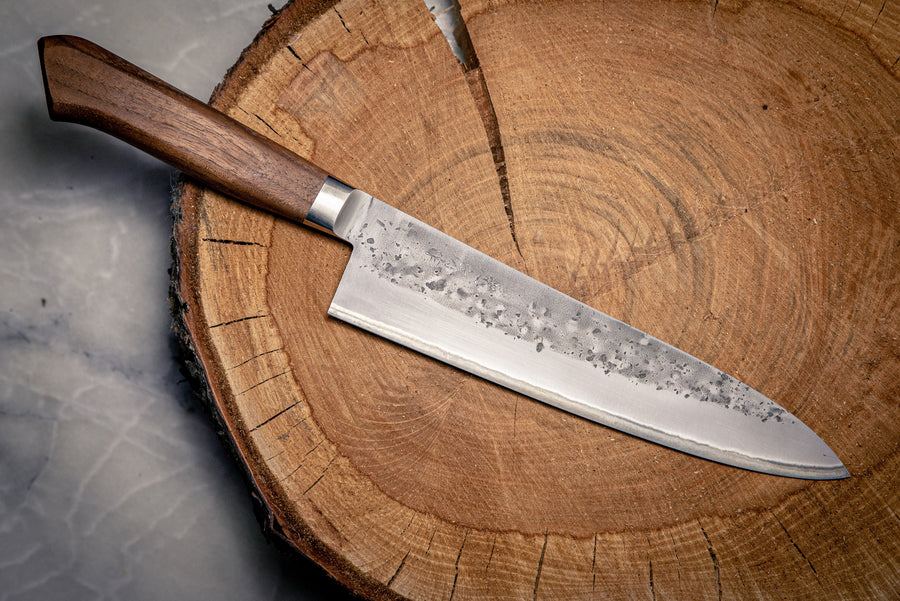 Experts will agree you need a quality chef's knife in your arsenal.
And when it comes to the crème de la crème of chef knives, you can not get much better than Japanese chef's knives. They are known for their extremely sharp blade, made with a special technique and some can cost nearly £1,000.
What makes this kitchen utensil so pricey? A lot of it comes from the process of heating and hammering the blade, along with the rare skillsets only a few Japanese artisans have in creating the final product. In fact, the few artisans who are skilled at this can spend their whole life learning and perfecting how to actually do it.
When you talk to the best in the culinary industry, they agree that a Japanese chef's knife is not just a stock standard product. It is made from the soul of the artisan and goes through dozens of stages of production.
The uniqueness and artistry involved are one of the main reasons that Japanese chef's knives are highly coveted. Talk to any of the world's best chefs and you will discover they likely use this type of knife to create their culinary masterpieces.
So if you are someone who has taken an online cooking class and wants to up your game in terms of the kitchen tools you use when cooking at home, you may be wondering if spending all that money on a Japanese chef's knife is worth the money. Should you really splurge on a  knife the professionals use?
The short answer is yes. While you may not yet need to spend £1,000 on a knife just yet, there are certain Japanese chef's knives out there that are perfect for people of your skill level and are certainly worth the money.
There are a lot of kitchen tools you will want to start collecting so that you can take your cooking to the next level. And a Japanese chef's knife should really be at the top of that wish list.
To help you determine which one you should get, we have rounded up all the top factors to consider when deciding if this type of knife and price point is for you.
One That Comes in a Block Set
While one great knife is all you really need in the kitchen, it is always helpful to have other shapes, sizes, and styles on hand too. That is why one of the best ways to get yourself a Japanese chef's knife is by buying it as part of a wider knife block set. 
These collections are aesthetically attractive, lightweight, and made so that they are all easy to sharpen and store safely. In fact, you can get a collection where each knife included uses a Japanese blade—giving you the ultimate cut in each slice or dice you make.
One That Is Stain Resistant
Another important factor to consider is the type of Japanese chef's knife you get is if it is stain resistant.  A big reason for this is that the knife itself is a piece of art. You do not want the stainless steel blade or mahogany bolster to become damaged by some stray beetroot juice. The ones that are stain-resistant are often also come with a magnolia blade cover so that you can store it safely in your kitchen drawer when not in us.
One That Comes With Free Sharpening
You know it is going to be a good investment when the company you purchase your Japanese chef's knife from provides you with a lifetime of free sharpening on the house. Because the craftsmanship is so delicate and the materials used to make the knife are so exquisite, you should leave it to the professionals to sharpen on your behalf. And if they do it for free, you know it is a worthwhile splurge as you will surely see your money back in two-fold over time.
One That Is Designed To Be Versatile
One of the best parts about enhancing your cooking skills is that you can start experimenting with a broader range of recipes. So you will want to make sure that the Japanese chef's knife you get supports cutting a variety of items—from root vegetables to fish and meat. You will know it is versatile if the blade is corrosion resistant and slices and dices through literally any of your various kitchen tasks.
One That Is the O.G. of Knives
You want to get a Japanese chef's knife from a brand that is trusted and reputable amongst the culinary industry. So you will know it is a worthwhile investment if North American chefs originally requested the knife to be made available for sale to them. But because this knife is so fantastic, it suits both the kitchen professionals and the weekend warrior chefs.
One That Fuses Ancient and Modern
While preserving ancient techniques and traditions like the Japanese chef's knife is important, it is also equally important to progress and fuse in modern technology that makes it even better. So you will want to look for a Japanese chef's knife that does just that! 
Make sure that it is designed to have an ultra-thin build that cuts with precision while using modern technology to ensure it sits in a micarta linen composite handle. When past and present collide, you know it will be money well spent.
One That Has a Slip-Resistant Handle
No matter how experienced you are in the kitchen, you always want to err on the side of caution when it comes to using knives—especially ultra-sharp Japanese chef's knives. If your grip is not secure and you are chopping away, you can run the risk of accidentally cutting yourself. 
That is why it is always a good investment to get a Japanese chef's knife that comes with a slip-resistant handle. Filled with sand and weighted to allow the most secure hold possible, you will find it easier than ever to dice up all those vegetables.
One That Is Made With Liquid Nitrogen
Now, this may seem a bit odd, but some of the best Japanese chef's knives are actually made with liquid nitrogen. This allows the knife to have an ice-cold blade that can easily chop through anything that you put in its way. The quality of the blade also means it is rust-resistant so it will last you a very long time. Who knew that liquid nitrogen could be such an important component of a knife!
One That Does Not Break the Bank
As with moth things in life, the most expensive items are not always the best. You know you have picked a quality Japanese chef's knife to invest in when it not only is made to a high caliber but also falls within your budget. 
Less expensive knives that have a more simplistic design can still cut just as efficiently as the pricier ones. Meaning that no matter what your budget is, every home chef can invest in a Japanese chef's knife for their kitchen arsenal.
One That Is Made with Ceramics
Not all Japanese chef's knives need to be made of ceramics. In fact, you can get a quality one that is made of ceramic material instead! The ceramic will allow the knife to maintain its sharp blade long-term and also be extremely durable to threats of chipping or breaking. 
Best of all, these ceramic blades are also acid-proof and a great entry-level Japanese chef's knife. As a bonus, you can even chuck the ceramic Japanese chef's knife into the dishwasher too, where the other ones will need to be hand-washed.
One That Is Made for Chefs With Big Dreams
If you are a budding chef that has big dreams and aspirations in the culinary industry, you will want to get a practical yet aesthetically pleasing Japanese chef's knife that can keep up with all your time and experimentation in the kitchen. And these types of knives are often more affordable too, yet still, come with a stainless steel blade that will be your partner in crime for making sashimi or simply dicing up the onion.
Conclusion
What started as an art form in Japan has now become a must-have item for anyone who cooks.
The Japanese chef's knife can come in all sizes and with a variety of price tags. It comes down to the tiny details that can really determine which ones are worth investing in for you. Having the aid of a sharp and lightweight knife allows you to get more precise cuts in any recipe you decide to tackle. And you want a knife that can not only cut but also hammer and grind too.
If you're itching to get knives of your own, Banquist offers the best kitchenware, from chef-approved knives to dinner plates. Check out our incredible selection.
When it comes to the key factors to consider in determining if a specific Japanese chef's knife is worth investing in, keep the following in mind. Make sure that the craftsmanship is of premium standard, ensure that it can be used and stored safely, and consider if the knife itself will inspire you in the kitchen and to go after your culinary dreams.
Sources:
The 10 Best Japanese Knives Worth Investing In | Men's Health
9 Chef-Recommended Knife Sets To Make You A Chopping Champion | Forbes
Japanese Chef's Knives Can Sell for Hundreds of Dollars Each. Here's What Makes Them So Expensive. | Business Insider
Share This