News & Advice
How To Make Yorkshire Puddings?
By Bridget Reed
Dec 7, 2021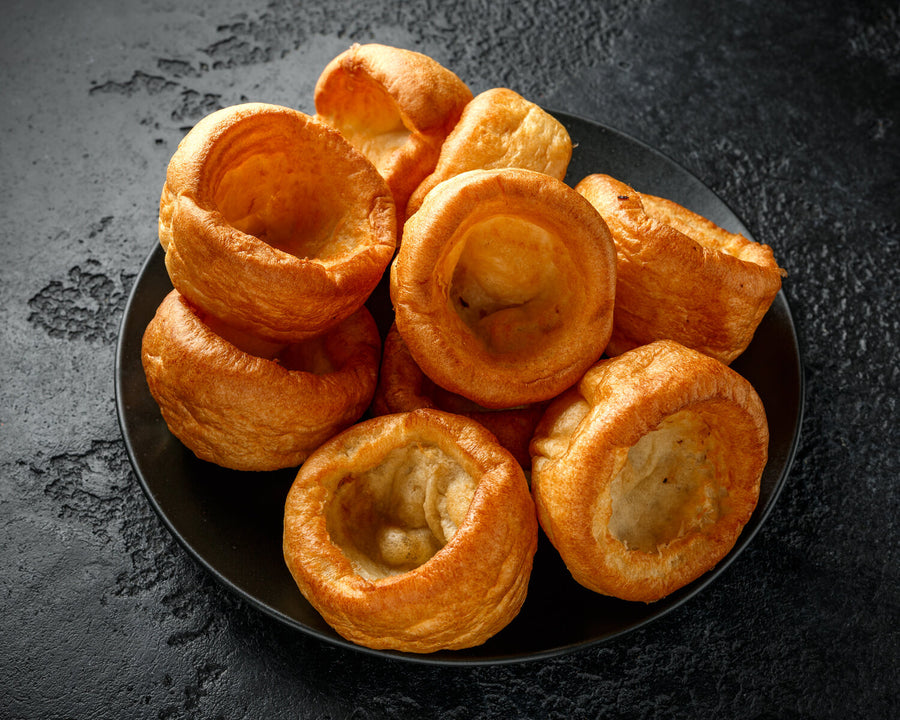 If you are like every other person in Britain, then Sundays are reserved for the classic roast dinner.
You wait all week to look forward to a delicious dinner of roast beef dripping with onion gravy, Yorkshire pudding, potatoes, and a delicious crumble pie to top it off. Of all the components that make up a roast, a roast dinner is not complete without a Yorkshire pudding. 
The simple combination of egg, flour, and milk batter creates the perfect savoury pudding to be served alongside the rest of the Sunday roast arrangement.
From the fluffy texture to the way it compliments the other flavours of the meal, Yorkshire puddings are a staple of Britain. One can simply not have a Sunday roast without a Yorkshire pudding. 
However, many people stray away from trying to make this side dish themselves at home. Instead, they would rather go out to the local pub and have the experts do the work with this dish instead.
But you can learn from Masterchefs at home and get access to exclusive video tutorials to help you gain the confidence to become a better chef at home. So why not take the first step and give our recipe a go?
There are only a few things you need to get right to bake the perfect golden brown Yorkshire pudding and we are here to guide you every step of the way. You will realize they aren't that hard to make at home, that you can indeed get the pudding to rise and take it out of the oven with that perfectly crisp crust.
Before we get started, let's first review some recipe tips and tricks that will help you whip up a perfect Yorkshire pudding.
Tips and Tricks for the Perfect Yorkshire Pudding
You Need To Turn Up the Heat
To get a crisp and delicious Yorkshire pudding, you need a good batter. The secret really is in how hot the muffin tin and fat are. In fact, as soon as you pour the mixture into the tin (whether it's 4-hole Yorkshire pudding tins, a deep bun tin, or a popover pan), you should immediately hear a sizzle from the hot fat (which acts as grease for the tin) that signifies it is hot enough. 
Because of how hot the tin is, the pudding will start cooking right away, creating a crispier effect and making it easier to remove the puddings from the tin when you remove them from the oven.
Keep That Oven Closed
It is tempting to check and perfect your Yorkshire puddings when they are in the oven. But if you listen to any of our tips, pick this one. Do not open the oven until the cooking time is up. Any change in temperature can make your Yorkshire pudding sink right away, ruining all the hard work you have just done. 
As important as it is to keep the oven closed during the cooking process, you also want to ensure that no cold air like an open window will sink your pudding once you remove it from the oven as well. To be extra safe there is no risk of your pudding sinking, serve immediately after it is finished cooking in the oven, especially if you have large Yorkshire puddings. 
Let the Batter Chill First
Your batter has to work really hard once it is in the oven, so let it relax first before you stick it in. After you have used a balloon whisk of all the ingredients together in a bowl to create an airy-like texture, you should let the mixture rest for at least an hour. 
This will be a foolproof way to ensure that the batter will have a thick consistency and all rise at once in unison when in the oven. Make sure that the batter rests at air temperature, so no sticking it in the fridge.
Let It Rise With an Egg White
If you are having problems getting your batter to rise, then you may want to play around with adding an additional egg white into the batter.
This one egg white can make all the difference in helping your Yorkshire puddings stand tall and proud in the oven. Feel free to change the quantities of the eggs in the recipe if need be.
Experiment With Different Flavourings
While the core ingredients to a Yorkshire pudding are quite simple, you can spice things up and add some flavours like thyme or sage into the batter. Or, even some of the beef fat from your roast. It will create a unique flavour that will make your Yorkshire puddings truly stand out.
Make the Extras into a Real Sweet Dessert
Savoury and sweet combo desserts truly are all the rage right now, and the Yorkshire pudding is the perfect dish to turn into a dessert. All you have to do is keep the mixture itself simple—so no extra savoury herbs—and top the pudding with syrup and ice cream. You can never have too many Yorkshire puddings at tea time, and this is the perfect way to keep the fun going into the dessert course.
 The Easy Recipe for Yorkshire Puddings
Our recipe is designed to ensure you need minimal ingredients and time to create the staple part of your Sunday roast and promises to give you fluffy and crispy Yorkshire puddings. This recipe will take around thirty to forty minutes in total and make a total of twelve puddings to share at the dinner table.
Ingredients You Need
First, make sure you have all the ingredients you need for your Sunday roast, including the Yorkshire pudding. If you don't have time to go to the local market, you can get the ingredients delivered to your home instead. Here are the items you will need.
1. Vegetable oil or bacon fat (you will need way more than a teaspoon of oil; at least two tablespoons)
2. Two large free-range eggs, with a spare egg yolk just-in-case
3. 100 grams of all-purpose flour or plain flour
4. 100 milliliters of milk
5. Pinch of salt or kosher salt 
The Easy Method To Make Yorkshire Puddings
1. The first step is to ensure that your oven is set precisely to the temperature you need it to be at (225 degrees Celsius). Try to be as accurate as possible and don't put anything in the oven until you hear the beep that signals the oven is at the desired temperature.
2. Get out a cupcake tin—preferably a 12-hole one with handles—and add a small splash of vegetable oil to each of the 12 spaces.
3. While the cupcake tin heats up, it is time to mix all your ingredients together. First, beat your eggs, flour, milk, and salt altogether until the mixture is fluffy and smooth. Now, you will want to set the batter aside to rest at room temperature. Ideally, if time allows, you should wait at least one hour.
4. After 45 minutes of letting the mixture sit at room temperature, put the cupcake tin into the oven so that the oil gets nice and hot over the span of the next 10 minutes. Remember, this part is very important and you want the oil to be sizzling for when you pour the mixture into each muffin compartment. 
5. Carefully take the cupcake tray out of the oven and set it down. You will carefully pour the batter evenly into each of the twelve spaces, listening for that sizzling sound when it hits the vegetable oil. This means the cooking is getting started.
6. After you have finished pouring the batter in, put the cupcake tray back into the oven and let the mixture rise for around twelve to fifteen minutes. You will know when the Yorkshire puddings are finished when they are standing tall and proud with a golden crispy crust.
7. Remove from the oven and add to the dinner plates as the final touch. These are best enjoyed when eaten as soon as possible, so don't delay in digging right in.
Final Thoughts on Yorkshire Puddings
Now, take a big sigh of relief. You did it and we knew you could. Making Yorkshire puddings just requires staying focused for a few simple steps. And the reward will be some delicious dripping pudding all your friends and family will be fighting over. Whether it's for a casual get-together or Christmas dinner, you can't go wrong. Forget about calories and dig in so you can really enjoy this treat. 
This Yorkshire pudding is the art of cookery made plain and simple. These puddings will get easier over time. First served in the 1700s in the city of Yorkshire, this dish is now enjoyed all around the world. It has long been a top bucket list food item to eat for all visiting the city itself—and you can now offer the very same experience in your own home.
Sources:
Top Tips for Making Yorkshire puddings | BBC Good Food
A Brief History of the Yorkshire Pudding | Culture Trip
How to Make the Perfect Yorkshire Puddings | Good Housekeeping
Share This