News & Advice
Gourmet Cooking Classes Online
By Bridget Reed
Dec 6, 2021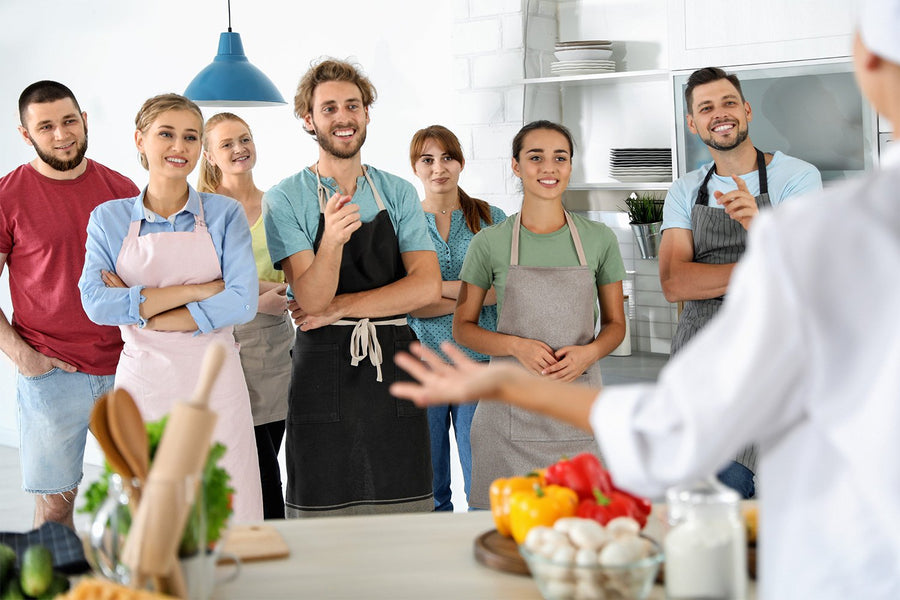 Food is an enormous part of our daily life—and much of our routine is centered around meal prepping and eating. But why settle for average and ordinary when you can spice up your cooking with some of the best gourmet cooking classes online.
Recent studies are showing that in fact, taking these high-end cooking classes online has become one of the newest culinary trends of the year. We aren't surprised though, as there are numerous rewards of taking a cooking class—from emotional wellbeing to learning new life skills.
With a range of different gourmet cooking classes available, you can easily find one online that piques your interest. You can learn from the world's best chefs on how to make the perfect turkey crown just in time for Christmas or discover the secrets that go into making the most flavourful Indian curry.
Online gourmet cooking classes have never been more accessible, providing you with the perfect opportunity to plan the ultimate birthday gift, romantic date night, or anniversary present.
To help you find the best online cooking classes taught by the very best in the culinary world, we have rounded up the top gourmet cooking classes for you to consider.
1. Banquist—Meal Kits and Michelin Star Chefs
We are proud to offer you an extraordinary gourmet cooking class in your very own kitchen. What sets us apart is that not only do we do special collaboration courses with various Michelin Star chefs, but organize meal kits that are delivered to your home in advance so you can follow the recipe to perfection.
 From there, you will follow along with the chef's instructions through the exclusive video tutorials. And as a bonus, many of these gourmet classes come with wine pairings so that you can get a flavourful experience with each course that you make. With such high demand for these exquisite classes, we recommend that you sign up fast as spots often don't last too long.
2. Bread Ahead: Bake With the Best
Gourmet cooking classes aren't just reserved for the four-course meals. You can learn how to make gourmet bread too. For those who have drooled over the perfect loaves of bread at this iconic London bakery, you can now log on to their daily baking sessions on their Instagram channel, where they walk viewers through how to make a range of baked goods—including their mouth-watering brioche.
3. Sur La Table: Themed Sessions
Prior to the pandemic, Sur La Table was known for its highly-regarded in-person cooking classes. But as soon as it all went down last year, they shifted to virtual cooking classes that have been a huge hit ever since. 
They keep it interesting by continually changing up the classes with various themes that include Thanksgiving for Two or Sushi Fundamentals. Led on Zoom, you will be told what you are making and what you need well in advance.
4. The Geffen Stayhouse: Gourmet Indian
Cooking Indian food is one of the most flavourful experiences, made even better when doing so while led by some of the best Indian chefs in the world. 
This online cooking class takes it to the next level, providing cooking instruction with performance art into just over an hour-long experience. They provide customers with the option to just access the recipe and video or pay a bit extra to also receive an ingredient box as well.
5. The Pasta Queen Experience: Make It Like a Pro
Italian cuisine is often a gourmet experience that many people crave. In fact, a lot of people will travel directly to Italy to be able to learn how to make their pizzas, pasta, and pesto like a pro. But now, you can do it directly online. The Pasta Queen Experience is a two-hour class led by a Sicilian pasta-making expert who takes her students through everything there is to make the perfect pasta.
Final Thoughts
Having a gourmet food experience is one that we all crave, and now can all experience as well. Gourmet cooking classes online have opened up the extraordinary world of exquisite cooking with some of the most renowned culinary talents in the world.
With Banquist, we offer you the ultimate all-in-one experience: the best chefs leading the best classes with the best food kids delivered directly to your door. But the options don't stop there—with a range of different styles and price points available to you to choose from.
Signing up for a gourmet cooking class online is a fantastic way to add some flavour to your life and give you a delicious sense of pride and enjoyment. 
Sources:
The Best Online Cooking Classes | NY Magazine
Share This