Family Cooking Classes
By Bridget Reed
Jan 18, 2022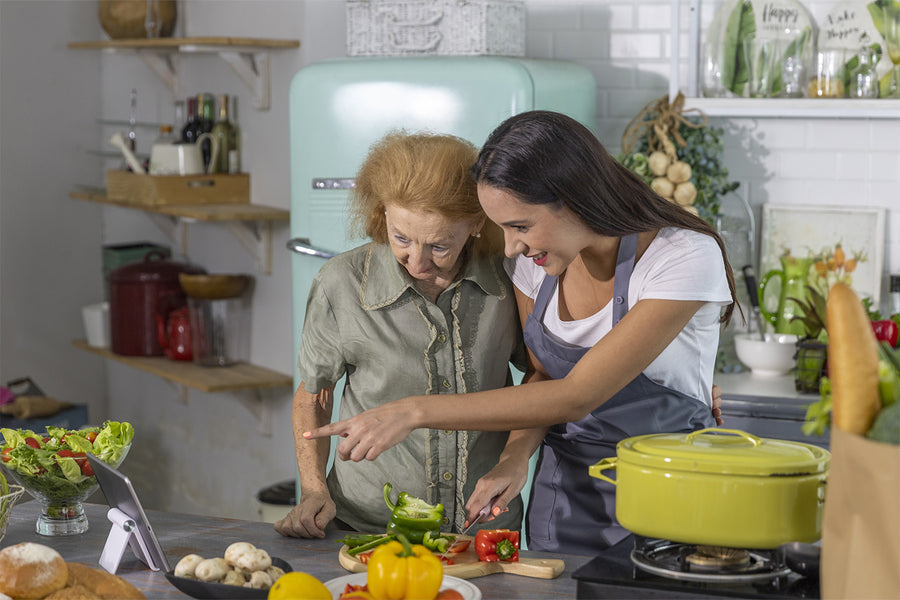 Dinner time shouldn't be stressful for you and your family. Instead, it should be a time that allows you all to connect in the kitchen and create a healthy and delicious meal together.
With the adults spending most of their day at work and the kids busy studying at school and doing after-school activities, dinner time for many can feel rushed and often stressful.
But getting your family to come together and not only eat dinner together but cook dinner together as well will help reinforce your family bonds and create teamwork within your family dynamic. Studies show that cooking and baking can fill a void, and when it comes to cooking as a family, it creates a special place in your home for everyone to come together.
So how do you get this type of routine going in your own home? Well, a great place to start is with a family cooking class. 
While cooking holidays have been a common family activity to do when traveling for years, cooking classes locally and virtually have risen during the pandemic.
This is great news for you, as it means it is now easier than ever to cook with the world's best chefs without having to travel far from home.
The family cooking classes are designed to provide you with an immersive experience in the kitchen—whether it be your own or at a cookery school—where all ages can learn something new and be able to master the recipes they are following. You will be able to help your kids, and your kids in return will also be able to help you during the cooking class experience.
So what is there to know and expect when it comes to selecting the right one? And what should you be prepared for when the day of the cooking class finally arrives?
We have rounded up all our top tips to provide you and your family with the insight you need so that each member of your family benefits from taking a cooking class.
1. Do Your Research Ahead of Time 
Not all cooking classes are the same, so it is important to shop around and ensure that you sign your family up for a class that makes sense for you and your lifestyle.
If you are searching for a cooking class to do together as a family in an actual cooking school, you will want to consider the extra logistics of travel and transportation required. And if you are instead wanting to take the class in your own home's kitchen, then you will want to see what type of virtual class best fits your needs. Some virtual classes are done in real-time, where others, like ours, offer a convenient on-demand video that means you get to decide when the actual class starts.
If you have little kids joining you in the kitchen, the ability to easily start, stop and pause the class as needed will ensure you can all get the most out of the class and not miss a single step along the way.
2. Understand the Preparation You Need To Do 
If you are taking an in-person cooking class as a family, your main focus should be ensuring that you show up to the cooking school on time. While there may be a grace period for stragglers, they won't wait forever for you to arrive. But once you walk through the doors, the kitchen stations will all be set up and ingredients laid out for each member of your family.
For online classes, some require families to source their own ingredients ahead of time and prepare the kitchen before the class begins. But with our classes, we make it as easy and stress-free as possible for your family. This means that when you sign up for one of our family classes, such as a baking course with a Michelin star chef, you will get your meal kits delivered directly to your door with all the ingredients you'll need.
3. Ensure the Teacher Is the Right Fit 
When it comes to ensuring that families with mixed ages and skill levels all enjoy the same class, the type of teacher that is running the class is often the most important factor.
Our family cooking classes are all led by the best and brightest chefs who are not only Michelin star recipients, but many are also mothers and fathers themselves. This gives them the insight needed to structure classes that are appealing and engaging for both kids and adults while also ensuring that everyone will be both challenged and satisfied with the experience.
Final Thoughts 
With a few family cooking courses under your belt, you and your loved ones will soon all look forward to coming together in the kitchen and cooking up delicious meals to enjoy.
Precious memories, tasty food, and a bonding experience that will make your family stronger—there is no better time than now than to sign up for a family cooking class.
Sources: 
Recipes for Adventure: 10 of the Best Cooking Holidays Worldwide | The Guardian
Top Online Cooking Classes During Your Homebound Experience | Forbes
Share This