News & Advice
How Much Does Cookery School Cost & Is It Worth It?
By Bridget Reed
Dec 7, 2021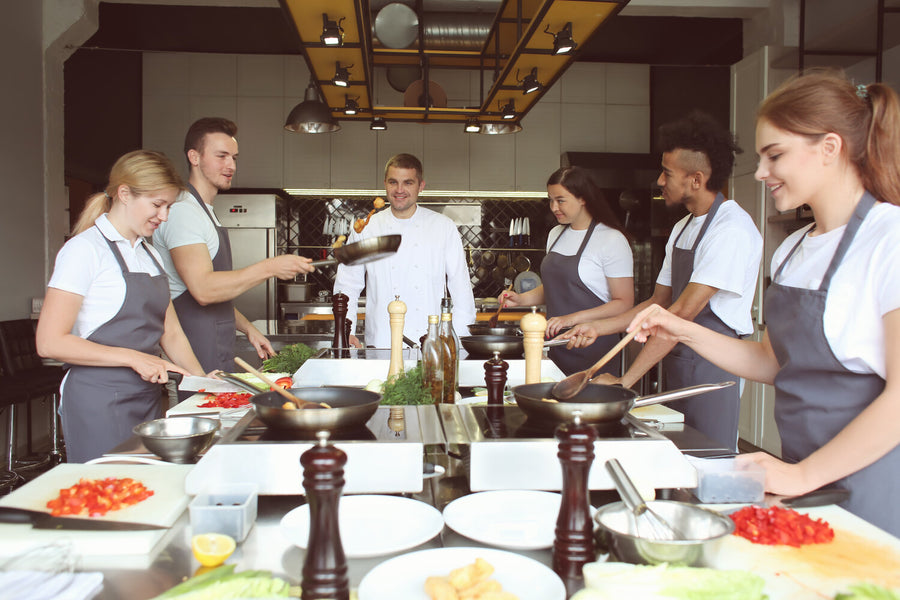 There is always something new to learn in the kitchen. So, our argument is, there is always a good reason to take a cooking class. The answer is yes; cookery school is most definitely worth it.
Remember back in school when we would take a semester of home economics, and cooking made an appearance on the syllabus for a good week or so. While enjoyable, you likely didn't have an understanding back then that learning culinary skills would give you—regardless of the profession you went into.
Luckily, we don't have to go back with the teenagers to freshen up on our culinary skills. In fact, no matter what your expertise level is, there is a range of cooking skills that will help you with nearly every recipe. 
Most cooking courses are at least one to three hours long (they aren't a full day or even a half day thing). Although, in some situations, you can take a cookery week certificate course. Let's take a look at why cookery school is worth it. 
Why Cookery School Is Worth It
Cookery courses will take you through the basics and provide a chance to try the skills and recipes in-situ with feedback given along the way with demonstrations from chefs in online classes. From novices to professional chefs, cookery school is worth it. We live in a world where the choice really is yours as to what will suit you best.
While traditionally most cooking schools required you to be in a physical location to take an in-person class, we now offer an at-home experience that is quite the treat. Our cookery school experience comes with a hamper full of your ingredients, a menu, and recipes designed by a Michelin-star chef, and a step-by-step video guide to follow along. We offer a range of cookery classes, and our courses are sure to kick your dinner parties, hen parties, family nights, and date nights up a notch.
So, while there is always a cost when it comes to learning a new skill, our cooking classes let you learn from the world's best chefs at your own convenience. And we believe that is worth every cent. Becoming a Masterchef has never been as accessible as it is today.
There are a range of reasons that can drive your decision to sign up for a culinary school—whether that be simply wanting to develop a broader skill set to wanting to progress a career into becoming a world-class chef.
Maybe you want to impress your colleagues and new friends or create a food account on Instagram, and maybe you just want something to do while you enjoy a glass of wine at night or have a fun pastry bake off with your friends.
To help you decide if a cookery school is right for you and understand what the costs and benefits are, we've rounded up the top things you should know about cookery schools in general.
The Price Varies
The cost of a culinary school experience can range tremendously. For example, the cost of attending an in-person course in Paris will likely be much more expensive than one of our online courses. It really comes down to the type of skills and experience you are wanting. You can also get a free culinary education with our foodie blogs that share tips and tricks to perfect recipes at home.
Choose What Interests You
One of the biggest benefits of enrolling in a culinary experience is that you can choose the classes based on what interests you. If you are a complete novice of cooking and want to learn the fundamentals, there are countless classes that will cater to that. 
And if you are already quite proficient in the kitchen and want to hone in on more advanced techniques, there are classes led by the best in the industry who will challenge you in all aspects of the kitchen.
You can also choose a specific category like if you want to be a baker, you can take patisserie classes and learn how to make wedding cakes, cookies, and treats. Maybe seafood is your passion; take classes that will teach you how to make sauces, seafood pasta, and other fish recipes.  
Your Diet Will Change
Studies are showing that cooking skills are the key to healthy eating. That is why you are never too young to start developing your own culinary skills. When you understand the process of what goes into making a meal and the ingredients that create a dish, you will naturally make better decisions regarding your nutrition. This fact alone makes a culinary class priceless.
You Decide the Speed of the Education
With so much flexibility nowadays—especially with online courses available—you can schedule the culinary classes to your own schedule. This means that you can take eight hours a day of courses or you can choose lessons to follow once or twice a week. You can even dabble in it with one-off courses that double as a great date-night activity or family activity at home.
It's a Hands-On Experience
No matter where you take a culinary course, you can be assured that it will be a hands-on experience. The best way to improve your culinary techniques is to actually practice chopping, baking, cooking, and sizzling in the kitchen and in real-time.
The type of course you take will dictate the details of the hands-on experience. For example, if you are taking an in-person course, you will have a chef there able to guide your hands (especially with things like knife skills) and help make any modifications for you; whereas if you are taking a course online you won't get instant feedback in most cases but you will be challenged to truly figure it out on your own with the guidance of video tutorials.
The Education Is Anything but Boring
With culinary courses, the education is anything but bland and boring. As you can expect from this industry, the topics are flavourful, delicious, and extremely fun to think about. 
There is something extra sweet about literally being able to taste the labours of your hard work as well. Cooking is, and always should be, a fun experience and the courses can be enjoyed with either fellow classmates or your friends and family at home.
You Can Make a Living in the Kitchen
One of the biggest perks of taking culinary courses is the ability to establish a career for yourself afterward as a certified chef. When you enroll in a course that provides you with a culinary degree, you will be able to work in restaurants as a Sous Chef, open your own restaurant, and maybe even become the next Gordon Ramsey. The salary ranges in this industry are quite drastic, as it really depends on your experience and who you work for.
Earn a Degree and an International Repertoire of Recipes
One of the most satisfying parts of a culinary course is graduating with that diploma or degree. You will have not only gained a toolbox full of useful culinary skills but will have also grown your confidence in recipes to an international level. There is no expiry date when it comes to your culinary school degree.
Challenge Yourself With a New Skillset
Have you dreamed of improving your culinary skills but never made the all-in commitment to doing so? One of the biggest perks of paying for a culinary education is that you have more incentive and motivation to get the most out of the course. 
One of the most rewarding parts of life is learning a new skill set and this one is a practical skill set that will be of use to you the rest of your life. You'll never be intimidated in the kitchen again and will have endless party tricks to show off to your dinner guests.
Transition From the Student to the Teacher
As a student in a culinary class, you may very well end up as the teacher one day. Many people who enroll in culinary classes develop a lifelong passion for cooking and sharing their learned skills with others, like visitors to their homes. Impress your guests with your cooking skills, and give them hints and tricks to get cooking as well.
As a student, you will have a unique understanding and empathy for what it is like to be a student in these classes and have the insight to also master teaching these courses—whether it be through in-person learning or your own video tutorials.
Eat in Class Every Day
While it may sound silly, how great does that sound? If you are a passionate foodie who loves being around the smell of food, tasting food, and simply being around food, then culinary school is likely going to be your happy place. It is one of the few classes where we can guarantee you will not ever go hungry and it is completely acceptable to lick your fingers and taste-test every step of the way.
Cookery School Is Definitely Worth It
If you are considering venturing down the path of signing up for a culinary class, don't delay. Now is the perfect time to enroll—whether it is with us through our online cooking courses or in an in-person classroom. From broadening your Masterchef skills to learning new recipes and having fun along the way, there are many benefits of culinary courses that far surpass the cost of enrollment.  
Sources:
Top 10 Cookery Schools | The Guardian
Why Cooking Skills are the Key to Healthy Eating | BBC News
Share This