News & Advice
Christmas Cake Recipe: A Family Favorite Passed Down From Generations
By Bridget Reed
Dec 7, 2021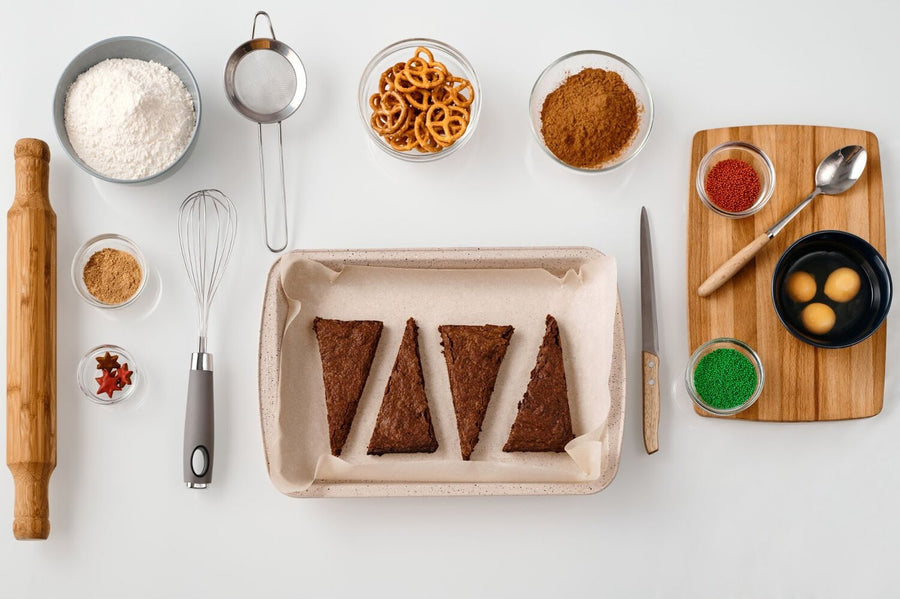 There is nothing sweeter than knowing the year at hand is coming to a close and the holiday festivities are upon us. That means it's time to bake, bring out the decorations, and taste all the fruit cakes, chocolates, and gingerbread cookies you can handle. 
Since the 13th century, we Brits have been baking with dried fruit in just about everything we can, including cakes! The Christmas cake is actually rumoured to have been around since the ancient Roman days. 
Back then, they would use pomegranate seeds, pine nuts, currants, raisins, and wine and mash them all together to create a cake-like dessert. Since then, the technique and method have been fine-tuned into a modern staple of the holiday season.  
For most British families, the Christmas dinner is topped off with the serving of the Christmas cake. But nowadays the Christmas cakes can take many twists, with the option to include everything from cherries to lemon zest to coconut to orange zest to gin! 
And with the ability to take cooking courses online now, the creativity and mastery of the Christmas cake recipe will only continue to progress.
The Christmas cake is something that anyone can make. And we are sharing our family's favourite recipe that has been passed down from generations for you to introduce to your family as well. We've collaborated with the best Master Chefs in the industry, so you can expect our recipes to be nothing less than spectacular.
Before we share our simple Christmas cake method, we've rounded up a few tips and tricks so that you can impress everyone who gets the honour of tasting your dessert!
Tips and Tricks for the Christmas Cake
1. Swap for a Non-Boozy Flavour
While the traditional alcoholic liquor of Brandy provides oaky and plum notes to the traditional Christmas cake, you don't have to use an alcoholic liquid for your cake. In fact, you can switch it up with a range of fruit juices (like orange juice or lime juice) that will provide the same type of sweetness. And if you are still wanting a little bit of alcohol with this treat, red wine goes great with a slice of Christmas cake by the fireplace.
2. Flour Is Your Friend
While you can just add your fruit add-ins directly to your batter, we recommend first coating them in all purpose flour. The reason being is that this little trick will ensure that the fruit won't get all clumped together and is more evenly spread out throughout the entire cake. You can use a fine skewer to make fruit swirls throughout the cake batter. 
3. The Spices You Use Matter
The type of spices you use and the quality of them really matter when it comes to making a delicious Christmas cake. You will want your cake to have notes of cinnamon, ginger, nutmeg, and cloves. When possible, we recommend getting them as fresh as possible. You can get fresh ingredients by arranging to have a food hamper delivered with all the fresh ingredients you need.
4. Play Around With the Fruits
You don't have to stick to just raisins for your Christmas cake. Try getting creative with other delicious and flavourful fruits like dates and figs. 
The trick is that whatever you swap out for, make sure you replace with an equal amount of the substitution. So, for example, if you decide to take out one cup of cranberries and substitute for cherries, make sure that you still put a cup of cherries into the mix.
5. More Is Not Always Better
In the case of the Christmas cake, more is not always better. If you are filling up your prepared cake tin, make sure you only pour in the batter up two-thirds of the way. Otherwise, you risk it overflowing and having to clean up an extra mess. 
If you do find yourself with leftover batter, use it to make smaller versions of the cake in a cupcake tin instead. They will make for really cute Christmas gifts as well!
6. Temperature Matters a Lot
Make sure you are precise with the oven temperature. While some baking recipes allow for a bit of lenience, you will want to ensure that the temperature of the oven is exactly as the recipe states so that there is little risk of the cake becoming too dry. Remember, the goal at the end of the day with this cake is to ensure it is moist.
7. Prep It in Advance
You can prepare the Christmas cake weeks, or even months, in advance. Similar to aged cheese or wine, the Christmas cake only gets better with time. So after it has finished baking in the oven, make sure you wrap it securely in an air-sealed container. The last thing you want to happen is for your moist cake to dry out after all your hard work! The ideal place to store your Christmas cake is in a dry place and not—we repeat, not—your fridge or freezer. So if you find yourself with spare time in October or November, why not spend the afternoon preparing your Christmas cake a few months in advance of the holiday season?
As a pro tip, just make sure that you pour a little bit of liquid every week to continue keeping it moist. Simply poke holes into the cake, lightly pour liquid such as brandy or rum on top, and re-wrap it up using parchment paper or an airtight cake pan. 
Your Guide to the Christmas Cake
With these tips and tricks now in the forefront of your mind, you are ready to get going in the kitchen. Our recipe is designed to serve up to 16 people and will take a little over two hours in total of cooking time, plus a day in advance of preparation.
Ingredients Needed for Your Cake
First things first, check that you have all the necessary ingredients for this recipe. Here is what you will need:
Cake Ingredients
1. 175 grams of raisins
2. 350 grams of cherries that are halved
3. 500 grams of sultanas
4. 150 milliliters of brandy
5. Two oranges that are zested
6. 250 grams of softened butter
7. 250 grams of sugar
8. Four large eggs
9. One tbsp of treacle
10. 75 grams of chopped almonds
11. 275 grams of plain flour
12. One and a half tsp of mixed spices
Covering Ingredients
1. Three tbsp of jam, we recommend apricot
2. A generous amount of icing sugar
3. 675 grams of marzipan
Icing Ingredients
1. Three egg whites
2. 675 grams of icing sugar
3. Three tsp of lemon juice
4. One and a half tsp of glycerine
The Simple Method for a Splendid Cake
Once you have checked that you've got all your ingredients ready to go, here are the simple instructions for making a splendid Christmas cake. 
Pro Tip: Make sure you have a large working space, a wire rack, a stand mixer (optional), and a cake board for the final product. 
1. Mix all the fruit ingredients into the large mixing bowl. Don't forget our trick about the flour helping keep the fruit from becoming a big cluster. Then pour over your brandy or non-alcoholic liquid and stir in the zested orange. You are going to want to let the mixture sit for at least three days, so cover securely and stir it up once a day.
2. After the preparation time is complete, it is time to get baking. Line your cake tin with two layers of baking paper and ensure your oven temperature is at exactly 120 degrees Celcius.
3. As the oven heats up, get a medium bowl and mix your butter, sugar, eggs, treacle, and almonds. Make sure it is beaten very well. Once these are all combined, you will add the flour and spices in, along with the soaked fruit.
4. Be careful to not overfill your cake tin as you spoon in the batter. Go nice and slow and be sure to stop filling it up once you reach two-thirds of the way up. Then place it in the oven and set your timer for around four hours.
5. After two hours, check on your cake and see how firm and golden brown it is looking. If your cake is already at the golden brown colour at this point, put foil over the top so it remains as is. To check if the cake is moist and ready to be taken out after the four-hour mark, insert a skewer to the middle and check if it comes out clean. If it does, you can take it out of the oven and leave it to rest in a cool place.
6. Once cooled, wrap the cake up securely and let it age nicely, pouring a layer of liquid over it every week until the big mealtime. When the time comes to serve it up, brush the apricot jam and icing sugar mixture around the cake and carefully place the marzipan over the top to finish it off.
Final Thoughts on the Christmas Cake
While this recipe takes some planning in advance, your patience will pay off come the big day. Christmas only comes around once a year, so it is worth it to put in the extra time to ensure that it is celebrated with a delicious dessert to cap off the Christmas dinner!
Sources:
How to Cook the Perfect Christmas Cake | The Guardian
Quirky British Christmas Traditions Americans Have Never Heard of | Insider
Share This