chefs
Theo Randall: The King of Pasta
By Bridget Reed
Jan 18, 2022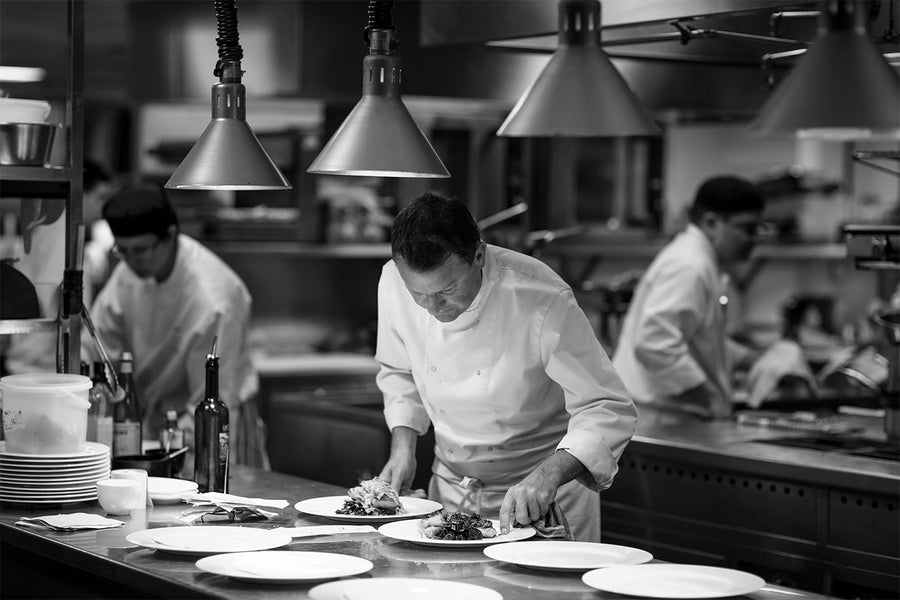 Honestly, who doesn't love pasta?
Michelin star chef Theo Randall sure does, and he's garnered quite the reputation in the industry for turning his obsession with pasta into a master art form that few can replicate quite like him.
In fact, Theo still remembers the first time his mother brought home fresh parmesan and grated it over pasta. He considers it to be a life-changing moment.
And if you talk to Theo today, he'll agree that you've been cooking pasta wrong. But that's okay because now he has joined the ranks of other culinary legends online and is offering people just like you to cook alongside the  world's best chefs
Over the last year and a half, we have seen a dramatic increase in demand for online cooking classes as people wanted to re-create exquisite restaurant experiences in their own homes.
Theo, who runs his self-titled Theo Randall restaurant at the InterContinental in London, is sharing some of his secrets about all there is to know about Italian cooking in his cooking class with us.
If you're not already craving this experience, let us hype up this delicious culinary class for you even more.
Who Is Theo Randall 
 Before we dig into the class itself, it is important to get to know your teacher for the course. While Theo's knowledge is unparalleled when it comes to pasta making, it is his background and devotion to the craft that makes his online class so unique and special
Here is everything you should know about Theo.
His Childhood Was the Start of His Love for Italian 
From a young age, Theo has had an obsession with all things Italian—especially pasta. In fact, he recalls that he fell in love with Italian cuisine during his time spent in Italy as a child. And it also helped that his mother was a huge fan of Italian cooking as well, with many of the meals Theo ate as a child inspired by her Italian cookbook.
He Has Worked Under Internationally Acclaimed Chefs 
When Theo was just starting out in the culinary world, he spent a year in California training under the great chefs at Chez Panisse. He brought back his culinary skills to the UK after that and soon catapulted himself to culinary wizardry—soon becoming known for his impressive Italian dishes and precision in technique.
He Started Out as a Silent Partner 
One of Theo's first jobs as a chef was at The River Café. On his return from overseas, he actually became a silent partner in this restaurant, where his humble leadership won him his first-ever Michelin star there. He is known to have created all their iconic dishes and culinary critics even claim he has changed the course of British restaurant culture forever.
He Now Runs London's Best Italian Restaurant 
The Theo Randall at the Intercontinental is literally the very best place in London to eat Italian food, having been open since 2006. The restaurant is devoted to service rustic-style Italian dishes that made him fall in love with Italy in the first place. People are obsessed with this restaurant for a very good reason.
He Is an Author of Numerous Cookbooks 
Theo's passion for exquisite Italian cuisine is something that he's always been motivated to share with others. In addition to running cooking classes, he has also written numerous cookbooks that reveal his culinary tips and favourite recipes.
What To Expect in Theo Randall's Cooking Class 
So now that we've got you craving all things Italian, taking a cooking class from Theo to learn how to master the art of pasta is the likely next step. It's a delicious treat that we promise you won't regret.
Here is everything you can expect in Theo's online cooking class.
You'll Go on a Michelin Star Journey 
When you sign up for Theo's cooking class with us, you and five of your closest friends (or family members) can all take part in this culinary journey. Plus, if you really want to go all-out, you can also sign up to get a pasta machine recommended by Theo himself, as well as wines that Theo has matched perfectly with each dish. Get ready, because the best in the business is about to take you on an Italian cuisine journey of a lifetime.
Get Your Ingredients Delivered 
We've teamed up with Theo to nail down the exact ingredients you need for each of the four classes. You get to choose what dates you want to do the classes and we'll coordinate deliveries around that. We pack and prepare the ingredients fresh, that way you don't have to do anything in advance of the class itself
Access Theo's on-Demand Tutorials 
After you sign-up, you will get to access Theo's on-demand video tutorials that will take you through each and every step of all his recipes. The videos are not only educational but entertaining as well. You will feel as if Theo is right there in the kitchen with you.
So what are you waiting for? Sign up for an Italian culinary journey of a lifetime with Michelin star chef Theo Randall today.
Sources:
Theo Randall Recipes| BBC Foods
Chef Theo Randall: 'You've Been Cooking Pasta Wrong'| The Independent
Theo Randall's Recipes for Summer Pasta | The Guardian
Share This