News & Advice
How To Make the Best Prawn Cocktail (2021)
By Bridget Reed
Dec 7, 2021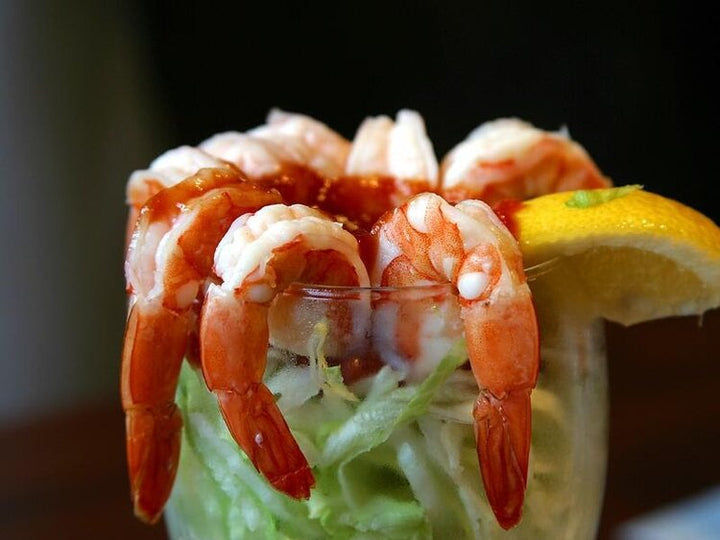 Everyone should have a party trick in the kitchen. And with our delicious prawn cocktail recipe, you'll be able to bring back this old-school dish and impress all your guests at your next dinner party.
Let's discuss the basics first. What even is a prawn cocktail? Contrary to how the name may sound, it is not actually an alcoholic drink. Instead, it is a seafood dish that is often served in a cocktail glass and made even more delicious by the accompanying cocktail sauces.
Many food historians agree that prawn cocktails got their start during the early 1900s and became one of the most popular hors d'oeuvre in the UK by the 1960s. This prawn dish is packed with antioxidants and is often served at fancy restaurants as the first course.
Who can forget seeing this dish on the classic British television show Coronation Street? Made famous by one of the stars known as Fanny, this rather unique dish became a craving for many all throughout the UK!  
However, before we get into the crux of how to create this delicious dish, we want to emphasize an important factor that many people get confused about. Often, prawn cocktails are confused with shrimp cocktails. While both are made with a similar method, prawns and shrimps are not the same. 
The difference between prawns and shrimp is that prawns come from freshwater, where shrimp come from saltwater. This point of difference is crucial, as the type of water these crustaceans come from (meaning both have 10 legs) will create a noticeable difference in their size, taste, and texture.
With the prawn cocktail has been around for over a century now, many culinary experts have developed a range of tips and tricks that you can incorporate to make the best prawn cocktail and show off your Masterchef skills!
Tips and Tricks for Prawn Cocktails
Pick the Perfect Prawns
One of the most important tips to follow when it comes to making your prawn cocktail is to pick quality prawns! The type of prawns you use and the freshness of them will be the determining factor as to whether your dish is a huge hit or a sad and soggy fail. 
Make sure you thaw out the shrimp, dry-fry them and cook all the way through. The extra care you put into this will make a monumental difference in the overall result.
Mix It Up
Just because it is a prawn cocktail dish does not mean you only have to use prawns. As mentioned earlier, shrimp can also be used in the recipe. So if you are wanting to make a unique dish with a combination of different flavours and textures, use both prawns and shrimp in your dish.
The Salad Is for the Crunch
Don't use soggy or sad-looking salad leaves in your dish. Just as you want quality prawns, you will also want crunchy, crisp, and robust salad leaves to create the ultimate texture. 
While traditionally many people use iceberg lettuce or cos, playing around with white cabbage or cucumber can also be a great option. The salad portion should always offer a great crunch and contrast to the creamy cocktail sauce and tender prawns.
The Secret Is in the Sauce
Your cocktail sauce will be the key to this dish's success. Traditionally, a prawn cocktail sauce uses mayonnaise, tomato, and lemon juice—but you can get creative! The tomato element can come from a range of items, whether that be ketchup or tomato puree. 
And don't feel obligated to stick just to the lemon. Lime is equally a great way to bring out all the flavours of this dish. For those that want a sweeter rather than sour sauce, add some sugar for the final touch.
Add in the Extras
The type of extras that you put into your prawn cocktail will determine what dominant flavours will stand out in the dish. While many use grilled pepper and olive oil to create an additional intense flavour, you can go for really bold and useful extras like grapefruit mixed with chili flakes or paprika! The extras you put in your prawn cocktail dish are intended to give that extra kick to each bit and make it a memorable experience for your taste buds.
It All Comes Down to Presentation
At the end of the day, how you present the dish will really make or break the overall impression of your dish. You can get creative with how you do this, but the easiest way to make it look aesthetically pleasing is by putting the various layers in a cocktail glass. To top it off, put one prawn on the side of the glass to act as the garnish and make for the perfect foodie Instagram post.
The Best Prawn Cocktail Recipe of 2021
After you have sourced all your ingredients, whether that be from your local grocery store or having the ingredients delivered to your door, you are ready to start the process in the kitchen. Our recipe is designed to serve four people and should take under an hour to make.
Ingredients You Need
To make our cocktail sauce, you'll need the following items:
1. Eight tablespoons of homemade mayonnaise
2. One tablespoon of tomato ketchup
3. Two teaspoons of Worcestershire sauce
4. A dash of Tabasco sauce
5. Two teaspoons of lemon juice and brandy
The ingredients you'll need for the other layers include:
1. 300 grams of raw prawns and 100 grams of brown shrimp
2. Three bunches of lettuce
3. Sliced up cucumber
4. One avocado sliced and diced
5. Two teaspoons of lemon juice
6. One bunch of chopped chives and a dash of Cayenne pepper
The Quick and Easy Method
1. First, you will want to make your cocktail sauce. Start by adding the mayonnaise into a mixing bowl and adding in the ketchup, Worcestershire sauce, Tabasco sauce, lemon juice, and a dash of brandy. Keep mixing and adding until you are happy with the resulting taste.
2. Next, you will cook the prawns on a frying pan (don't add any oils!) and cook until they are completely pink. Once cooked, mix them and the shrimp with the sauce. If you do use raw prawns, make sure they are deveined first before you start cooking them!
3. Now you will make the salad portion. Start by cutting the cucumber in half, peel out all the seeds and then dice them into tiny portions. Next, peel and dice up the avocado. Take both the avocado and cucumber and mix them into the lemon juice and seasoning. From here, you will cut up the lettuce and mix everything in the salad together.
4. Now for the presentation portion. Start by scooping the salad into four different cocktail glasses. Then, add the cocktail and sauce combination on top. Finish it all off by adding your garnishes, which we recommend being your chopped chives, a dash of cayenne pepper, and an extra prawn hanging off the side of the glass.
5. You will want to serve these dishes as soon as they are ready. But before you and everyone else dig in, don't forget to take photos of your masterpiece. There should be just enough for everyone to enjoy, and since this recipe is designed to be an hors d'oeuvre, it is unlikely that there will be any leftovers! Plus, this dish tastes the best when it's fresh!
Final Thoughts for Prawn Cocktails
With this quick and easy method, you will be well on your way to impressing your friends with lessons you have earned from Michelin star chefs. Serving these at your next cocktail party will be the talk amongst everyone, as this old-school classic dish really does not ever go out of style.
Once you master the basics of this recipe and are confident with the process, we encourage you to put your own spin on it. Bring in different ethnic cooking styles and fuse them with this elegant dish. Try bringing an Asian or Mexican fusion to the prawn cocktail by changing up the seasoning and sauce choices. Or, you can even put a vegan twist on this dish and replace the prawns with artichokes so that no one has to get left out from this special dining experience.
This basic and straightforward recipe leaves room for your imagination to run wild and surprise your taste buds every time. So what will be the personal addition you add to the recipe the next time you make a prawn cocktail?
Sources:
What is the Nutritional Value of Prawns | Seafarms
Exploring Shrimp Cocktails | Delishably
What's the Difference Between Shrimp and Prawns | Southern Living
Share This