The Best Must-Try Braised Red Cabbage Recipe Ever Made
By Bridget Reed
Dec 6, 2021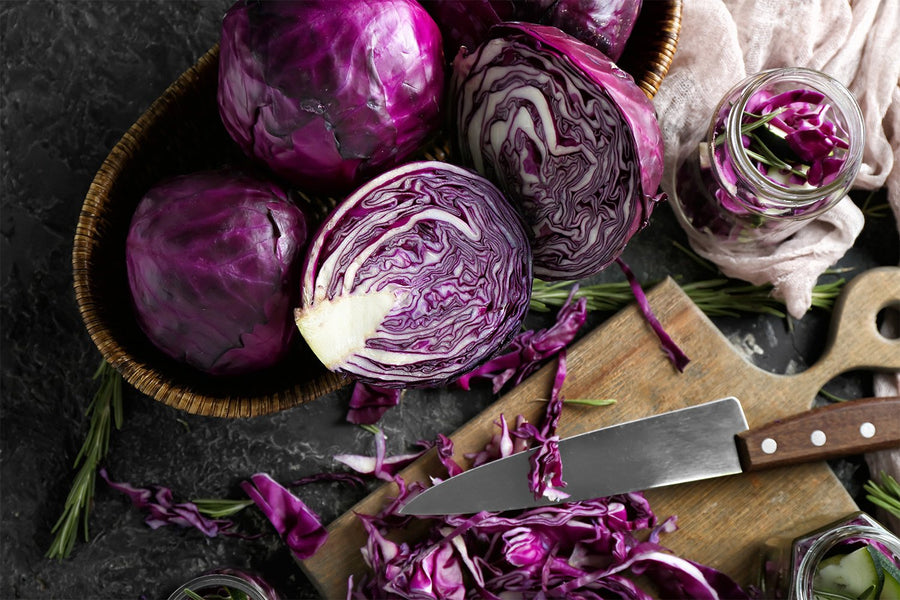 Cabbage for Christmas? Absolutely!
Braised red cabbage is one of the quirkier things you may see at the Christmas dinner table, but it is a treat if you're lucky enough to have it for the winter holiday season.
While the roast turkey is usually the main centerpiece of the Christmas dinner table, the braised red cabbage offers a cheerful, cheap, and festive dish for the festive season.
And not only is red cabbage cheap, but it is equally jam-packed with essential nutrients and a whole range of health benefits too. This is important for the Christmas dinner menu, as it will help balance out all the Christmas pudding you and your guests will likely be eating all day long.
If you are wanting to prove that you can cook like a Masterchef, we suggest adding this braised red cabbage recipe to the list of items you'll be making for the annual Christmas dinner. To help you along the way, we've listed out what you need to know about the benefits of making braised red cabbage, tips and tricks to keep in mind, and our easy recipe for the best braised red cabbage ever made.
Top Facts About Red Cabbage
Red Cabbage Is also Purple Cabbage
Don't get confused about the name. Purple cabbage is also referred to as red cabbage—whatever you call it, they are jam-packed with essential nutrients. In fact, the nutritional value of red cabbage is comparable to that of broccoli and Brussels sprouts.
It Is Good for the Bones
Red cabbage provides a range of health benefits. This includes helping you have stronger bones and a healthier heart, along with protecting your body against inflammation and even cancer. With this in mind, braised red cabbage and the promise of good health is one of the best Christmas gifts you can give to your family this year.
Helps With Your Digestive System
Diets and calories do not count on Christmas. But that doesn't mean your gut still won't be reaping the consequences of all the sugary treats and alcoholic drinks you indulged in all day. Red cabbage is able to help our gut function better as it is packed with fibre. So serving up red cabbage at the dinner table will help you and everyone else digest all the drinks and eats from the day without being in as much pain the next day.
They Are Cheap and Easy to Find
Red cabbage grows in abundance, especially in the winter. You will have no problem sourcing the ingredients for a braised red cabbage come Christmas time and will likely find it is one of the cheapest items on your shopping list. Healthy, cheap, and delicious—it doesn't get much better than that.
Tips and Tricks for Making Braised Red Cabbage
Braised Is Best
While there are numerous ways to prepare and enjoy red cabbage, braised red cabbage is hands down the best. This means that you will be both sauteing and searing the cabbage first, and finishing off with letting it simmer at a low temperature for a while. The extra time spent preparing the red cabbage will pay off in the end.
Apple and Bacon Are the Secret Ingredients
While this recipe allows for creativity, the classic braised red cabbage calls for an addition of apples and bacon fat. These two secret ingredients bring the braised red cabbage dish to a whole new level and deliver both a sweet and savoury result that will have your dinner table begging for more.
Thirty Minutes Is All You Need
The process of making braised red cabbage is almost as simple as the ingredients this recipe calls for. This dish originates from Germany and they are all about efficiency. So you can expect a simple and non-complicated recipe to follow, making your work in the kitchen on Christmas day that much easier.
Cutting the Cabbage Correctly
The way in which you cut the red cabbage is crucial to getting this recipe right. The best way to cut the red cabbage is to thinly slice it into long and small strips. To make it easier for yourself, first cut the head of the cabbage in half. Then, cut each of the halves into quarters. From there, thinly slice each section until it is all cut up and ready to go.
This Dish Lasts for Days
The great news with this dish is that it tastes just as great as leftovers. Braised red cabbage will have a shelf-life of around five days in your fridge. All you have to do to prepare the leftovers is stick it in the microwave on low heat until it reaches the temperature you are wanting. Just don't freeze it.
An Easy Recipe for the Best Braised Red Cabbage
This dish can easily be made while you are waiting for your turkey to roast in the oven. The preparation time will be no more than ten minutes and you will have the braised red cabbage all cooked up within two hours with enough to serve eight people. This healthy Christmas dish is one you will likely want to even add to your weekly meal rotations.
Ingredients You Need
As we alluded to before, the ingredients you need are quite simple. So before you get started, make sure you have the following lined up on your kitchen counter.
1. One red cabbage that weighs approximately 900 grams
2. One red onion that is sliced thinly
3. 70 grams of brown sugar and 70 millilitres of cider vinegar
4. 150 millilitres of red wine
5. A large stick of butter
6. One cinnamon stick
This Simple Process to Make the Best Braised Red Cabbage
1. First things first, prepare your cabbage. You will do this by cutting up the red cabbage into quarter pieces and removing the core of the cabbage. The thin slices should look as if they have been shredded. Don't rush this part as it is an important step in the process.
2. Heat up a large pan on the stove. You will then place the cabbage in. Add the sliced red onion, all the brown sugar, cider vinegar, red wine, butter, and cinnamon into the pan as well, and let it all simmer together. We suggest covering this with a lid and keeping it on low heat. You will let this mixture simmer together for at least an hour and a half.
3. Make sure to give the pan a couple of stirs every thirty minutes or so to ensure it hasn't gotten stuck to the pan. Also, check to make sure the temperature is not too high as you want a long cooking time for this part.
4. After the hour and a half is up, you will keep the pan on the stove and keep it cooking. However, you will remove the lid for the last 30 minutes or until the red cabbage becomes tender.
5. Let the braised red cabbage cool and put it into a serving dish. Bring out to enjoy with a Christmas roast turkey or any other type of meat.
6. To put your own twist on this recipe, we also suggest playing around with adding preserved lemons, bacon fat, and even ginger wine. It is the little things that will make a big difference with this recipe.
Final Thoughts on Braised Red Cabbage
We told you, this Christmas dish really is as easy as we are claiming it to be. With a simple shopping list, affordable ingredients, and only a few steps to follow, anyone can master making braised red cabbage.
While this dish is likely not substantial enough to be a main dish at the Christmas table, it works perfectly as a side dish. The sweet and savoury flavours mix perfectly with the roast turkey and roast vegetables. Plus, the added health benefits help you deliver a well-rounded Christmas dinner menu that will leave those at the table feeling very satisfied.
Red cabbage is one of our favourite things to add to any dinner party and with the red and festive colours, it is no surprise that braised red cabbage has also become a Christmas classic.
Just remember our tips and tricks, take your time and play around with the spices and flavourings you add into the pan. You may very well end up with a Christmas recipe that gets passed down through your family for generations to come.
Sources:
How To Make Perfect Braised Red Cabbage | The Guardian
Braised Red Cabbage Wedges | Washington Post
Share This