The Best Side Dishes To Serve With Beef Wellington 2021
By Bridget Reed
Dec 6, 2021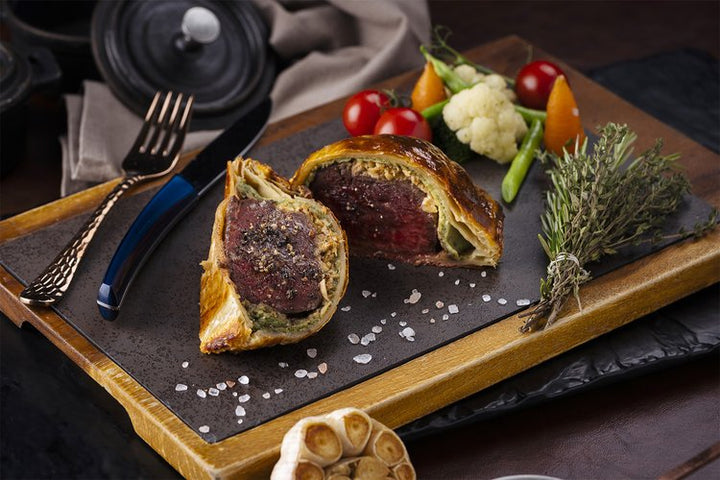 One of the best signs that you are well on your way to becoming a Masterchef is the mastery of the Beef Wellington dish.
Originally created for the Duke of Wellington after a hard-earned victory in the Battle of Waterloo back in 1815, this dish still remains a favourite throughout the world. Former President Nixon said on many occasions this was actually his favourite dish and was frequently cooked at the White House.
After you have signed up for our online cooking courses and practised making our roast beef recipe, you will be well prepared to conquer this dish on your own.
The Beef Wellington is the ultimate dish to show off your beef cooking skills. But it is important that you also show your well-roundedness as a chef. Keep your menu balanced for your dinner party and have a range of delicious side dishes to serve up with your beef wellington as well.
You deserve to show off the perfectly well-balanced meal that your guests will be talking about for years to come. Beef wellington takes quite a few hours to make, and the little bit of extra effort to provide a range of stunning side dishes will really enhance the meal altogether.
We know you will be working hard in the kitchen with the beef wellington dish, so we have rounded up the top dishes to serve up alongside it and listed the simple methods to follow.
It is important to prepare in advance for your dinner party, so start planning these side dishes alongside your main course as well.
Green Beans With Garlic
Beans really are the perfect vegetable to side with your beef wellington, especially when flavoured with garlic, thyme, and white wine. This dish won't take long at all and has minimal ingredients that you will need to sort.
Ingredients You Need
1. Two pounds of green beans, washed with the ends chopped off
2. One tablespoon of butter
3. Four minced garlic cloves
4. A half a cup of wine (pro tip—drink the other half of the cup for your cooking enjoyment)
5. Two tablespoons of thyme
The Simple Method for Green Beans
1. First, you will prepare the green beans by giving them a quick rinse and getting the ends chopped off. If the green beans are particularly long, feel free to chop them into smaller bite-sized pieces too.
2. Next, you will mince your garlic cloves with a garlic press and chop up the thyme.
3. Now you will cook your green beans on medium heat in a pot with salted water. Be careful not to overcook them—they generally need around three to five minutes.  Once cooked, drain and put in a cold bowl of water.
4. After the green beans are cooled, pat them dry using a paper towel. This part is very important so don't slack with the drying component.
5. Add the butter to a pan that is on medium heat. Cook the garlic with the butter for around two minutes but be careful to not let it get too hot and burn the garlic. You will then add in the white wine, thyme, and green beans, reducing the heat to low.
6. You will know that the side dish is all cooked up and ready to go when the white wine has been soaked up and is no longer in the pan.
7. Serve it up alongside your beef wellington for a lovely pop of green and delicious taste of garlic green beans.
Brussel Sprouts With Bacon
One of the biggest trends when it comes to side dishes is Brussel sprouts. No longer the side dish that you crunch your nose up to at Christmas, Brussel sprouts have become extremely trendy, especially when mixed with bacon and sweet nuts.
Ingredients You Need
1. One pound of Brussel sprouts
2. Three rashers of bacon
3. Two tablespoons of butter
4. One cup of chestnuts
The Easy Method for Bacon Brussel Sprouts
1. Depending on how big your Brussel sprouts are, you may want to dice them so that they boil easier. Regardless of the size, make sure that all wilted leaves and bottoms are chopped off before you start cooking.
2. Bring a pan filled with water to boil and then add your Brussel sprouts for five minutes. Immediately drain them and run cold water to cool them down.
3. You will now heat a large pan and start cooking your bacon. Make sure to get the strips of bacon nice and crispy with a beautiful golden colour. Place cooked bacon on a drying rack to cool and save the fat to fry the chestnuts in.
4. Now add the Brussel sprouts back into the pan and cook until tender. This should take no longer than around five minutes. Add the butter to the pan and now saute for two more minutes.
5. Take cut-up—or ripped up—pieces of your bacon and put them into the pan alongside the Brussel sprouts. Also, add the chestnuts and mix together until everything is generously doused in butter.
6. Serve up next to your beef wellington, but be warned that this side dish may steal the show. Especially if there are bacon lovers at the table.
Truffled Mashed Potato
Yes, this dish is as phenomenal as it sounds. The trick with this dish is the brie and truffle that are mixed in amongst the mashed potato. Your guests will be blown away by the sophistication of these mashed potatoes.
Ingredients You Need
1. Two pounds of potatoes
2. Two tablespoons of milk and cream
3. One tablespoon of butter and truffle oil
4. A half-cup of brie
The Simple Method to these Savoury Mashed Potatoes
1. The longest step in this process will be peeling and chopping up all your potatoes. So while you are doing this, bring a pot of water to boil. Once your potatoes are all prepped, place them in the boiling water for around 15 minutes. You can check they are tender enough by testing with a knife.
2. You will now drain out the boiled potatoes and mash them all up with a potato masher. This is the fun step.
3. Get a large pan and heat it to low. Pour in your milk and cream and then add in your mashed potatoes. Stir it all together for a few minutes.
4. Now carefully mix in your brie and truffle oil. Don't forget to also put a generous dash of salt and pepper in there too. Keep mixing until it has all blended together.
5. For a real wow factor, grate some truffle on top of the mashed potato serving.
A Fresh Salad
Don't overcomplicate it with the side dish. If you have poured all your energy into making the perfect beef wellington, go easy on yourself and throw together a simple salad as a side dish. You'd be amazed at the complimenting flavours a salad can still produce.
Ingredients You Need
1.  One cup of arugula, two cups of spinach, and two cups of lettuce
2. Half a cup of diced red peppers
3. One-fourth of a cup of cucumbers
4. Half a cup of tomatoes
5. Four tablespoons of balsamic vinaigrette
The Easy Steps to a Simple Salad
1. The first step is to dice up all the vegetables. Make sure you use your best kitchen knife so you can cut up the cucumber, tomato, and pepper finely.
2. Wash your lettuce and dice up the lettuce heads into smaller and more edible pieces.
3. Mix in a handful of arugula, spinach, and lettuce so that you have even proportions of each. Now tip in all the diced-up vegetables in the same bowl.
4. Slowly pour over the balsamic vinaigrette over the salad. Our pro tip for this is to take your time and don't go too pour heavy, as it will end up making the salad soggy rather than crunchy.
5. Toss it all together. Garnish with croutons or feta for that extra pop.
6. Serve it up next to your beef wellington for a vibrant pop of colour and a healthy side dish to the meal.
Final Thoughts on Side Dishes for Beef Wellington
You will have already worked hard in the kitchen to prepare your beef wellington. Choosing one of these simple side dishes will make the rest of your preparation easy and guarantee there won't be any leftovers at the dinner table.
Sources:
How to Cook the Perfect Beef Wellington | The Guardian
Top 10 Dinner Party Tips | BBC Good Food
Share This