Theo Randall
By Andrew Quigley
Jan 7, 2022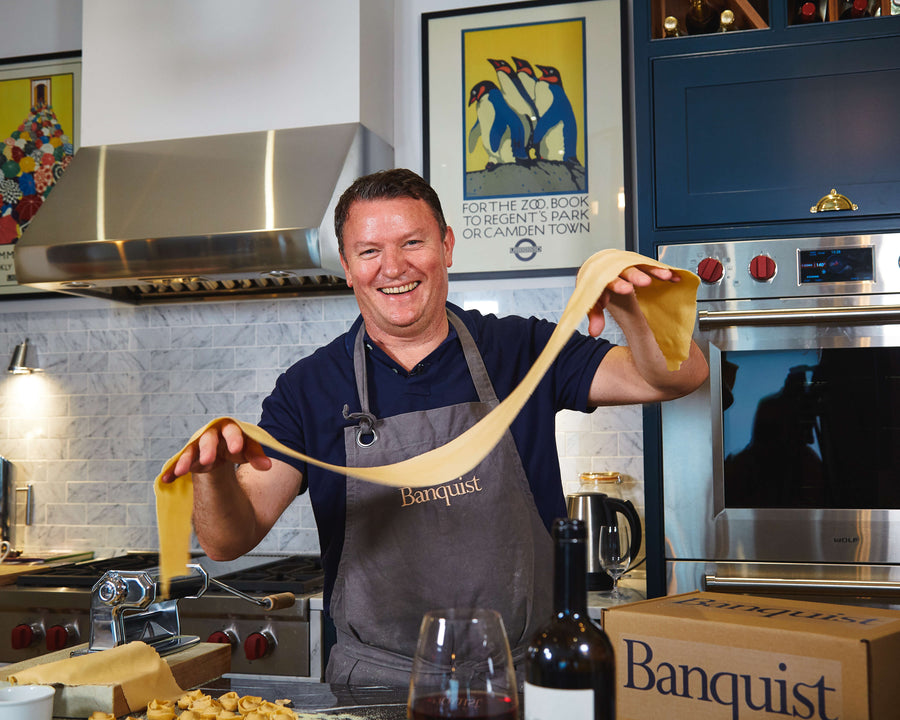 Theo grew up in a family where creativity and a love of food and home grown produce was celebrated. His mother, who, In Theo's words, was a fantastic cook, taught him the basics of cooking including how to make fresh pasta and ensured that he always had homemade goods in his school lunch.  
He was lucky enough to travel as a child on family holidays, allowing him to explore French and Italian cuisine further. His early experiences gave Theo a passion for food and cookery. 
At the young age of 14, Theo secured his first kitchen job as a KP in a local restaurant. From here he began to work his way up to stages, showcasing his potential.
Eager to learn, Theo began his first chef role at Chez Max after Max Magarian spotted his potential whilst working as a waiter at the restaurant.  He spent 4 years at the Surbiton restaurant becominging classically trained, learning the fundamentals of french cuisine and the importance of cooking everything from scratch. He then went on to work at the famous River Cafe under the guidance of Rutie Rogers and … 
Following this, he had a short stint at Chez Panisse working with Alice Waters in California before returning back to the River Cafe for a further 15 years where he progressed to Head Chef and silent partner. It was here that he gained a Michelin star. 
His dishes on the menu at the River Cafe played a famous part in changing the way that Britains viewed Italian cuisine. The renowned chocolate nemesis cake was one that he learnt to master during his time there and helped to put the culinary establishment on the map. 
After an incredible time at the establishment, he left to start his own venture in the form of his own restaurant space at the Intercontinental Hotel on Park Lane, London. The restaurant opened in february 2007 during the refurbishment of the hotel. He went on to win accolades such as "Italian Restaurant of the year" after just 2 years. The restaurant showcases Theo's learnings from his journey thus far in the food industry, focussing on quality Italian ingredients and recipes. His 'Taste of Italy' menu explores the flavours of the different specialities of the country, inspired by his travels over the past 20 years. It incorporates dishes from Puglia and Tuscany in the south, to Liguria and Sciliy. It highlights regional ingredients and of course is served with some of the country's best quality qinwas. The dishes on his menus have been hugely popular with diners and critics alike, with his signature lemon tart being notably popular. 
During this time, Theo established himself as a well known chef, making several TV and festival appearances including BBC's Saturday Kitchen. Theo has also gone on to launch many cook books of his own, most recently 'Italian', a collection of his most loved recipes that have shaped his career thus far. From biscotti to limoncello, the book shared Italian classics that Theo had learnt during his experience as a chef and his travels. It is the perfect representation of Theo's cooking style, using easily accessible ingredients and a family-approach to meal times. 
Theo's cooking style is hugely influenced by his early experiences tasting spaghetti alle vologne and watching pizza be made. He takes regular trips to Italy to ensure that the relaxed, trattoria style is replicated in his London restaurant. 
Vegetarian cookery is something Theo is very passionate about. Vegetarian a la carte and set menus are both offered at his restaurant. Using the best of both Italian and British produce, Theo develops his menus around the best of the season. Theo displays his understanding of ingredients with his simplistic, yet refined dishes. You should expect to see dishes such as carpaccio di manzo with balsamic vinegar pine nuts and parmesan or Burrata with Swiss Chard, grilled peppers, farinata, Taggiasche olives and basil.
Theo kicked off his collaboration with Banquist with a stellar menu of: Fresh tagliatelle, courgette, home-made pesto, parmesan. Followed by Beef sirloin tagliata, wild rocket, datterini tomatoes, salsa verde, borlotti beans. Theo then finished with Amalfi lemon tart, mascarpone crema.vIt was epic and a true representation of Theo's ethos around quality produce, flavour and Italian cuisine. 
Theo has since gone on to lead our 4 week pasta course where crab tagliatelle, wagyu pappardelle, seafood ravioli and veal tortellini. A hugely popular course amongst Banquistadors and an amazing introduction into mastering pasta cookery. 
Share This