Gareth Ward
By Andrew Quigley
Jan 7, 2022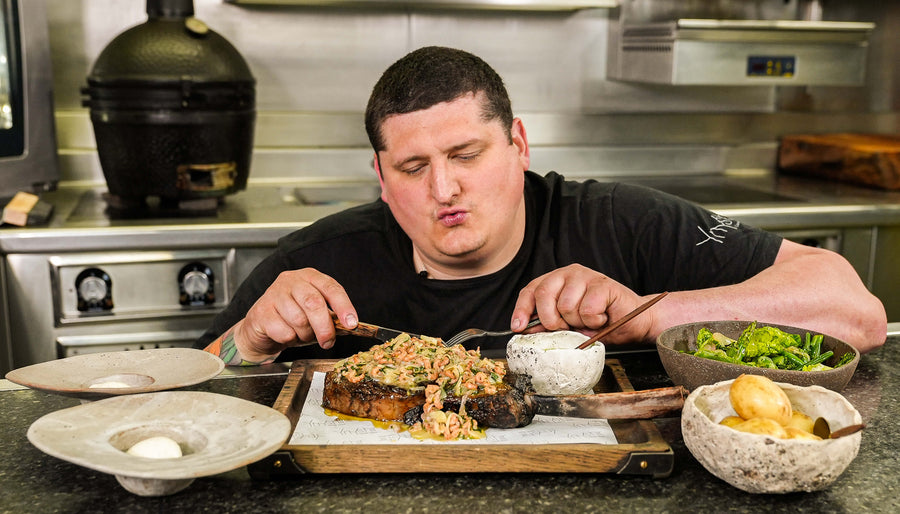 Gareth grew up in County Durham and found himself in the kitchen of Seven Stars in Shincliffe in the search of a job after dropping out of school. The pub was serving your usual classics like steak, fish and chips and pies. Gareth slowly started to move away from being a fussy eater, not interested in food that much to a budding chef. He loved the process of discovering new ingredients and trying things on the menu along with the routine and discipline within a professional kitchen.
It was a fellow chef at the Seven stars that noticed Gareth's potential talent in the kitchen and recommended that he pursue his culinary career and move onto new ventures. 
This led him to Hambleton Hall in Rutland, working under the renowned Aaron Patterson, where he stayed for 5 years learning the tricks of the trade. Here he learnt how to get the most of quality produce and appreciate what is required for food to become michelin standard. Gareth loved the atmosphere of the kitchen, the commorardery and the delegation of tasks. His experience at Hambleton Hall left him hungry for his own Michelin star and the next step in his career. He then moved on to work under several chefs such as Steve Smith and later Sat Bains, a chef that has taught many of the best in Britain. 
The opportunity to work under Sat came when his wife took a job as a receptionist at the restaurant. Word soon got around when Gareth was next looking for a job and Sat gave him a call, within a week Gareth was Sat's next sous chef. 
When working for Sat, Gareth, along with the other chefs, were given the freedom to put their own dishes on the menu, this created a real sense of responsibility and wonder over the menu. 
After 3 years, Gareth was ready for his first head chef role and that's what led him to Ynshir. His own restaurant has allowed him to demonstrate his passion for using fresh produce and he loves making the most of his kitchen garden. Gareth often uses aged meat in his menus, again focussing on flavour and quality first and then building a dish from there. He loves trying new techniques and cooking methods, preserving, pickling, foraging, again making the most of the ingredients he has around him at that time of year. 
At Ynshir, he loves making the dining experience as interactive as possible, so a Chef's table is something that is always available at the restaurant, a concept that has proven to be popular for him and many other successful chefs. 
Gareth puts his cooking style down to the influence of Sat, who focused on getting flavour first then followed by creativity, individuality and thinking outside the box. It's the ability to experiment with food when cooking that Gareth enjoys most and this is definitely reflected in his signature style. There are few other chefs that manage to marry Japanese techniques and flavours with the wild ingredients of the welsh countryside - but somehow, Gareth manages to pull it off. Ynshir pays homage to this mad-side of Gareth's personality wth 24hr DJs, booze stacked vending machine and a Himalayan salt chamber full of 300 day-aged wagyu. 
The dishes on Gareth's first menu created for Banquist certainly did not disappoint when replicating his good style and restaurant. It featured elements such as Irish balck garlic butter, Katsu scallop and Newcastle ale glaze. 
Gareth's menu was hugely popular, so much so that we asked him to create a second. This time it was a Michelin starred BBQ including a
Shawarma of dry-aged Cumbrian lamb saddle, marinated overnight in Ynyshir secret sauce.
Share This